The fried and baked potato croquettes are a simple and tasty idea, an appetizer or a sofa snack, to be enjoyed in the company of your dog. You understand: I have created two recipes, as for nachos and canachos, that is the classic fried potato kibble for you and a lighter version for your dog. Obviously the latter are not fried and are not breaded, but only sprinkled with crispy cornmeal and baked; In the dough, however, that up to a certain point of the recipe is common for you and your dog, I have also inserted the skins of the potatoes and a shell of the eggs used. Light, crispy, tasty, rich in vitamins and minerals… I mean, you can't really miss it, just like you can't miss my Bon b0n ice cream for you and your dog!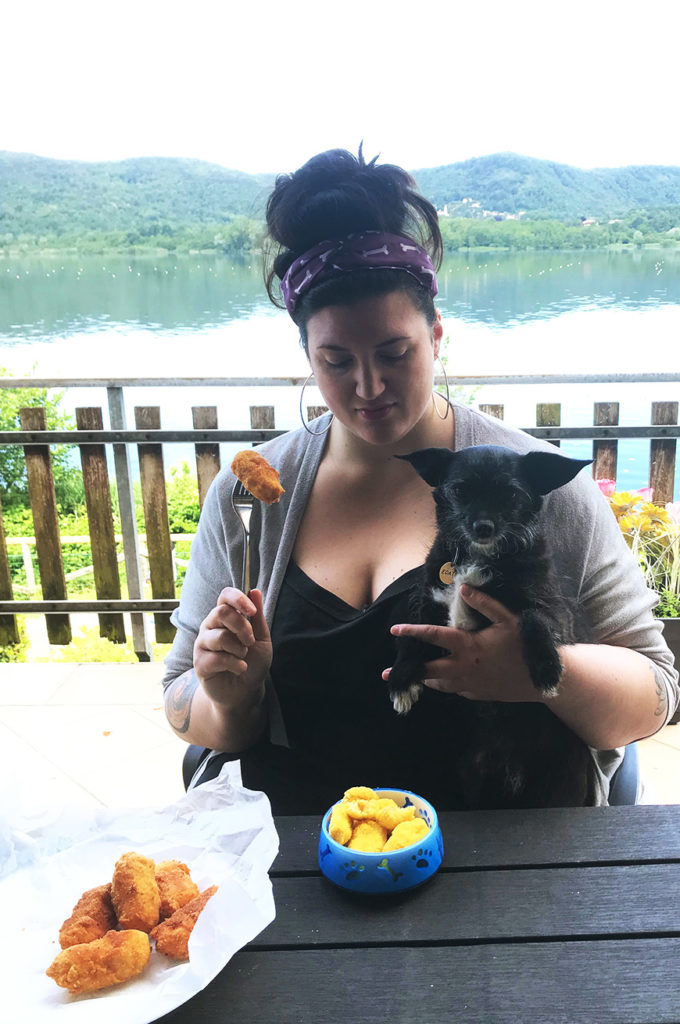 Potato croquettes for humans: ingredients
Yellow or red potatoes 500 g
Eggs 1 yolk
Grated cheese 50 g
Chili or pepper to taste
Salt to taste
1 L peanut oil for frying
FOR Bread: breadcrumbs and 2 whole eggs
Potato croquettes for your dog: ingredients
Yellow or red potatoes 500 g
Eggs 1 yolk
Grated cheese 50 g
FOR Bread: Cornmeal
Procedure
Since the basic mixture of the kibble for humans and dogs has elements in common, you can start to bake all the potatoes, in unsalted water and without peeling them. Once cooked, drain and leave to warm and then peel them (keep the skins aside, do not throw them away!). Crush the lukewarm potatoes into a bowl and combine the total of the grated cheese (100 g in all) and the total of the egg yolks (2 in all). Mix well and now divide the mixture into two parts, equal or 273 for your croquettes and 1/3 for your dog's.
Fried potato croquettes for you
The part of the dough reserved for you must be seasoned with salt and pepper or chilli. It molds dough nuts so as to form cylinders or Salamini. Now organized for the bread, which must be double: in a bowl whisk the eggs and in another put the breadcrumbs, then impiana each cylinder first in the eggs and then in the breadcrumbs. For a double Panatura, immerse again in the egg and then again in the breadcrumbs. Bring the oil at a temperature of about 175-180 ° C at the most, and fry a few kibble at a time until you see beautiful golden. Drain on a sheet of baking paper and taste it!
Baked potato croquettes for your dog
The part of the dough reserved for your dog must be enriched with part of the skins of potato that you have kept aside, after having chopped them. You can also boil the shell of an egg used just before and chop finely and then add it to the rest. It also forms in this case of the cylinders or the small balls, in order to bread them only in the cornmeal. Arrange the dog croquettes on a baking tray lined with baking paper, spend it with a little oil and bake in a static oven at 180 ° C for an abundant half-hour.
Conservation
Better to eat the fried potato croquettes immediately, while the ones for your dog have to cool completely and can even be frozen to always have an escort!
Good because
Potatoes, eggs and cheese, with a touch of digestible cornmeal: These croquettes are a healthy and light snack!
Containing eggshell and potato skins, they are also an opportunity to not waste anything in the kitchen!
The dough is in common, so as to optimize the costs and times!