I am delighted to present my last double recipe: Corn dog and dog corn, or corn dog for your dog. These recipes are both very simple and both very economical and fun to make. Then, let's face it, where do you find someone who will invent you a dog corn dog? If you don't like the idea of frankfurters, as I suggest in the recipe you can replace it with a small piece of raw carrot or zucchini. Or, why not, a little piece of apple. In short: versatile and very fast to do with what you have at home. Also try my potato croquettes, for dogs and humans, and bon bon Ice cream always for you and your dog!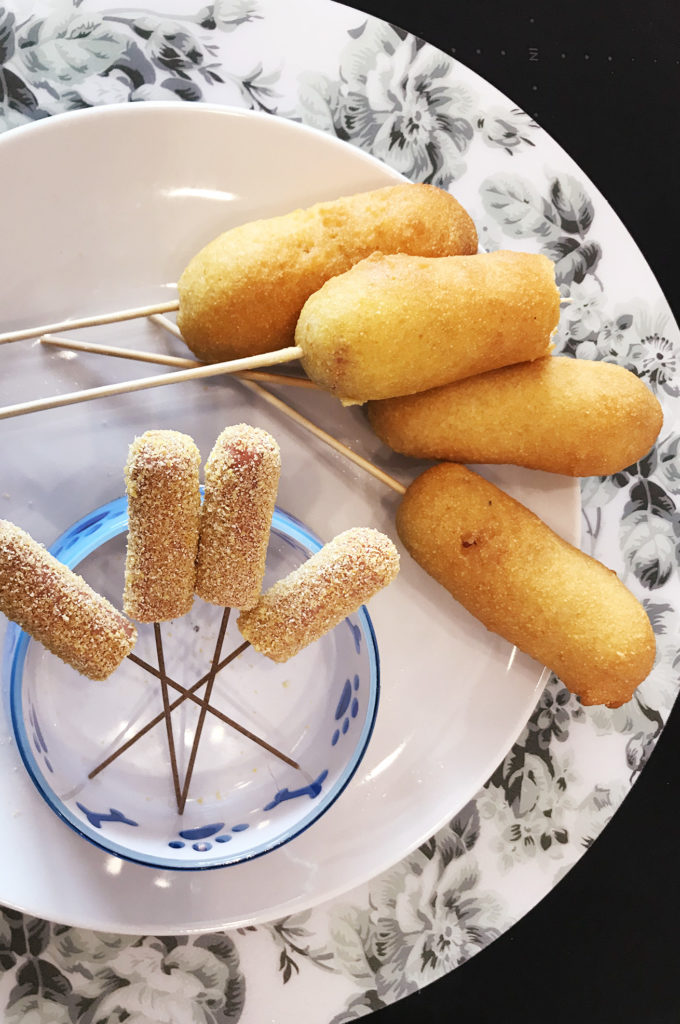 Corn Dog: Ingredients for 6 corn dogs
Big Chicken Frankfurters 3
Cornmeal 130 g
Flour 00 60 g + to taste To flour
Semolate Sugar 12 g
Milk 120 g + a little to keep stock
Salt 4 G
Bicarbonate 5 G
Eggs 1 medium
1 L peanut oil for frying
Long toothpicks for skewers
Dog Corn: Ingredients for 4 dog corn
Small Chicken frankfurters 2 *
Corn flour to taste
Milk a Dash
Number 2 buckwheat Spaghetti * *
Procedure
Let's start with the corn dogs, get ready for goodness! In a bowl, combine the whole egg and the milk, whisk them well. Then combine the two flours and for last sugar, salt and bicarbonate. Mix vigorously with a whisk until a full-bodied batter is obtained. Travasa the batter in a tall and narrow container: it is essential to easily dip the Wurstel. Heat the oil in a high, narrow pot, or otherwise from the high edges, up to the temperature of 175 °c (if you are not expert, use a kitchen thermometer, otherwise set with a lightly kneeled Toothstick: The oil is at the right point of warmth when the batter will start to fry). Dry the frankfurters and cut them in half so as to get 6 pieces, then stick each one with a wooden stick. Flour (do not skip this passage, otherwise the batter will not adhere to the sausage) and, keeping them on the side of the Toothstick, immerse in the batter. Fry one at a time, tilting the pot if necessary (to keep the corn dog immersed in the oil) and turning the sausage on itself. You'll see the batter swell due to the bicarbonate and take on an amber color: That's the time to drain it. So go with all the Corn dogs!
Dog Corn
Much faster, dog corn is a very tasty snack for your dog. To make them you just cut in half the chicken sausage and use half spaghetti for each piece: stick the sausage with the spaghetti. Now that everything is ready, you just have to dip the sausage in a little milk and pass it immediately after in the cornmeal. Here's the dog corn for your dog!
* I opted for chicken frankfurters without glutamate and no preservatives, but if you really don't want to give frankfurters to your dog then you can replace it with a carrot touch!
* * To not give the wooden stick to the dog, I thought to use a spaghetti so that it can be edible. Buckwheat ones are great, because of course gluten-free but you can also use regular noodles.
Conservation
I recommend to eat the hot corn dogs immediately, even if they are delicious even a few hours later. Do not freeze them. You can give the dog corn to your dog immediately or a few hours later, but replacing in this case the spaghetti that is a stick: moistens in contact with the Wusrtel and becomes soft!
Good because
They are gluten-free snacks and very simple to make
Very cheap and perfect to do at the last minute
Tasty and perfect as a reward to your dog, if it is being trained