Imagine the golden nuggets and apparently fried, which give off an irresistible scent of rosemary and home. I bet it is a taste and smell familiar, who knows how many times you happened to advance the polenta to recycle then with cheese or pass it on the grill! Maybe you do not know that polenta is one of the most suitable food for your dog and if the next time you prepare to avoid salt, you can certainly take advantage of it to make him a good snack. That's why the crispy baked polenta will be among your favorite recipes to prepare!
Cutting the polenta into cubes or small molds will not take much to become super crispy; I added a drizzle of extra virgin olive oil but I assure you that you can also do without it. If instead of rosemary you want to use other aromas like sage or parsley The result will be just as spectacular. You can hold the crispy polenta in the oven as a prize or, if you have a puppy during training, you can use it as a stimulant. Add a few cubes to everyday food and you will make him happy!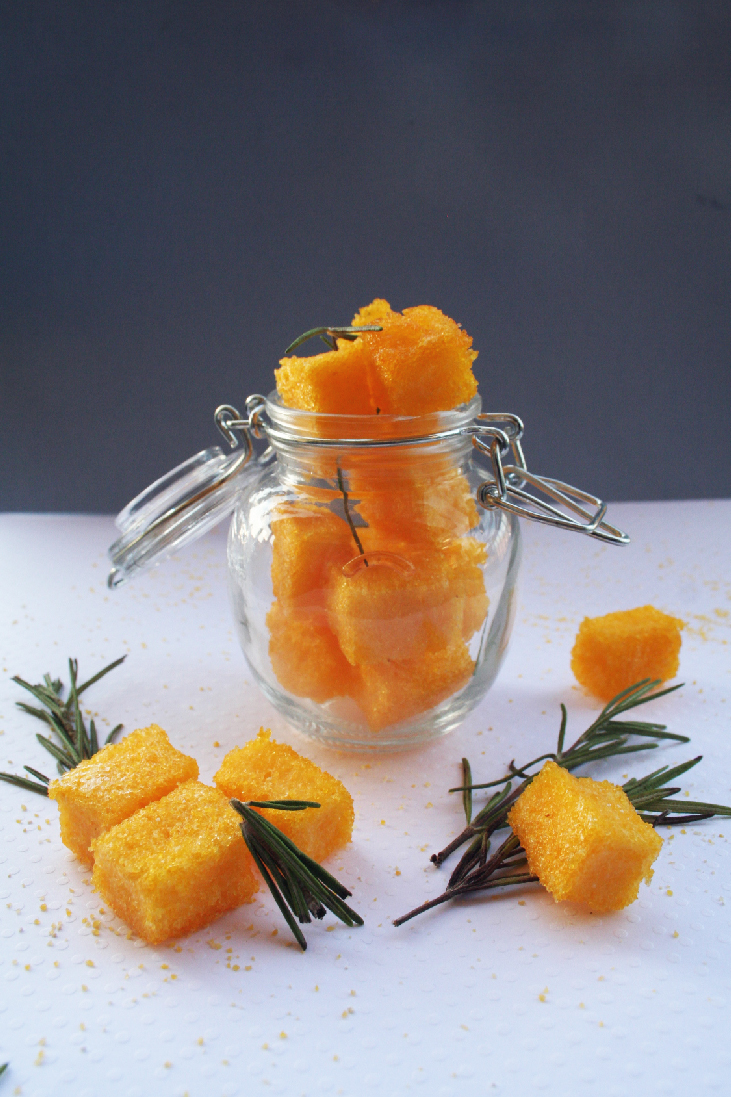 Crunchy Baked Polenta: ingredients for about 500 gr of polenta
Corn flour coveted 150 g
Water 500 g
Rosemary to taste
Extra virgin olive oil 1 strand (optional)
Procedure
Heat the water until it touches the boil, then add to the rain the coveted flour without ever stopping to stir with a manual whip. Cook the polenta for about 10 minutes, making sure that it does not stick to the bottom of the pan. Once ready, transfer it into a 15 cm mould or cake pan, so that its thickness remains about 2 cm. Let it cool down completely. Once cool, Sformala on the chopping board and cut it into cubes (or strips, as you like). Arrange all the cubes obtained on a dripping pan lined with parchment paper and ungili with a drizzle of extra virgin olive oil. Finally, add a few rosemary needles. Cook your crispy polenta in the oven and you will smell it all over the house!
Cooking
Bake the positioning crunchy polenta in the upper part of the oven, at 200 ° for 20.25 minutes until it becomes pretty dry.
Conservation
You can store the crispy polenta in the oven for 3-4 days wrapped in a foil of oven paper in the refrigerator, or in a glass jar with hermetic closure. You can freeze the cold polenta, not yet baked in the oven.
Good because
If we bipedi usually appreciate the rice when we are not well or want to be light, the dogs appreciate the polenta! For them it is a real panacea. I used corn flour craved for cheese cookies too!
The small and extremely crisp cubes are for your dog the ideal snack, to add also to his daily jelly