Two doughs, one white with a thin yogurt and the other orange made from baked pumpkin and cinnamon. Both amazing if you tasted separately, imagine them united in a hypnotic and spectacular spiral! Here are my pumpkin rolls, dreamed of during a cold night in October when I could not get to sleep; One of those spooky nights with the Hissy wind where the thought flies right to Halloween, where I wanted to keep my hecate hugged and sleep with her.
As soon as I could I realized the dream following my vision: a slightly gothic swivel, in which the pumpkin to puree stands out for its taste, colour and aroma. I have tasted them-as I usually do with all the canine tidbits I prepare-and I found them extremely pleasing despite the absence of sugar, butter, oil or salt. In This recipe I did not put even the yeast, not to cover the delicate flavor of yogurt and to leave the spiral sharp and well defined.
If you're already thinking like me at an October 31st made of "Dog-Cetto or Treat?", you found the perfect recipe: These pumpkin rolls are frightfully good!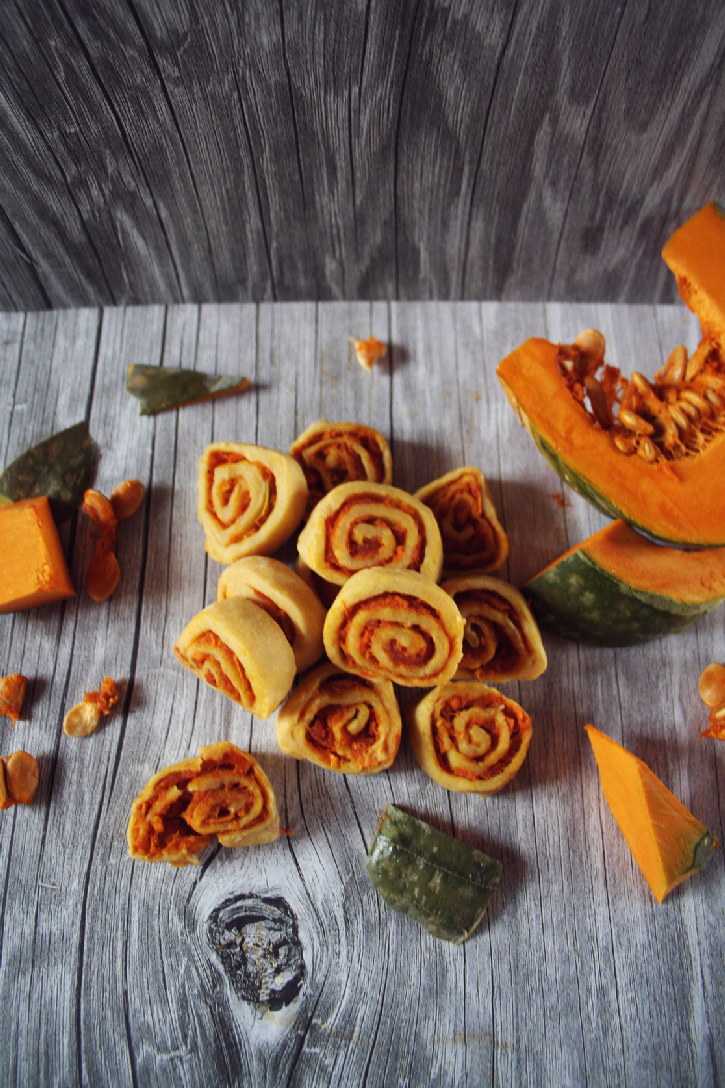 Pumpkin rolls: Ingredients for about 15 biscuits
Flour 00 160 g
Water a drop
Pumpkin Delirium 150 g net of waste
Low-fat Yogurt 70 g
Eggs 1 yolk
Powdered cinnamon The tip of a teaspoon
Procedure
To make pumpkin cookies, first you have to clean the pumpkin from the inner seeds and deprive it of the skin. Cook it in a pre-heated static oven at 170 ° for 30 minutes, placing it on a drip pan lined with parchment paper. Keep track of the situation, testing the baking with the prongs of a fork. Once ready, let it cool down completely. Blend it with an immersion blender together with cinnamon and a drop of water to obtain a soft puree.
Continue with the other dough. Put flour, yolk, a drop of water and yogurt In a bowl. Work everything to get a compact and non-sticky dough. Spread it with the rolling pin on a floured top, giving it a rectangular shape and a few millimeters thick.
Lay the pumpkin puree on the dough rectangle: Be careful not to break the layer below, I suggest you distribute the pumpkin by helping with the prongs of a fork. Don't worry if it won't be a homogeneous filling.
Starting from the long side, roll up the dough and then wrap it firmly in the transparent film. Leave it half an hour in the refrigerator, then unroll it and with a very sharp and thin slicing knife. Proceed by moistening the blade and making long cuts, reaching the end. Arrange the biscuits on a dripping pan lined with parchment paper and cook them. The pumpkin rolls are ready!
Cooking
Pre-heated static oven at 160 ° for 30-35 minutes.
Conservation
You can keep the pumpkin rolls for 3-4 days in the refrigerator, or freeze them once cooked.
Good because
The pumpkin is a vegetable rich in vitamins, boasts antioxidant properties and is perfect as a purifying for stomach and intestines
The pumpkin rolls are complete but poor of ingredients: Grsso and yogurt proteins, carbohydrates and flour sugars, pumpkin as vegetable