I've always been celebrating my dogs ' birthdays since I was a kid. Why not, basically? They feel when spoken to in a certain way and always appreciate the extra attentions and cuddles. For a special occasion then you have to find a recipe really unbeatable, tasty, colorful, soft, to cut in slices. Let me introduce you to my zebra cake, very simple to make and with bicolor streaks that hypnotize at a glance.
A single mixture divided into two halves, one of which enriched with carob flour to obtain a colour similar to chocolate. Pour in the mold the two variants alternating concentrically and you're done! I'm sure that this recipe will enchant you and you will not feel true that you can pamper your dog with a delicacy apparently high confectionery. And you have done it yourself with your own hands: There is no better gift for your dog. If you are afraid of failing the zebra effect no problem, you can opt for a charming marbling by pouring both compounds at the same time and mixing then with the prongs of a fork. Here, after my apple muffins, my zebra cake, so you can celebrate your dog as you must!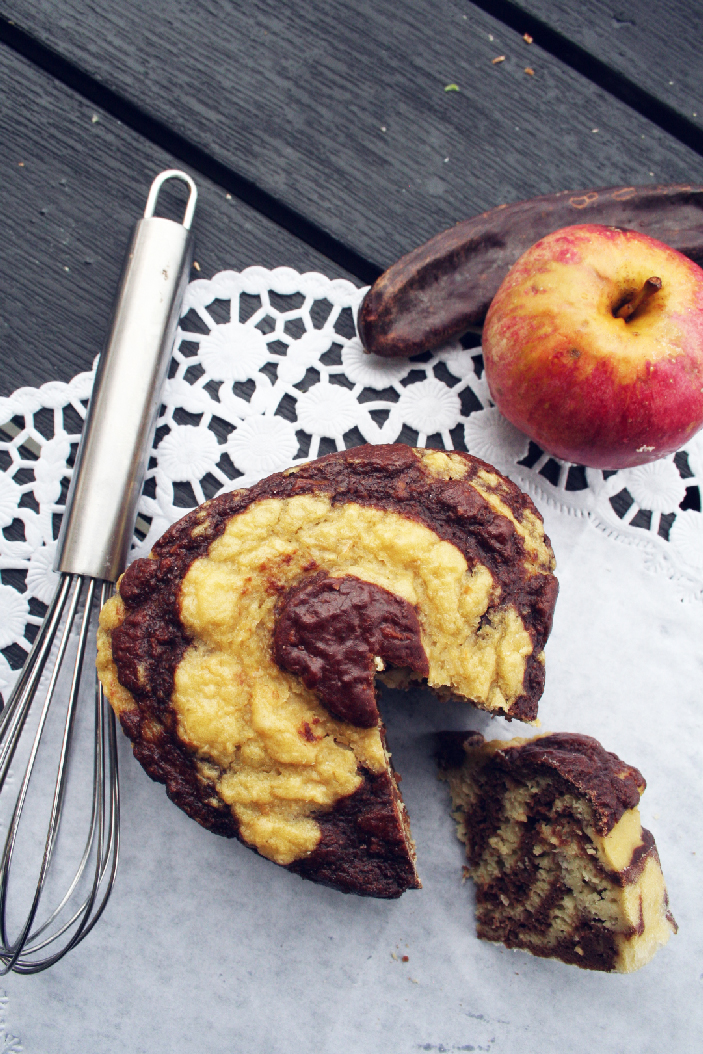 Zebra Cake: Ingredients for a heart-shaped mold of 15 cm in diameter
Flour 00 80 g
Rice flour 20 g
Red Apple, half
Soy Milk 50 g
Fresh Brewer's Yeast 8 g
Carob Flour 3 teaspoons
Seed oil for the mould 1 drop
Procedure
In a blender blends half an apple without peeling it, after having it washed and dried, together with the fresh brewer's yeast and slightly intiepiditoed soy milk. Pour the smoothie into a bowl and combine the 00 flours and sieved Rice. amalgamate well to get a smooth and lump free compound. Now divide the dough by putting half of it in another bowl. It incorporates the carob flour in the latter, to obtain a nice smooth and dark cream. Ungi the baking tin with a drizzle of seed oil.
Now the fun stage, where you have to join the two alternating dough and putting each time the same dose. Pour a couple of tablespoons of apple dough into the middle of the mold, let it dilate by itself without distributing it manually. At the center of the dough, pour two tablespoons of the one to the carob and do not touch it. Continue the same way until you finish the dough. Now cook the zebra cake!
Cooking
Pre-heated static oven at 160 ° for 40 minutes. If you use the ventilated oven, bake the cake at 140 ° for 20 minutes.
Conservation
You can store the zebra cake for 3 days at room temperature wrapped in transparent film, or in the refrigerator. Once cooled, you can freeze it whole or slice!
Good because
The zebra cake is substantial and caloric, contains so much apple and carob flour to donate gluttony. Just a little bit to make your dog happy!
It contains no eggs and the dose of flour is dampened by that of rice, gluten-free and more digestible