If you've already tried my apple muffins, apple snacks and my zebra cake with apple and carob, then you can't deprive your dog of these fantastic apple-hearted biscuits! Already the name brings back in time, recalling the famous packaged biscuits that we all loved… Well, this is the version of canine tidbits all dedicated to our loyal cohabiters!
It is nothing more than a dough made from chestnut flour-which has a naturally sweet and highly appreciated taste-left to rise a little and then stuffed with a fresh Apple cube, without flour or cooking previously; This is the ideal method to preserve all the properties of the fruit that, more than cooking in the oven, is moistened thanks to the steam of the dough in baking. These bundles are ideal if you have in mind a busy Girona with your dog: training, hiking, outings, Eddestramento. Just one and your dog will find all the energy he needs!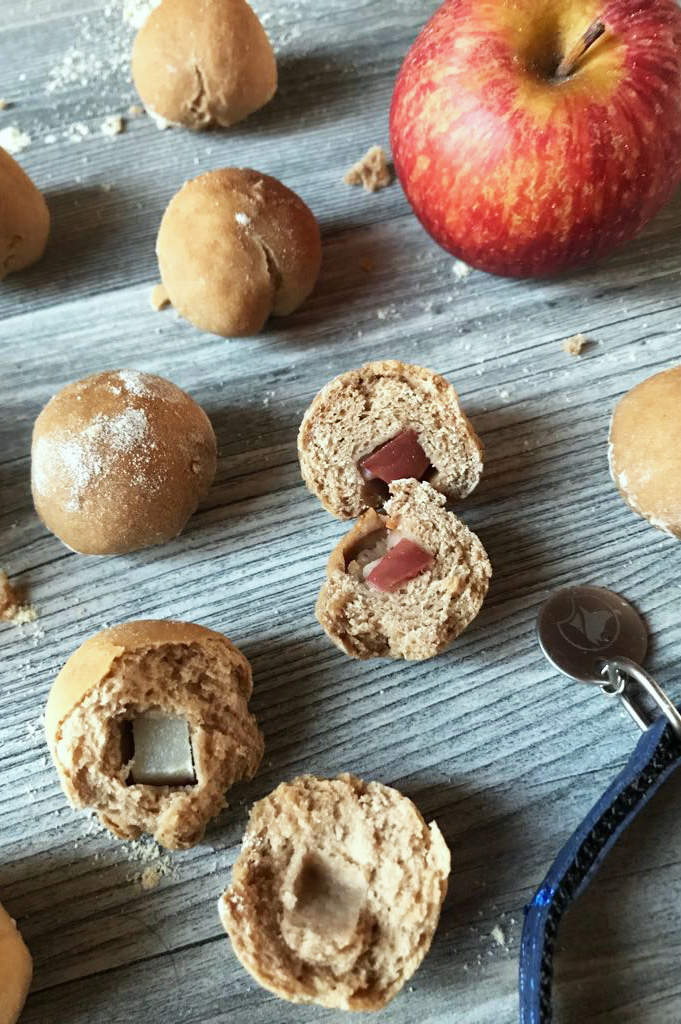 Apple Biscuits: ingredients for 25 biscuits
Chestnut Flour 75 g
Apples 1 Small
Medium eggs 1
Fresh milk (or vegetable drink without sugar or flavours) 50 g
Fresh Brewer's Yeast 7 g
Durum wheat flour 85 g
Procedure
To make apple pie cookies, you have to start from the dough. Mix the two flours in a bowl and add the whole egg and milk apart from a couple of spoonfuls that you have to warm up slightly. In This part of lukewarm milk melt the brewer's yeast, then add it to the other ingredients: Mix well and vigorisamente to incorporate the yeast and develop the Glutinica mesh, which will help the leavening and contribute to the elasticity of the dough.
You get a compact dough and put it to rise in the oven off with courtesy light on, for about 90 minutes. Wash the apple well-I used a mlannurca bell, but it will be fine even half of any apple you have at home *-and cut it into small cubes. I have reckoned for 25 biscuits, therefore you will need 25 cubes, but you can always increase the number to your liking, reducing the size of cookies.
Divide the dough into portions of circ 10 g each, work each diskette and put a piece of apple in the middle. Now close the disc on the Apple, to seal the edges well and get a ball, a bundle. Arrange the apple-hearted biscuits on a dripping pan lined with parchment paper and cook in a pre-heated static oven at 170 ° for 35 minutes. Ready!
* This is the perfect opportunity to consume the apples a little ' ruined, old, or those that do not H finished and that begin to yellow!
Conservation
You can store your Apple-heart biscuits in a food bag, maybe in a vacuum, or in an airtight package. The more they will be exposed and spend the days, the more the biscuits will be smoother but omunque good. You can certainly freeze them from cooked, then bring them to the ambient temperature and maybe heat them in the oven for about ten minutes.
Good because
The apples, now you who follow me you know well, are among the favorite fruits of dogs. In these biscuits the apples are chewy and very little cooked, so as to keep all the properties
They are a healthy and nutritious snack, good calorie and perfect if you are planning to take long walks with your dog