I thought this recipe as a gift intended for my neighbor Charlie the dog, that poor man spends a lot of time alone during the week and the weekend. You were supposed to see his expression when he sniffed them! Our favorite game has become this: I, from the balcony on the first floor, tossing bits of these energy bars to the oatmeal and he, from his little garden over my house, gets to run to find to munch on those treasures.
You have to try it for your dog too!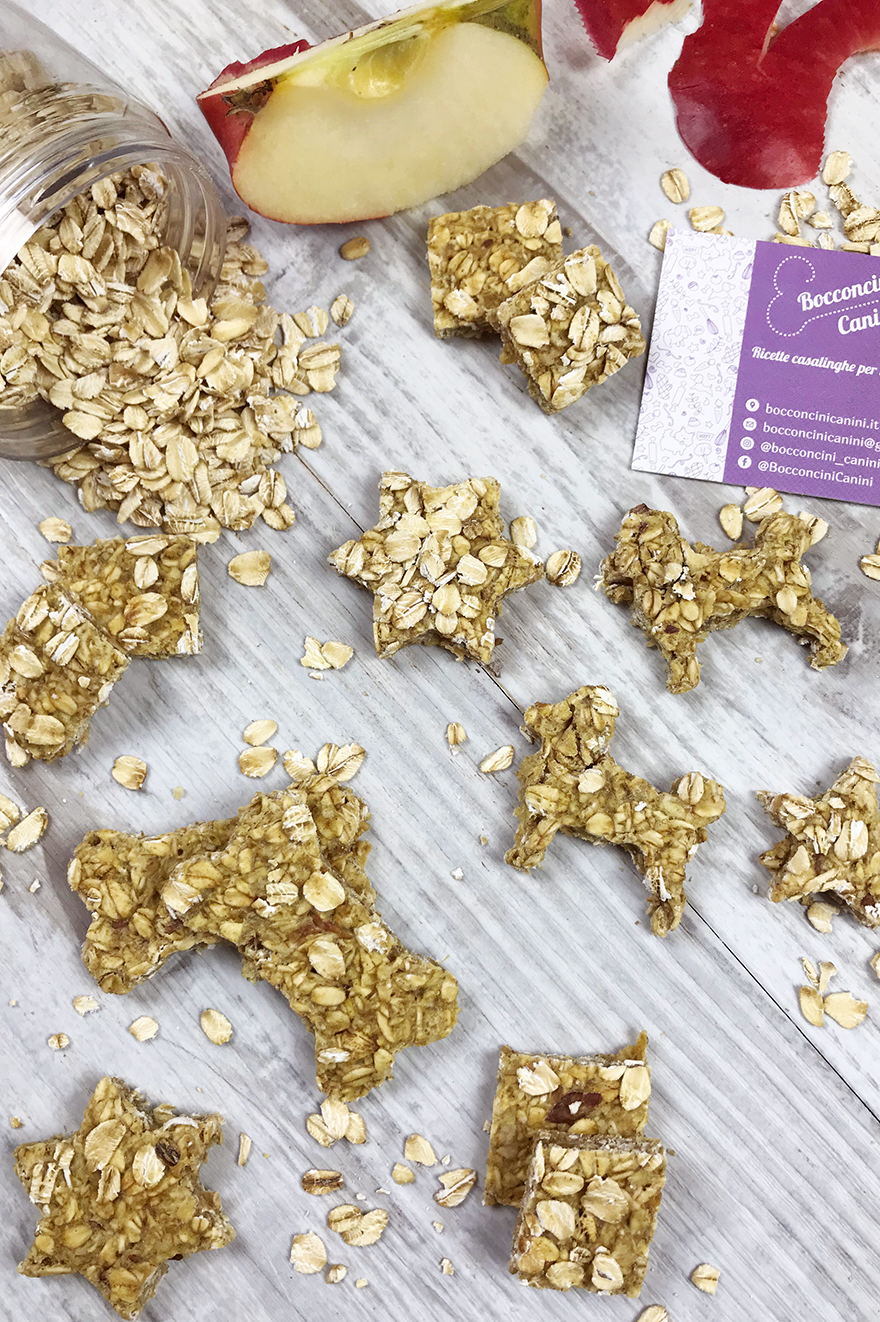 Energy bars with oat flakes: ingredients
Oat Flakes 150 g
Flour 00 30 g
Honey 1 teaspoon abundant
Medium eggs 1
Half Apples
Cinnamon 1 teaspoon low
Procedure
To make these energy bars, combine the oatmeal and flour in a bowl. Add also the honey and the cinnamon, then grate the apple without removing the skin-rich in nutrients, of course after washing it well. Last the whole egg. Amalgamate everything by hand until a compact, albeit sticky, mixture is obtained.
I now place it in a dripping pan lined with baking paper, then cover it with another sheet and spread the dough in a thin sheet about 5 mm. Gently remove the sheet above and cook it in a pre-heated static oven at 180 ° for 30 minutes. If you prefer a crisper bar, after cooking, lower the oven temperature 150 ° and continue for another 20 minutes. Once baked, you can cut them still hot: cut them to get classic bars or cup with a biscuit size. Your energy bars are ready!
Conservation
You can store your energy bars to oatmeal for a long time, especially if it is made crispy, closing in an airtight package and placed in a cool, dry place. I don't recommend freezing them.
Good because
The oatmeal is light and crispy, rich in fiber
Cinnamon powder and honey bring precious vitamins and nutrients!