Since I have a little house I have also granted a small and modest garden on the terrace: I have pumpkin, fantastic zucchini, mint, licorice and… beets. As a child, as I think many children, I hated but also thanks to the work that I do I learned to appreciate them in preparations both sweet and savory. They are extremely nutritious and their sugary flavor is for many irresistible. Among these "many" there are also dogs, who lick their mustache with these beet biscuits.

I tested the thing by giving bits of raw beet to my IndianaJones and Hecate, as well as to some cagnoni of the neighborhood and I must say that I was surprised by their appreciation.
So I decided to put this precious vegetable in the canine tidbits.
I used them raw and grated but you can easily chop those boiled cooked that are found at the supermarket, just set a little ' with flour if the dough is too humid. Little ones, of a intense rose, beautiful buckets: Here are my beet cookies, I hope your dog also appreciates!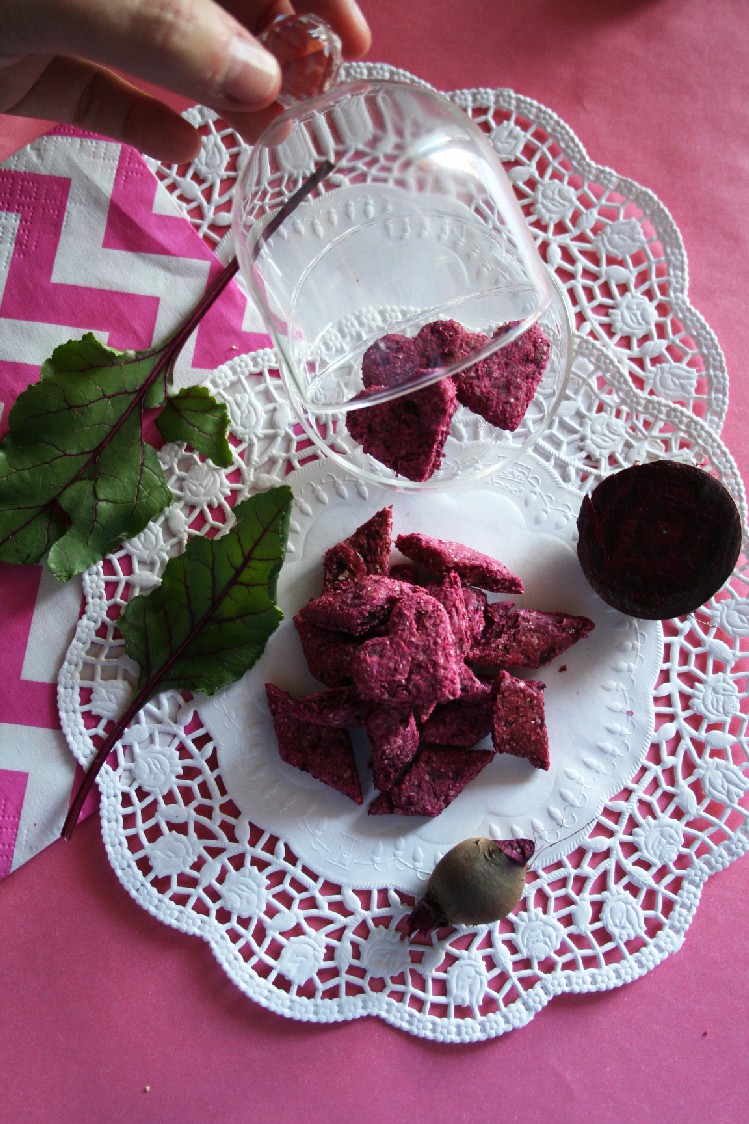 Beet biscuits: Ingredients for about 40 2 cm long biscuits
Fresh Beet 40 g
Wholemeal flour 80 g
Water 20 g
Soy Milk 1 Spoon
Procedure
Wash and dry the beet well, peel it with a vegetable peeler (optional) and grate it with a grater in narrow mesh.
Transfer it to a bowl and add the flour and water. Knead everything to amalgamate the ingredients, then add the soy milk.
Work the dough until you get a very compact dough and quite difficult to work.
Lay it on the worktop up to a thickness of half a centimeter, refine the edges to get a square or a rectangle.
Cut it into vertical strips with a knife or a cuttering wheel, then in horizontal strips to obtain approximately 2 cm squares. You can alternatively cut it into oblique strips to get some pretty rumbles, like I did.
Arrange the biscuits on the dripping pan lined with parchment paper and cook. Extend the cooking if you prefer them to your dog drier and crisper. Your beet cookies are ready, similar to Little rubies!
Cooking
Pre-heated static oven at 170 °, for 15-20 minutes
Conservation
You can store your beet cookies for about ten days, refrigerated in a hermetically sealed container, or at room temperature in a tin box. You can freeze both the dough of raw dough and the biscuits already cooked.
Good because
The banana is a pasty and tasty fruit, which is also very fond of purity. It performs an anti-inflammatory function and does very well to the intestine.
The presence of rice flour makes crumbly biscuits. Being gluten free is highly digestible.