These dog biscuits have a really crazy origin, they were born from an inspiration of mine, of those that sometimes take me and nothing… I can't resist and I have to put them into practice! Working in Milan but living far away, one evening I thought it would be great to take a nice walk in the center with my dogs; Stop occasionally and enjoy a little that couple of hours for an aperitif. What if we had an aperitif with our dog? So here are the blueberries biscuits, or rather the "Cosmopolican" because inspired by the famous and sweet cocktail.
Sheer madness, I know, but aren't they cute? They contain organic and unsweetened cranberry juice, without other fruits-you know, very often they only claim the fruit in a larger percentage on the label but in reality it is a mixed fruit juice. If you have the extractor you can get it yourself in the house, or patiently you can blend the blueberries and pass them well in a strainer with tight mesh! After my pomegranate cookies you can't really miss these: your dog will thank you!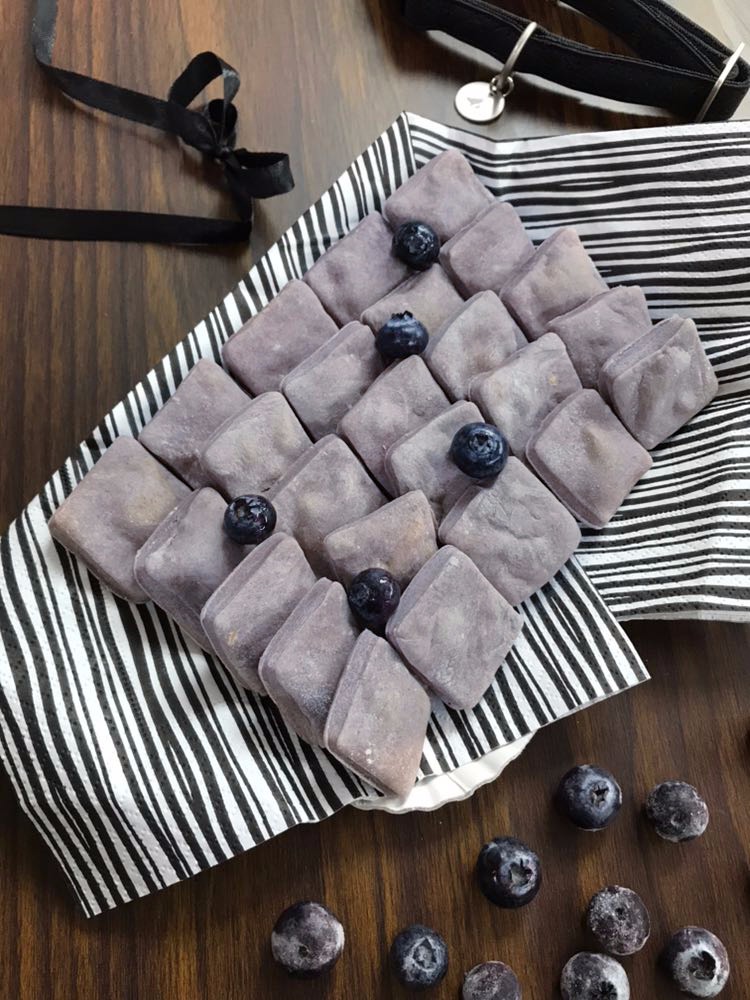 Blueberry Biscuits: Ingredients for 55 biscuits
Flour 00 200 g
Maize STARCH 100 g
Cranberry juice 100% pulp 125-155 ml
Medium eggs 1
Procedure
To make these blueberry biscuits, you just have to combine the starch and the flour in a bowl. Also combine the whole egg and 125 ml of juice, then knead well. If the mixture is dry, combine more cranberry juice.
After obtaining a homogeneous dough, transfer it to the work surface and continue kneading for a few minutes. It is not necessary to rest the dough: spread it with the rolling pin up to a thickness of half a centimeter, then you get square biscuits by a cookie size of 4 cm per side, or Tagliuandoli knife.
Lay them on a dripping pan lined with parchment paper and cook them in a pre-heated static oven at 170 ° for 14 minutes. Blueberry cookies are ready!
Conservation
You can keep blueberry cookies for about a week, in a hermetically sealed container. You can freeze them but be cooked!
Good because
Blueberry is an excellent ally for the diet of Bipedi and for the wonderful canine beings: rich in antioxidants, contributes to the general wellbeing
These biscuits are very delicate and poor, not heavy to digest