The philosophy of canine tidbits hardly ever foresees meat or fish, only because they are ingredients that should be already present in daily gruel unlike fruits and vegetables that unfortunately are often lacking. But there are some exceptions: these fragrant tuna biscuits, the quick biscuits to the chicken wurtel, the scones to the cod. If you have not yet made them taste to your dog, I would do a good stock because they end immediately!
The presence of a little apple peel in this recipe contributes to the intake of fibers and vitamins, and softens slightly the intended flavor of the tuna. In short, a complete dog snack, perfect both for puppies and for older dogs.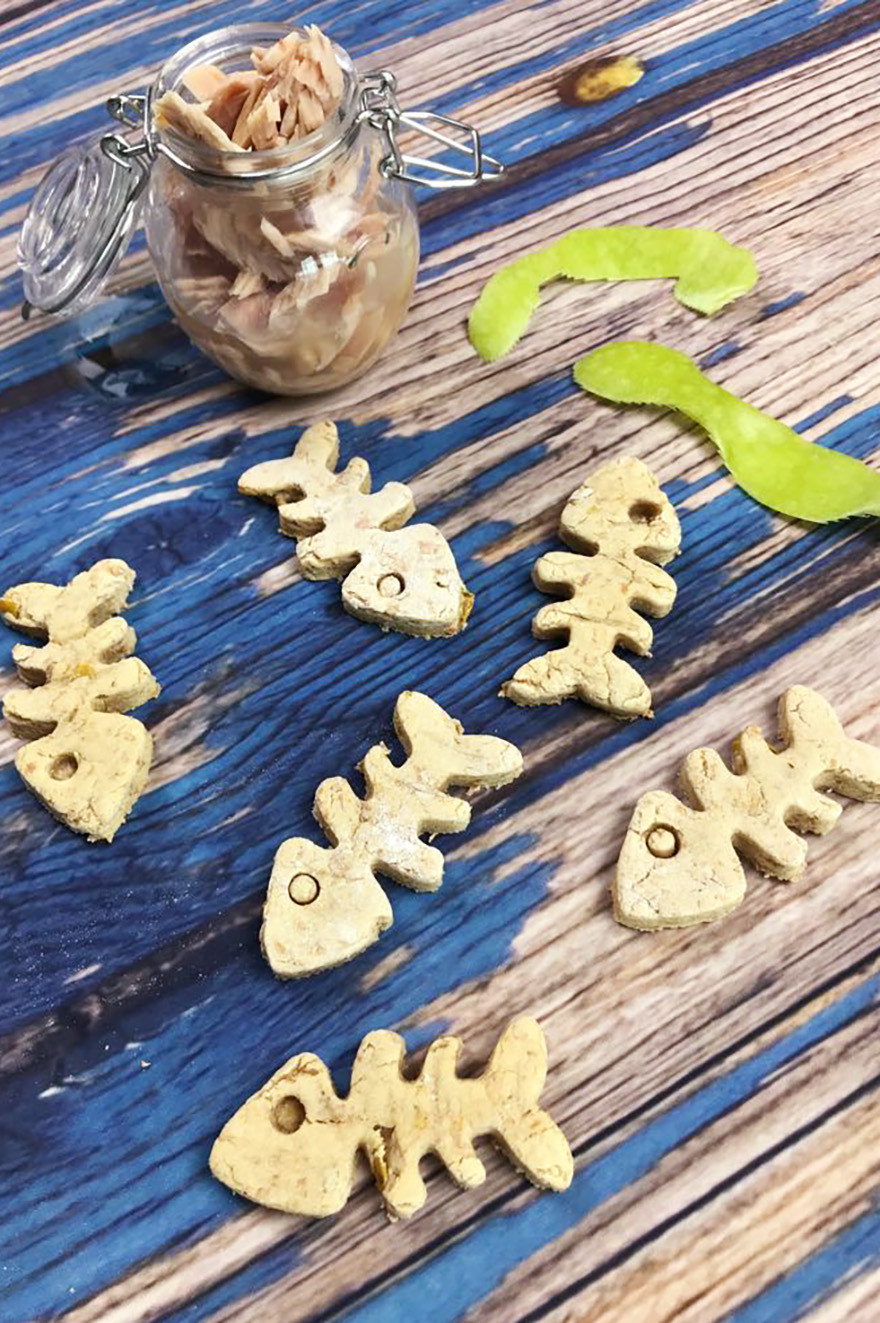 Tuna Biscuits: Ingredients for 12-15 biscuits
Tuna at Natural 80 g
Green apple peel of 1 slice
Extra virgin olive oil 1 tablespoon soup
Water 4 tablespoons
Rice flour 60 g + to taste For the work plan
Wholemeal flour 20-25 g
Procedure
The tuna biscuits are among my recipes for simpler dogs. Chug the tuna-I chose it naturally, so I could use an extra virgin olive oil "fresh"-and put it in a blender. Also combine the water, the chopped apple peel and the oil. Operate the blender to obtain a homogeneous cream. If you do not have a blender you can safely use a blender.
Travasa all in a bowl and combine the two flours, to knead everything and get a full-bodied dough.
Lay it on the floured work surface and get the biscuits: I used a cup of biscuits in the shape of fish, but of course you can opt for what you have at home; If you don't have any, cut them into diamonds or squares. Arrange them on a baking sheet lined with baking paper and cook them in a pre-heated static oven at 170 ° for 30 minutes, then turn them and continue cooking for another 15 minutes to dry them properly. The tuna and green apple biscuits are ready!
Conservation
You can store the tuna biscuits in a well-closed jar in the refrigerator. You can certainly freeze them!
Good because
The tuna is digestible and light, a good dose of protein
They have a reduced percentage of gluten as well as a subscriber extra virgin olive oil