These are among the first biscuits for dogs born in the kitchen of canine morsels: Always for Billa, of which I told you and for which everything started. I'll never know for sure if they work for how we would expect, that is with a calming effect, but apart from that I found that dogs the taste of chamomile love it very much. So here's my chamomile biscuits, dried bones and wholemeal flour that will make your dog lick the mustache!
I also dedicate them to Argos the dog and his human Beatrice. I do not know them in person but on Instagram (you find it looking @argos_the_greek) Beatrice and I chatted and our love for dogs is very inordinate. Argos is a peperino from what he tells me (that's why a chamomile biscuit would be well accepted!) and form with her a strong team. Albeit wonderfully imprefect and among others and lows. A full life. Beatrice writes about everything she knows about dogs on her beautiful site www.justmydog.com: Tips, opinions, tutorials, articles in depth. If you are looking for a point of reference to live the best with your dog, you have found it!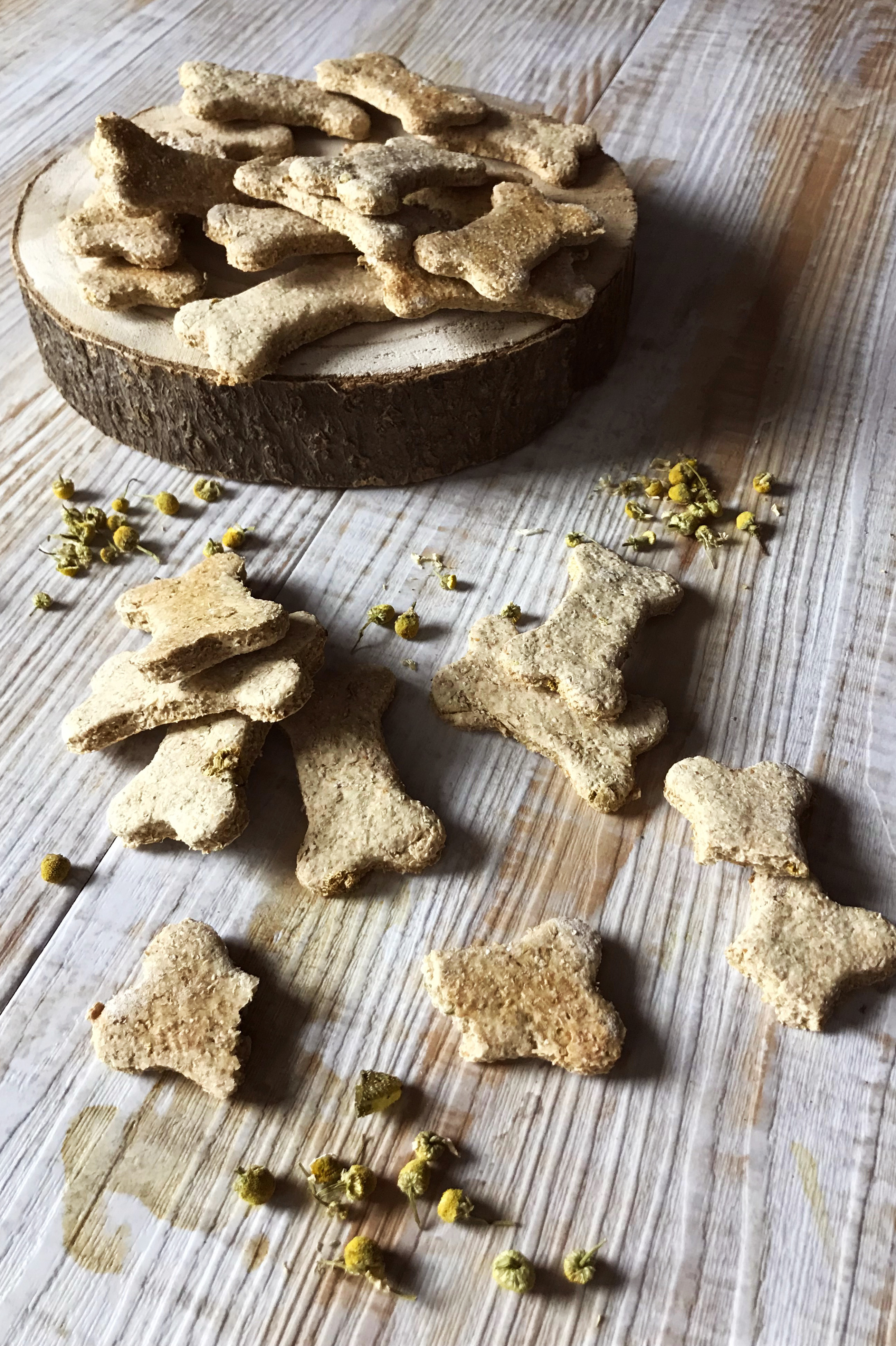 Ph: Ilaria Giovanna Susan
Chamomile Biscuits: Ingredients for 22 biscuits
Wholemeal flour 150 g
Acacia honey 1 tablespoon soup
Chamomile in flowers 1.5 tablespoons
Fresh Brewer's Yeast 3 G
Water 60 g
Procedure
To make chamomile biscuits, first you can literally make chamomile tea. I warmed the water provided in the recipe and I left in infusion half of the chamomile indicated, leaving it to rest for about 15 minutes. You can also avoid this step *. Having obtained the chamomile, keep it warm and in a bowl combine flour, honey and crumbled yeast; Now pour the chamomile without filtering it and also incorporates the chamomile in the remaining flowers.
Knead by hand with force: the more you work the more the dough will develop the glutinica mesh and activate the light leavening. I warn that this is a hard rather dough, I do not recommend adding liquids.
Spread the dough on the work surface lightly floured and lay it down to a thickness of half a centimeter; I used a pasta bowl shaped like a bone, about 7 cm in length, but you can use the shape you prefer or cut seplicemente knife to get squares or strips.
Recline the chamomile biscuits on a dripping pan lined with parchment paper and cook them in a pre-heated static oven at 175 ° for 25 minutes. Ready!
* If you want you can add warm water to the dough and then incorporate all the chamomile flowers.
Conservation
You can store chamomile biscuits for a week or more-depending on the humidity of your home and the same-in a well-closed tin box or in a paper bag. You can certainly freeze them from cooked.
Good because
Their taste is very delicate and naturally sweet, also the wholemeal flour is fibrous and helps the intestinal transit
Chamomile-even if it is not a proven science-has a calming effect and the dogs its taste is very fond of: try adding a pinch of grated orange zest to the dough!