Who has not loved the "hugs" biscuits of the famous brand, and who has never tasted them? I've had a feast… So I wondered how to make a version suitable also for our friends on all fours. And here are the hugs-like biscuits for dogs! Very simple, obviously without butter or sugar, very fun to make, with a few very healthy ingredients and a nice dose of olive oil. I conceived them thinking of the rings "hug"-which means embrace-designed by Dog Fever: The brand of jewelry depository of this line of rings, bracelets and earrings that faithfully reproduces the characteristics of many dog breeds. A show. 
Fan part of the breakfast range for dogs, like the apple muffins or my zebra cake: Prepare the biscuits hugs and have breakfast with your dog in the morning, it will be a tender and unforgettable moment that will make both happy!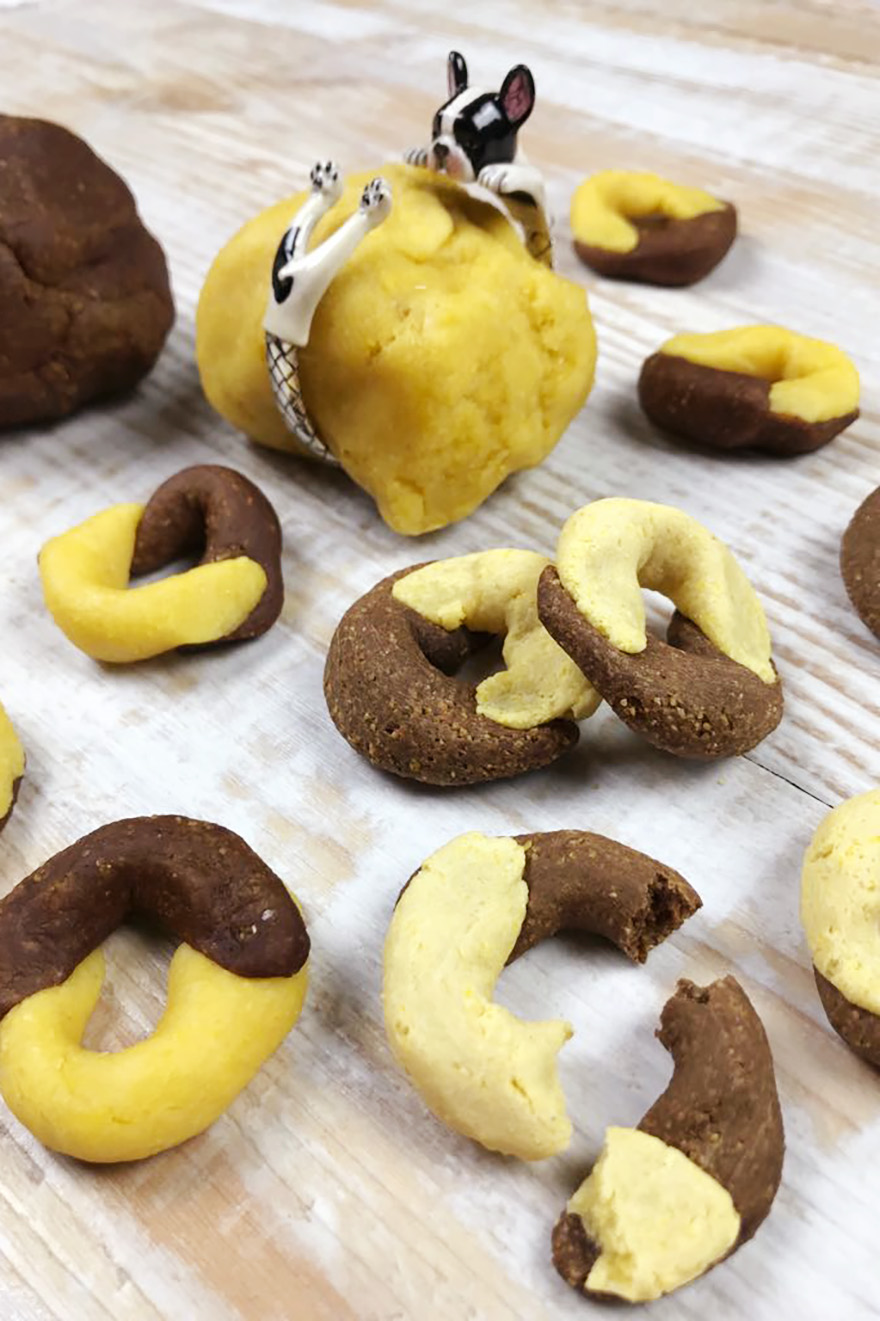 Hugs-like Biscuits: ingredients for 10-15 biscuits
Flour 00 150 g
Maize flour 100 g
Medium eggs 1
Extra virgin olive oil 20 g
Carob Powder 15 g
Water 40 g
Procedure
Making these biscuits is fun, and you can definitely involve the small (bipedal) of your home. In a bowl, combine the two flours, the whole egg and the extra virgin olive oil. Work everything to get a sandy compound and, at this point, divide it into two parts: in both you can incorporate water-20 g and 20 g, 40 g in all-while the carob is only intended for one of the two. From the moment that the carob absorbs a lot, you can add a drop of water in the dough that contains it. Get two bricks: now the fun starts. Take a small portion of smooth dough and shape it into a stick, then bend it to Horseshoe; Do the same thing with a small portion of the carob dough, then join the two horseshoes at the ends: press for good and there you go!
Proceed in the same way until the dough is exhausted, then arrange on a dripping pan lined with baking paper and cook in a pre-heated static oven at 170 ° for 20 minutes. Your two-coloured biscuits are ready!
Conservation
You Can store cookies long, tightly enclosed in an airtight container for storage in the refrigerator or at room temperature. You can definitely freeze them once cooked!
Good because
Rich in digeribilissima corn flour, which helps to eliminate plaque and "cleans" the intestine
The carob is a very rich food of vitamins, and powder is no less