This is among the recipes for dogs that most represent my philosophy: no strange ingredients, fast to do and… Tasty even for us bipedi as well as for our dog! As I prepared them I couldn't resist and tasted them, thinking they were really amazing. In addition, they are gluten-free given the only presence of rice flour; They are very caloric and protein biscuits, but by nature of peanut butter and not by the presence of other fats such as eggs, oil or dairy products. 
They are perfect for the Cagnoni Anzianotti and maybe Inappetenti: the consistency of these salty biscuits is very brittle and the ham is saline and fragrant; If you have a puppy at home, make small and try to stinking as a prize every time he's good. Come on, try them and let me know what you think!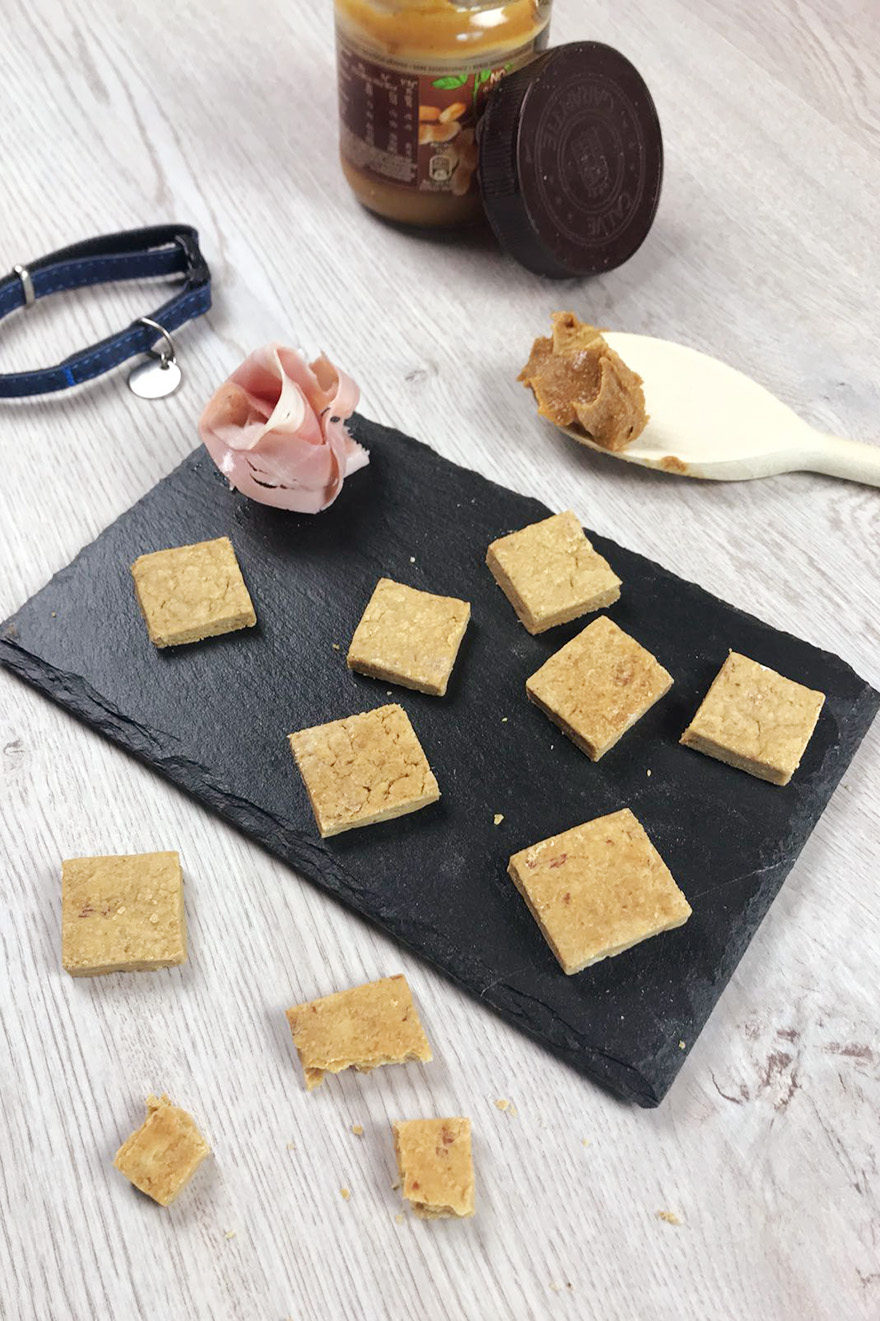 Salted biscuits with ham: ingredients for 40-50 biscuits
Baked Ham 2-3 Slices
Peanut butter to natural, unsweetened 170 g
Rice flour 150 g
Water 20-30 G
Procedure
Three ingredients and an extremely simple procedure: Put peanut butter, rice flour and water in a bowl. Finely chop the ham and incorporate it to the rest, at this point kneads well until you get a dough.
Lay it with the rolling pin on the worktop lightly floured and form the biscuits: I simply cut the squares, the thickness of about half inch, you can make them thinner or use the cookie size that prferisci. Arrange the ham biscuits on a dripping pan lined with baking paper and cook in a pre-heated static oven at 180 ° for 25 minutes. To make them more dry, lower the oven temperature to 160-170 ° and increase the cooking fio to 40-45 minutes. Ready!
Conservation
You can store the salted biscuits with ham for a week, well closed in an airtight container and stored in the refrigerator. You can freeze them but I recommend, once thawed, to pass them in the oven at 150 ° for about ten minutes to dry them.
Good because
The cooked ham is light and tasty, perfect in the training stages of puppies or for Cagnoni Inappetenti
Peanut butter is very caloric and protein: perfect for getting your energies back!