Well yes, I did not resist. I made the biscuits stuffed "growl", inspired by the famous and delicious black and white biscuits, but in canine version! I'm crazy, but when you work with crazy colleagues like you, then it's okay. Yes, because this is a recipe with four hands, made with my friend and colleague Chef Antonio Paolino: He has always supported me in my business and is one of the most eclectic and imaginative people in the kitchen I have ever known. We thought of a biscuit that was really peculiar, and here I am with these stuffed biscuits.
Fan part of those healthy biscuits for the dog but at the same time fun for their humans: like the "Ginger can", the "Can-Eder" and the "Can-Apè"!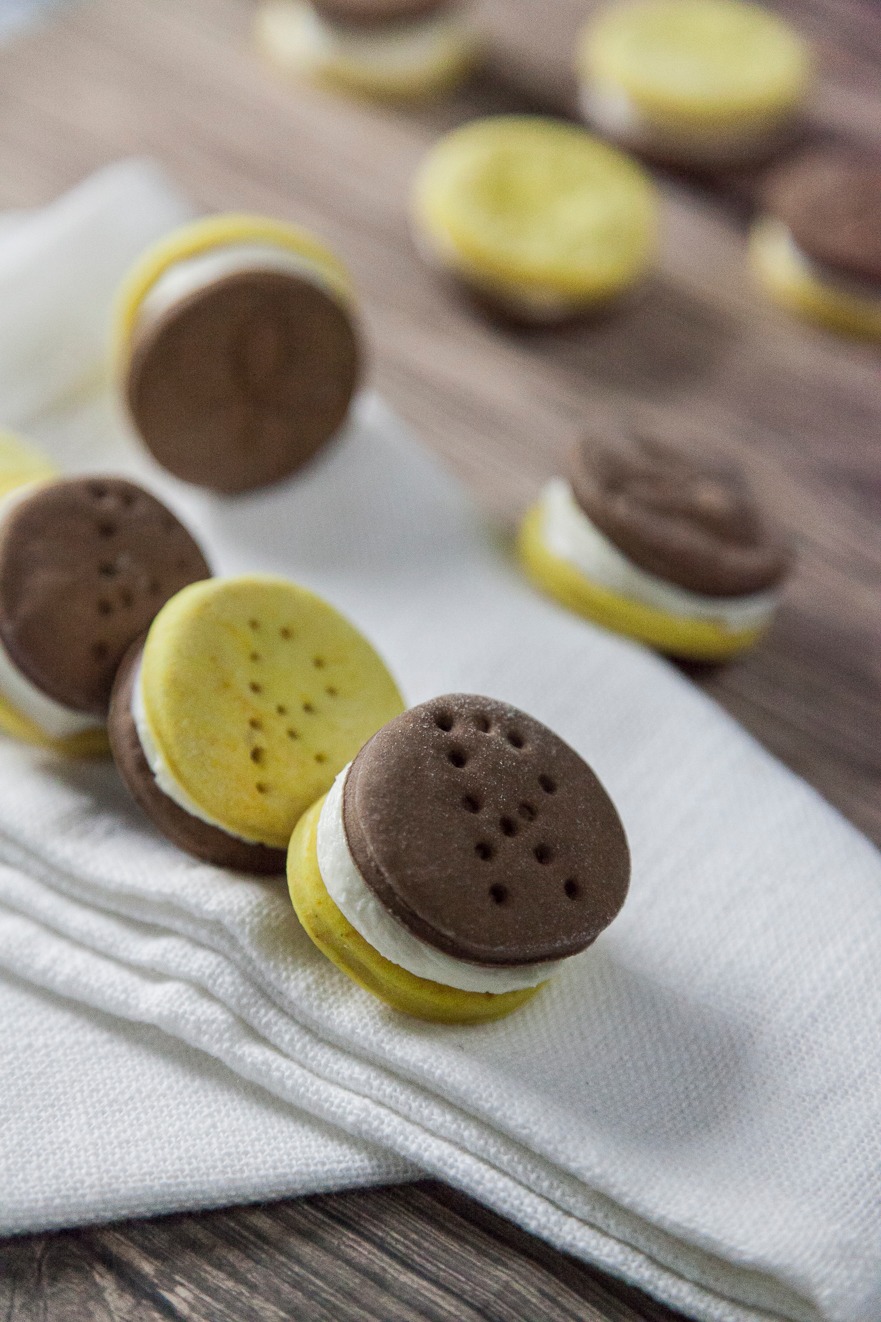 Stuffed Biscuits: Ingredients
Flour 00 200 g
Water 100 g
Greek yogurt 65 g + to taste To fill
Turmeric powder to taste
Carob Powder to taste + Water to taste
Procedure
To make the stuffed biscuits growl put in a bowl the flour, the water and the yogurt. Knead to get a nice dough, then divide it into two equal parts. In a portion add as much turmeric as you need to get a yellowish color similar to a short pastry; In the other add as much carob as it takes to obtain a look similar to a cocoa pastry, if necessary adding some water.
After having obtained the two doughs, spread them up to 1.5 cm in thickness, then with a circular biscuit size of 3 cm in diameter. You can decorate the diskettes as you like, or leave them smooth. Cook in a pre-heated static oven at 175 ° for 10-12 minutes. Bake them and let them cool completely. They could swell in baking, in this case gently squeeze them in cooking with the back of a spoon.
Once you have cooled get a yellow disk, put a small walnut of Greek yogurt in the center and press on a dark disk: Here are your stuffed biscuits!
Given the substantial presence of Greek yogurt, I recommend giving your dog a growl every now and then!
Conservation
You can store these snarl-stuffed biscuits for a couple of days in the refrigerator tightly enclosed in a hermetic container. Do not freeze stuffed. You can freeze the cooked floppies and then stuff them only Allìoccorrenza!
Good because
Rich in flavor and-for us humans-beautiful at the sight!
Yogurt, turmeric and carob are important nutrients for the overall well-being of the dog