How many times does your dog beg bricioline when you are at the table, resting perhaps the muzzle on your thigh and invadendoti the soul with the eye of those who are not nourished for years? Ah, how much patience… But I yield, inexorably. And I bet you too. That's why I designed the bread braid with broccoli: It "confuses" with a normal piece of bread for us bipedi, so as not to clash on the table, but can be granted to your dog! 
I know, I know: I realize that this recipe for dogs is the fifth essence of vices and habits not really follow, but come on we are all in love with those happy queues and those linguoni dangling in water! This is Proorio the case to say: we have bread for his teeth! If you're having a snack with your friends, maybe at tea time, also invite your dog and offer him my zebra cake or the apple muffins!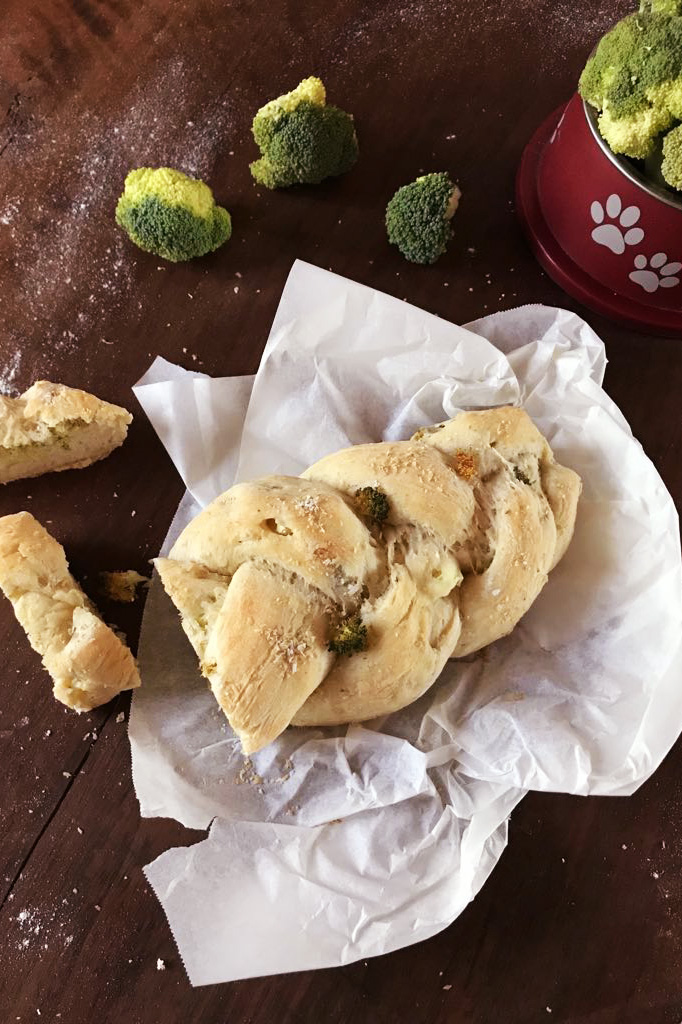 Broccoli bread: ingredients
Flour 00 150 g
Fresh Brewer's Yeast 4 G
Lukewarm water 60 g
Greek yogurt 0% 60 g
Broccoli florets 30 g + to taste To decorate
Oat bran to taste to decorate, optional
Extra virgin olive oil as you like
Procedure
Making this braid of dog bread is very simple. In a bowl put the flour and crumbles inside the brewer's yeast, then pour the lukewarm water. Add also the yogurt and knead to amalgamate the ingredients and incorporate the yeast well. Chop the floretss of broccoli and put them in the dough, which you can continue to knead on the floured work surface. The more the Impasterai, the more you will develop the mesh glutinica favoring the leavening.
Now that you have a nice brick, divide it into 3 portions from 100 g about one. Put each in a bowl to leaven, blankets courtesy lit. It will take at least 90 minutes, although it varies greatly from home to home, from climate and humidity.
Now that the three portions have risen, work them again and make three rolls of 15-20 cm. You can now make the braid by soldering the three strands at one end and proceeding bringing the Eserno strand to the center, first the right one and then the left one… So until the end! Fasten well to the other end, brush the surface with a little extra virgin olive oil and decorate with broccoli and bran. You can put the braid on a dripping pan lined with parchment paper and bake it in a pre-heated static oven at 175 ° for 45 minutes. Braided bread with broccoli ready!
Conservation
You can keep this braid of bread with broccoli for about a week, well closed in a paper bag or in an airtight container. You can slice and dry the individual slices, placing them in the oven at 150 ° for 40 minutes. You can freeze the braid both raw and cooked!
Good because
The season vegetable is a godsend for us, and in the case of broccoli it is also for our dogs: they adore their taste, and they also know that they are good for their intestines!
The dough of the braid is crispy out but soft inside, so even your dog Anzianotto will appreciate it!