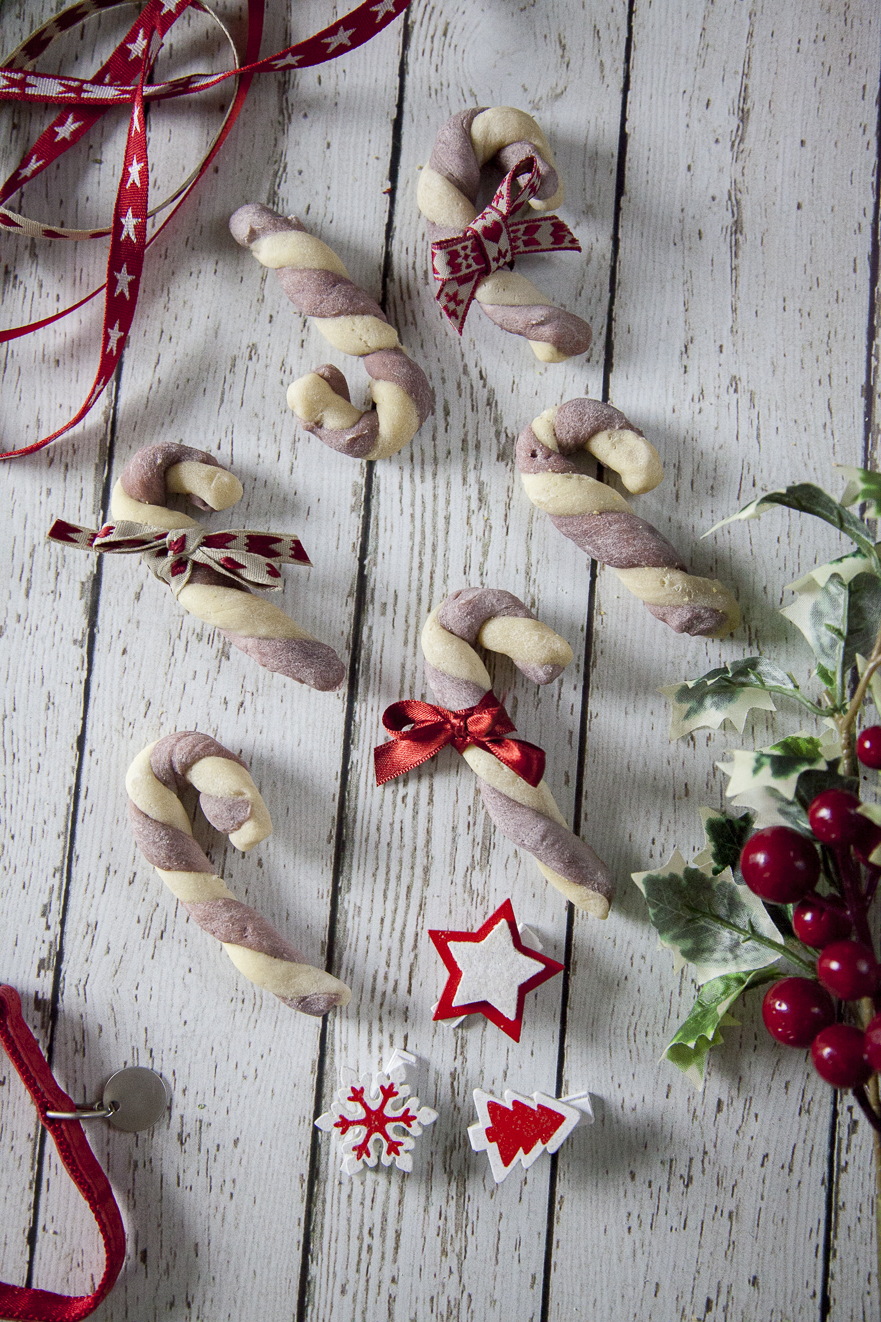 Ph: Ilaria Giovanna Susan
Shooting in Sonia Factory by Sonia Anjani
Candy Cane biscuits: Ingredients for 15 sticks
First dough
Flour 00 80 g
Rice Flour 50 g
Water 50 g
Greek yogurt 0% 70 g
Second dough
Flour 00 80 g
Rice Flour 50 g
Raspberries 60 g net of waste
Greek yogurt 0% 50 g
Procedure
To make candy cane you have to make two separate dough, one smooth and one with raspberries. Start with the first raspberry: wash the fruits well and blend them or crush them with the prongs of a fork, then sift them in a narrow mesh strainer to eliminate all the seeds. Pour the raspberry purée in a bowl with the flours and the Greek yogurt, to knead until you get a nice smooth and compact dough. Let it rest covered with transparent film in the refrigerator for about twenty minutes.
In the meantime prepare the second smooth dough, joining the flours in a bowl and impastandole with the Greek yogurt and water. Got a nice brick.
Here's the funniest part. Each candy cane consists of 10 g of smooth dough and 10 g of dough to the raspberries. Obtained the two portions, it works both separately to form some rollss of about 8 cm of length. Now join them at one end and roll them to the propeller with each other. Conferring the typical "umbrella handle" shape and recline the dog candu on a dripping pan lined with parchment paper. Go ahead with everyone.
Cook the candy Dog in a preheated static oven at 170 ° for 35 minutes: Here's your Christmas size canine tidbits!
Conservation
You can keep the candy cane for a week if it is well-sealed in a hermetic box and placed in the refrigerator. You can also freeze them, after baking.
Good because
Raspberries are a fruit-like all red fruits-that brings countless benefits to dogs as to us humans, vitamins in Primis, for a wonderful hair.
It's not Christmas without a lovely snack even for our dog… Don't you think?