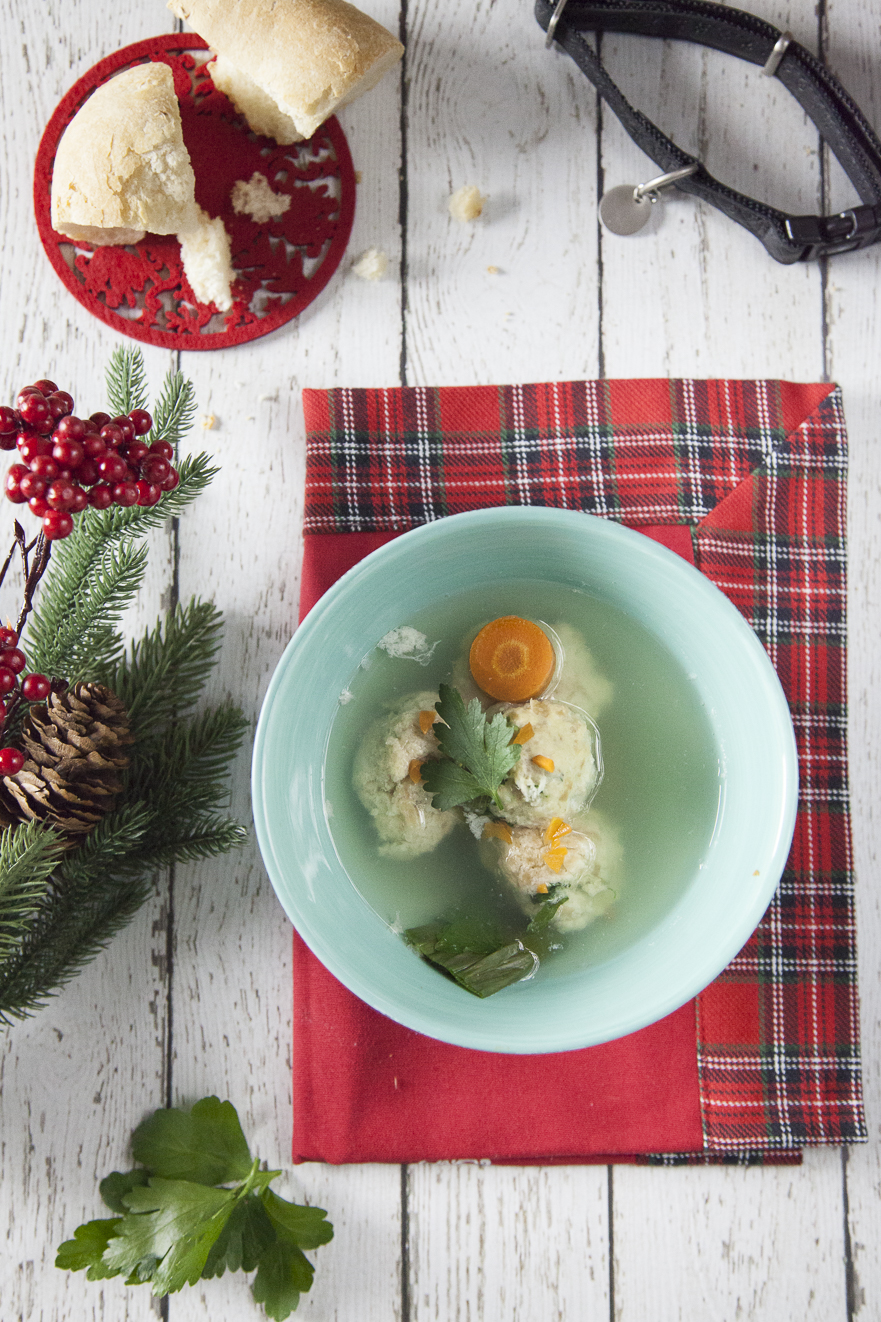 Ph: Ilaria Giovanna Susan
Shooting in Sonia Factory 
Canederli for dogs: Ingredients for 10 dumplings
Stale Bread 80 g
Vegetable broth 3 tablespoons
Medium eggs 1
Flour 00 1 spoon + to taste To flour
Rice Milk 50 g
Extra virgin olive oil 1 strand
Sweet potatoes 1
For vegetable broth
Water 600-700 G
Carrots 1
Leek 1 The Waste
Parsley a few Tufts
Procedure
To make dumplings begins to prepare the vegetable broth, unless you have already done and kept aside. I did it, uniting the water in a saucepan, the whole carrot without peeling it and the parsley. I took advantage of the broth to cook even the potato after having peeled it. Bring to the boil and cook all the vegetables. Drain and keep them aside, holding the broth in the pot.
For the dumplings, coarsely chop the stale bread and wet it with the milk in which you have beaten the whole egg and the broth; Mix well and cover everything with the transparent film for 15 minutes, stirring from time to time. Now add the cooked potato to the dough and, if you want some of the carrot and parsley: knead for good, finally adding the flour. form the meatballs, inumidendoti your hands with water to help you.
Flour each dumpling and cook in the broth brought again to a boil: in 5 minutes they will be ready. Serve the dumplings or drained from the broth and slightly warm, or with the broth after having made everything cool, with the vegetables as a side dish.
Conservation
Once cooked I recommend to serve the dumplings immediately, especially if you leave them in broth. In case you need them dry, you can keep them in the refrigerator for a few hours well closed in an airtight container. You can prepare dumplings the night before if you've obviously used fresh eggs: flour them, put them on a plate and leave them in the refrigerator well covered until they are cooked. You can first prepare the vegetable broth, scoladolo it and placing it in the refrigerator; The same goes for cooked vegetables!
Good because
Dumplings are an antiwaste idea: do not throw away vegetable skins, scraps and leaves, old bread!
They are very tasty from the canine point of view: soft, with a few pieces of pasticare bread, the delicacy of the broth