Don't worry: what you see in the picture is not a chocolate bar, even if it looks like everything to you! It is a small deception, tasty and delicious but totally healthy and safe for your dog. It's about my carob biscuits, moulded as a paper tablet with a lot of aluminum. Carob is also known as "cocoa of the poor" and in recent times is proving to be the perfect solution for all those who can not eat chocolate: humans intolerant to nickel, for example, or dogs. In general for the animals the Carob berry is very suitable, so much so that it is distributed in the stables to make it gnaw at the horses.
If you have never tasted it, or have not yet tried my zebra cake that contains it, it actually tastes like cocoa although, personally, I also hear dates notes and dried figs. I purchase carob-whole berry flour, not seeds which is completely another thing-in organic stores or online; It looks like cocoa powder and you can use it for each cake and even dissolve it in the milk for a tasty snack. If I've got your interest, why not start with my carob biscuits to prepare for your dog? You can make them the shape you want!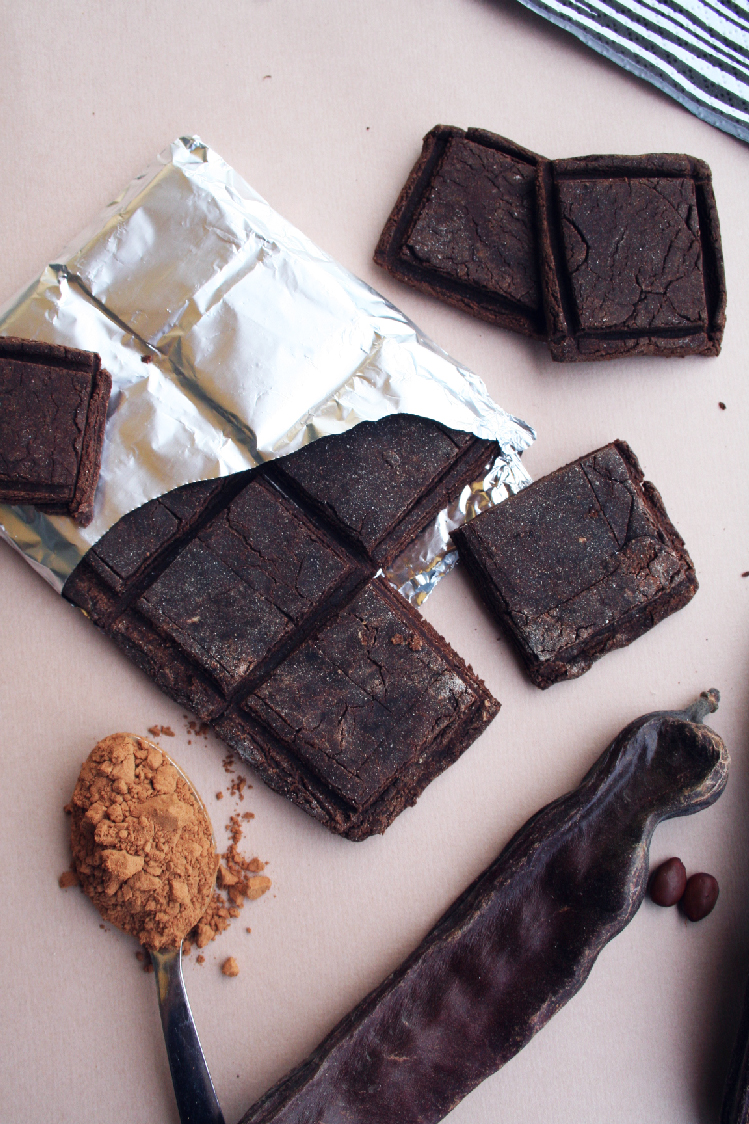 Carob Biscuits: Ingredients for about 12 biscuits of 2.5 x 2.5 cm
Carob Flour 50 g
Rice Flour 50 g
Eggs 1 yolk only
Water 50 g
Procedure
In a bowl, combine carob flour and rice flour. Add also the water and the yolk, then knead by hand for 10 minutes, until you get a compact and dry dough. Initially it will be very sticky but the rice Arina has a high absorbent power and, if you insist, you'll see the dough transforming. Let the dough rest for 5 minutes, then lay it down with a rectangle.
If you want you can cut it to squares of the size indicated to get the carob biscuits, otherwise you can create the fake Tvoletta like the one you see in photos. It can be a nice idea to give to the dog of friends! Continue: Get the dough rectangle trim the edges with the knife, then press the edge with the plate blade to create the thickness of the tablet. Finally, draw a line that divides the tablet in half for the long. Draw four more perpendicularly. Mark the lines drawn by pressing them with a stick or a coffee scoop. Here's the tablet ready to be cooked!
Cooking
Cook the biscuits to the carob (or the tablet) in a pre-heated static oven at 170 ° for approx. 20-25 minutes
Conservation
You can store carob biscuits in the refrigerator even for 10 days or more, in a food bag. You can freeze them, then let them soak up at room temperature.
Good because
The carob biscuits have a really short ingredients list, no yeast and no dairy
The carob is optical as anticipated, as it is rich in fiber and protein. It has also proved to be an excellent antioxidant