I live near Varese and work in a very lively area of Milan. It is amazing how in both cities are increasing the areas, shops or pet friendly rooms; Many people go out with their dog even in the evening, especially for happy hour: Walk in the center and then relax in front of a prosecco, potato chips and mini treats of all kinds. What about the dog? He can't taste olives or fries… I have the solution, with my carrot crackers!
Very similar to the thin crackers that we eat, rectangular and with a lot of characteristic holes on the surface. Without yeast and with a rather long cooking, they come out fragrant and crisp from the oven and their color is of a bright orange for the massive presence of the carrot. If you close them in an airtight bag and you carry them in your pocket during your six-legged exits, you will make your dog happy. You will make a fabulous aperitif together, sure that you have chosen a healthy and very simple delicacy.
The carrot crackers are so good that you can taste them too, as well as the tasty cheese Biscuits: trust me and let me know!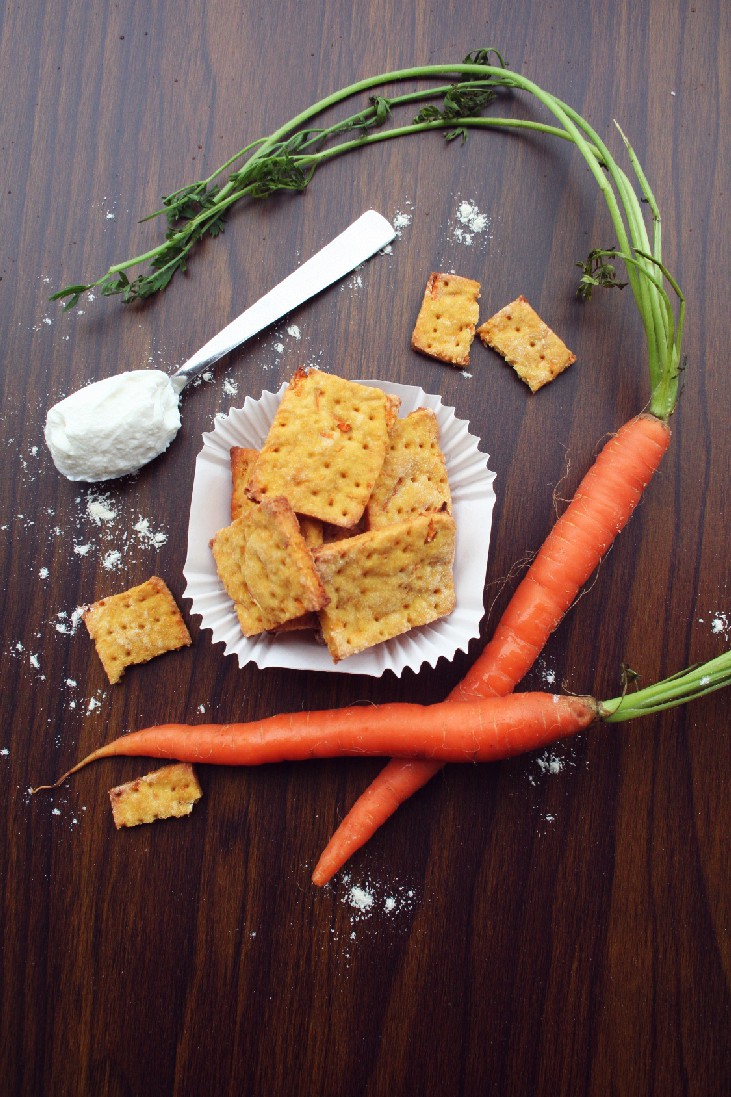 Carrot Crackers: Ingredients for about 250 gr of crackers
Carrots Bio 100 g
Greek Yogurt 0% or 2% 55 g
Soy milk at Natural 50 g
Flour 00 200 g + to taste For the work plan *
Procedure
Wash well and dry the carrots, without peeling, grate finely in a bowl with a grater with small holes. Now add the yogurt and soy milk, then stir for a few minutes so that the ingredients absorb the flavor of the carrot well.
Little at a time and setacciandola, knead with flour until you get a nice compact dough. It is not necessary for this to rest and you can spread it immediately to a thickness of 3 mm and to form a rectangle.
With a knife or a wheel cut the dough divide it into portions of the size you prefer. With the prongs of a fork bucherella the surface in a uniform and regular way, then place each portion on a dripping pan lined with parchment paper. Cook the crackers to the carrot!
* I do not recommend it, but if you use packed minced carrots could be enough 120 g of flour because they are much less moist than fresh carrots.
Cooking
Cook the crackers in a pre-heated static oven at 150-160 °, for 40-45 minutes or less depending on the degree of crispness you want and the humidity of your dough. In this case you can also use the oven in ventilated mode: 130-140 ° for 30-35 minutes.
Conservation
You can store crackers to carrots for a week or more, in an airtight container or in a tin box, in a dry environment. The refrigerator is not suitable, because humid. Crackers have a tendency to lose crispness. Not a problem for the flavor but if you want to make them crisp again I suggest you put them back in the oven for about 15 minutes. You can freeze the dough, then spread it if necessary.
Good because
The dogs are happy if they are found for the mouth fresh and crisp goodness: the carrots are perfect, rich in vitamins, carotene and irresistible flavor.
Light and balanced, they are dry enough to be prepared in large quantities: a recipe that is comfortable for you!