Autumn and winter give a myriad of incredibly colorful and bright flavors, rich in vitamins… I'm talking about the pumpkin, the cabbage, the chestnuts. You, too, like me here in the kitchen of canine tidbits, did you fill these delicacies? This is the time for you to try your dog and proceed with these sticks of chestnuts and sprouts of Brussels, or with my rolls of pumpkin or potato croquettes and pumpkin!
The taste of this super energetic snack is naturally sweet, with the little pieces of cabbage crispy under the teeth: they are ideal if you want to them in your pocket during a walk on six legs, because they are beautiful buckets but not crunchy to crumble.
Beware though, this biscuit-unlike my dog recipes, which you can give your pet without too many precautions-is to be granted sparingly; Chestnuts, in fact, if given in excessive amounts can irritate the intestines of dogs. It also happens to us Bipedi… So don't overdo it and just give it a couple a day if your dog weighs about 30 kg, and half if it's small size!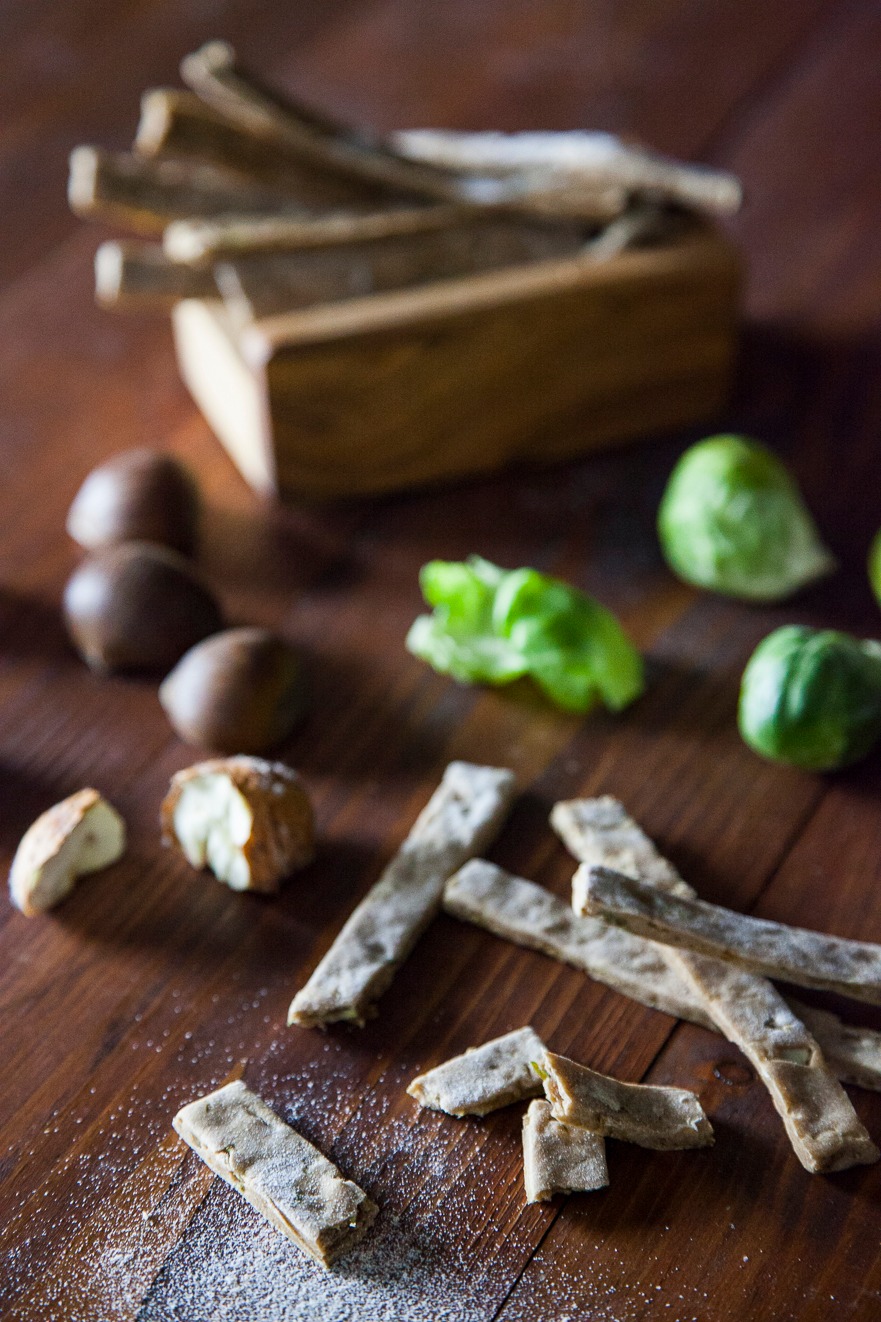 Ph: Ilaria Giovanna Susan
Chestnut and sprouts Sticks: ingredients for about 12 sticks of 10 cm
Durum wheat flour 60 g
Chestnut Flour 60 g *
Brussels Sprouts 3
Water 70 g
Procedure
Making this recipe is really simple, it starts by flipping the sprouts to eliminate the ruined outer leaves-or washing very but very well if they are not too worn-cut them in half and then finely trilaterally. In a bowl mix the two flours carefully and add the chopped cabbages of Brussels.
Also add water at room temperature and knead everything until you get a compact compound. Let it rest for 10 minutes and then lay it on the worktop using a little flour to keep it from sticking, as it is very humid. Get a few millimeters of dough, then cut with a knife to form strips. The chopsticks, exactly.
Cook the chestnut sticks and sprouts in a pre-heated static oven at 170 ° for 45 minutes, stendendoli on a drip pan lined with parchment paper and turning the last 5 minutes of cooking. Alternatively, you can use the ventilated oven at 150 ° for 35 minutes. They must be beautiful dry, both for crispness and shelf life.
* I recommend: do not exceed the recommended dose, nor exceed the daily dose of these sticks. I recommend further: do not give cooked or raw chestnuts to your dog: I swell a lot!
Conservation
You can keep the chestnut sticks and sprouts long, well-closed in an airtight container and places or in the refrigerator or at room temperature. You can certainly freeze them from both raw-formed, and before being fired–that cooked!
Good because
Dogs go crazy for Brussels sprouts, which-especially if eaten raw or almost-are a real panacea for dogs!
The chestnut flour is a bomb of energy, but in small quantities as suggested in this crisp and tasty recipe.