This is among the recipes for dogs signed more particular canine tidbits. Born after my adherence to a revolution in full rule, conceived and carried out by Silvia and Ilaria, artists under the name of Parallel Lines. They, who deal with incredible installations of string art, launched for the Women's Day the #nonsibaratta, stringing this motto to a potato. Exactly, right at the tuber, which of course sarcastically refers to what you thought too.
See, how easy is it now to associate certain terms with anatomical parts or even insults? You're wondering what my website has to do with this. Well: Did they ever give you a "dog"? Or did you hear or read people giving the "dog" to someone? I unfortunately do, and also often. So here is my dog recipes, indeed, for dogs fit to brush and I thought one for the occasion, dedicating also to my small and black Hecate-that you will happy and unaware these beautiful chips of potatoes, for dogs.
I am sure that you who read Me will know how to seize irony and above all give the right value that deserves the campaign of Prallel Lines. Follow me and follow them on Instagram, it's worth it I assure you. Happy feast to all the women, to all the females and to all the living beings of feminine gender (or who feel of female gender) on the face of the earth!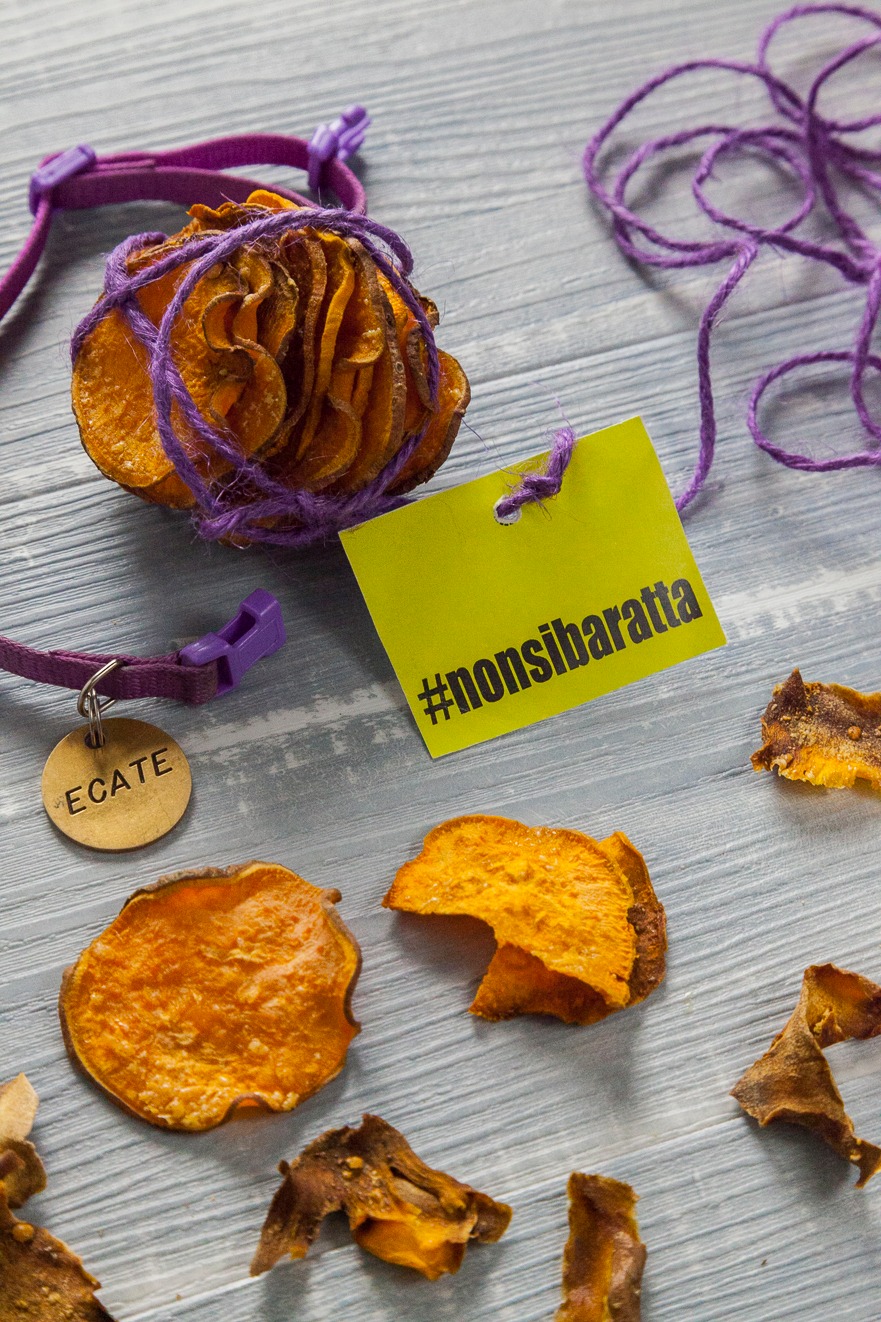 Ph: Ilaria Giovanna Susan
Sweet potato chips for dogs: ingredients
American Sweet potatoes 1 coarse
Extra virgin olive oil 1 spoon
Grated cheese 1 spoon
Procedure
To make the chips of sweet potato I will use both the pulp and the peel of the potatoes: canine morsels do not waste anything! It is good and dry, then peel half and then slice it all with a mandolin. Rinse the potatoes well under running water, then keep them immersed in a bowl full of cold water for at least an hour and taking care to change the water 4-5 times. In this way delete all the starch.
Drain all potatoes and sciugale carefully, using sheets of absorbent paper. Distribuiscile now, without overlapping, on a dripping pan lined with baking paper and condiscile: Extra virgin olive oil in a uniform manner, and grated cheese. Cook/Dry the potatoes in a pre-heated static oven at 100 ° for 50 minutes, or at least until the desired consistency is achieved. The potato chips are ready!
Conservation
You can store sweet potato chips for dogs for 4-5 days or more if they are tightly sealed in an airtight jar. Do not freeze them.
Good because
Sweet potatoes are portentous tubers and suitable for dog digestion
Hearty, are perfect for an award-winning after a long walk