One of the most celebrated Christmas carols is a eulogy to the Christmas tree. In My house you always do the same way, classic: red, Scottish and not too full. I look patiently that spring and summer pass, then I enjoy the autumn and I dive in December always happy as never before. For some years I have been connecting the winter and the rite of decorating the tree also to another thing: my Christmas cookies! Among all the dog recipes I have proposed over the years, Onstruction is my favorite. I thought of it in the shape of a sapling and I enriched them with the most typical flavors of the period, i.e. apples, honey and scented cinnamon.
Basically, the song I referred to reads "O Tannenbaum, O Tannenbau, Christmas Tree"… Here then that, since I propose them to my clients special, the name of these biscuits could only be "O TannenBau"! Think how wonderful to start a new tradition all yours and your dog, you while you taste Pandora or panettone and he crunches the Christmas cookies made especially for him.
I usually do it in large quantities and I keep them in store as gifts to all friends who have one more dogs in the house. Do you like the idea? Apples, honey and cinnamon, or spicy ginger starlets for a delightful four-legged Christmas!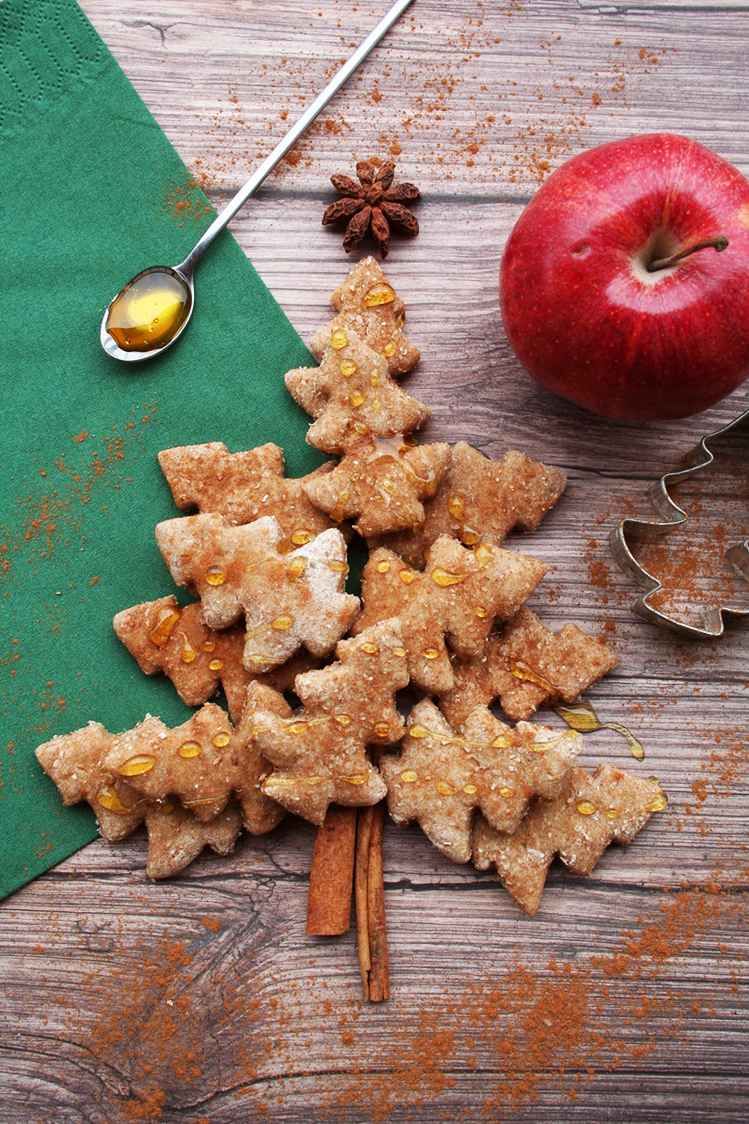 Christmas cookies-Recipes for dogs: ingredients for about 25 biscuits
Wholemeal spelt flour 60 g
Wholemeal flour 80 g
Half red apple, core clean
Acacia or Millefiori Honey 2 tablespoons
Powdered cinnamon 2 teaspoons + to taste To decorate
Lukewarm water 1 Ladle
Fresh Brewer's Yeast 12 g
Procedure
To make Christmas cookies, cut to chunks the apple, without peeling it, and put it in a blender. Add honey, cinnamon and lukewarm water. It crumbles also the brewer's yeast, then it activates to obtain a puree, no matter if not completely homogeneous.
In a bowl, mix the flours and also pour the freshly obtained puree. At this point the mixture works: if it remains too liquid then you can add a little more wholemeal flour. At the end you get a nice compact dough, which you can lay on the floured work surface. reached the thickness of 5 millimeters, powder the surface with a pinch of cinnamon.
With a fir-shaped pasta cup (or whatever you like) get the biscuits and arrange them on a dripping pan lined with parchment paper. You just have to cook your Christmas cookies!
Cooking
Pre-heated static oven at 165 ° for 25 minutes.
Conservation
Like some of my dog recipes, you can keep your Christmas cookies for a week in the fridge or well-closed in an airtight container. You can freeze them from cooked or raw.
Good because
The honey, potent antioxidant, is multivitamin
Dogs love cinnamon: They too have the right to taste our Christmas atmosphere!