After many years of canine bites and recipes for dogs based on vegetables, fruits, herbs and flowers, I decided to move to other ingredients: meat and fish. Now that my passion has turned into a recipe site for dogs every idea is welcome! So let me introduce my cod scones, flavored with fresh mint and ginger.
I found the inspiration in a shop of Cake Design articles where I bought a beautiful cookie size seal biscuits. It occurred to me that the seals are caniformi animals-and it is glaring, observing especially their mosaic-so relevant to my crazy activity. Seals feed on fish from the North seas, such as cod. Done, the recipe came by itself and I am very satisfied.
Prepare these cod muffins to your dog, maybe along with the mint biscuits as you already have to use it, and you will see WAG as never before!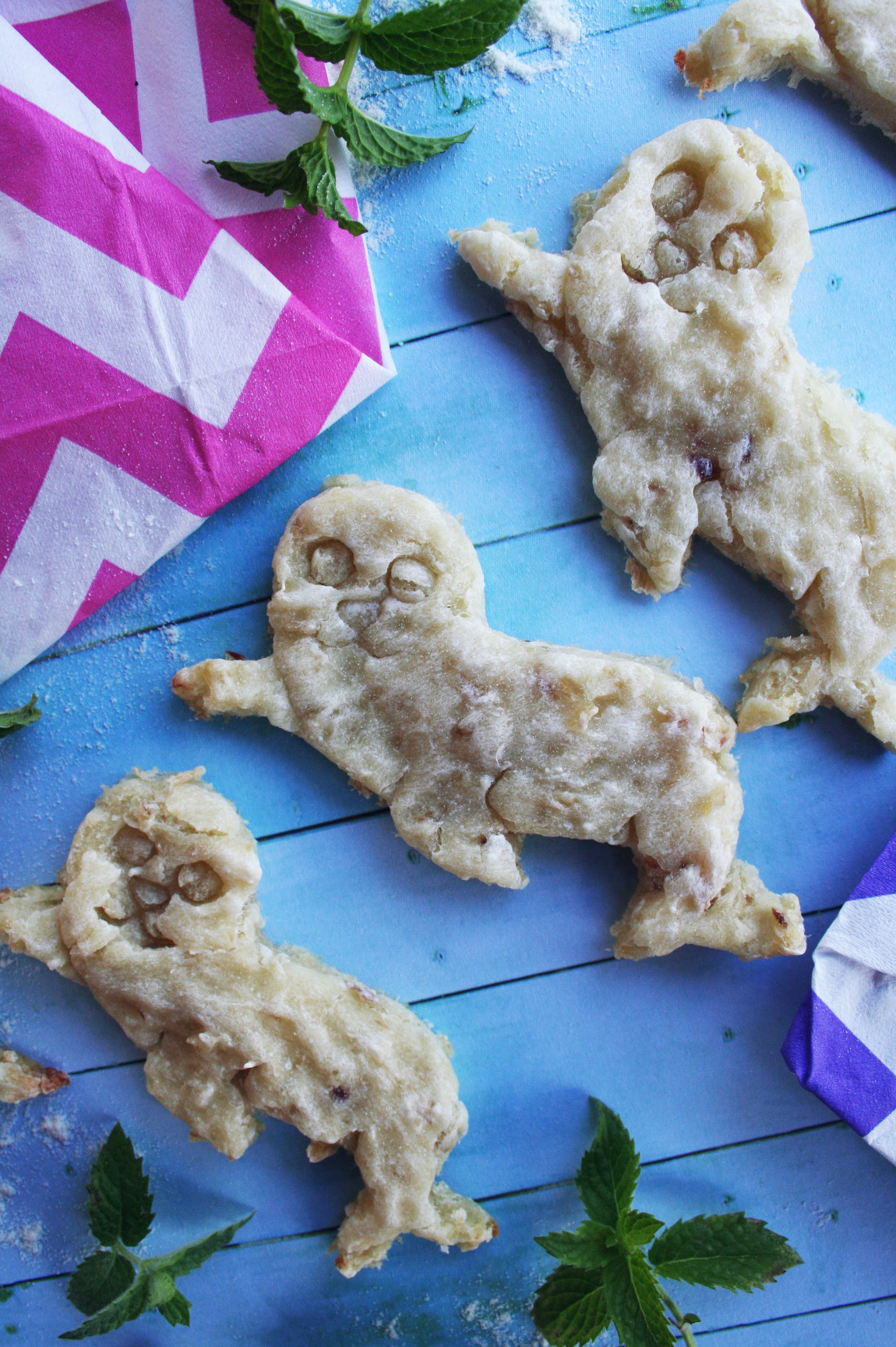 Cod biscuits: Ingredients for about 10 pieces
Cod 150 gr net of waste
Fresh mint leaves at pleasure
Flour 00 250 g
Fresh Brewer's Yeast 3 G
Extra virgin olive oil 1 spoon
Water 2 Coffee Cups
Fresh ginger to taste and optional
Procedure
First, cook the cod by dressing it with mint leaves or adagiandolo on them: opt for baking in the bamboo steamer-as I did-but you can use the classic steamer or the cooking in the Bath Maria. You can also cook in the oven but the important thing is that the fish is moist and tender, not overcooked. Once ready, move it still warm in a pan and add all the other dry ingredients: flour, ginger and flour. Knead briefly and add the extra virgin olive oil and one of the two cups of water. Work the mixture and then flush the remaining water and stopping to a very soft and sticky consistency. Let it all rise in the oven off for about twenty minutes.
To cook, coat a dripping pan with parchment paper and spread over the mixture as if it were a cream: do not make a very thin layer, I recommend to obtain a rectangle of 30 x 15 cm in such a way that the muffins have then thickness.
Bake and cook. After about 20 minutes, extract the baking tray from the oven and cup the muffins with a biscuit size: I used one in the shape of a seal, but you can use your favorite or simply cut the base to squares or rhombuses.
Bake the muffins again, Capovolgendole, for another 5-10 minutes to dry them *. The cod scones are ready, let your dog taste it right away!
Cooking
Cook the cod muffins in a preheated static oven at 180 ° for 20 minutes. Then dry the muffins, if you want, for another 5-10 minutes capovolgendole on the dripping pan.
* Once cooked, you can also leave it in the oven off until it is completely cooled. They will never become crispy, however, like my crackers to the choir.
Conservation
You can keep the scones in the refrigerator for 2-3 days, more if you can dry them perfectly. I definitely recommend freezing them, only if you've used fresh, non-thawed products.
Good because
The Omega 3 is critical to your dog's diet and the fish is the best source. associated with extra virgin olive oil is the best!
The cod, fish of the North seas, is delicate and tasty: your dog will appreciate it very much.