Take a toy, a cookie, or a collar like I did, infiocchettalo and hide it in an Easter egg. That's right, an Easter egg for dogs! Obviously it is not of chocolate but of biscuit, made with the powder of carob with which I realized also spectacular tablets of mock chocolate for dogs. I know, I know, rightly you will remember that the philosophy of canine tidbits is not to bet on this type of snack, but for special occasions you can make an exception, no? Basically I use only the ingredients that you now know well, nothing more…
You can include your dog at the next pic nic you do, maybe on Easter Monday: Braided bread, peas muffins and this scented and flavorful easter egg!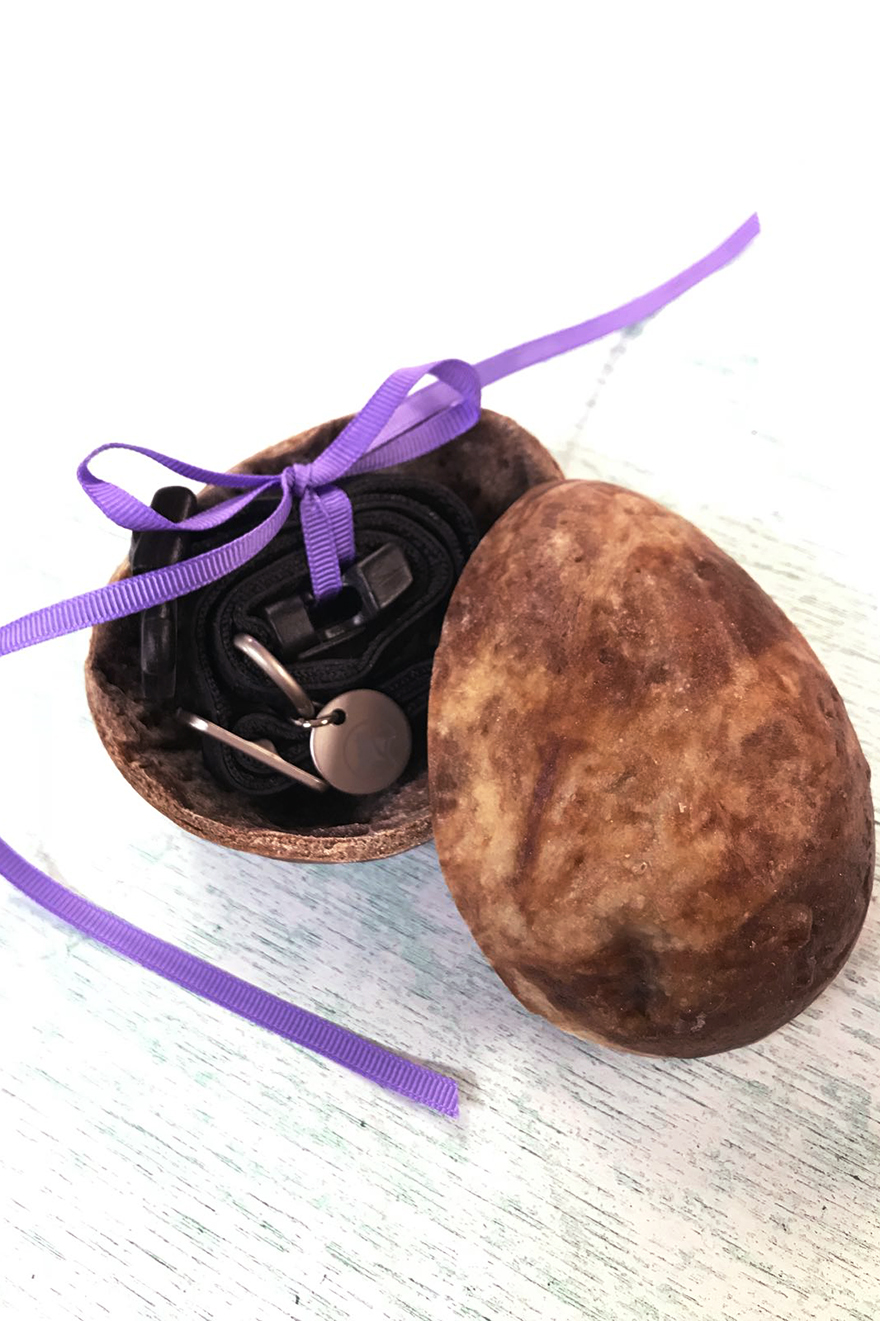 Easter Egg for Dogs: ingredients for 1 egg
Carob Powder 20 g
50 g Greek yogurt
Flour 0 100 g
Extra virgin olive oil 1 spoon
Water 1 coffee cup
Old dried legumes for blind cooking
Procedure
To make the Easter egg for dogs, combine frina, yogurt and oil in a bowl: knead for good. Divide the mixture and incorporate into one a little water, the other the carob powder (I recommend: not the flour, which is a thickener!) and water enough to obtain a malleable compound. Now join the two doughs, Variegandoli in a not too uniform way to simulate the Easter eggs of pastry, often variegated with white and dark chocolate. If you prefer, you can certainly get an Easter egg all of Dark "chocolate" by significantly decreasing the dose of flour and increasing that of carob, and mixing the two compounds until you get a homogeneous color.
I used a cake stencil, made up of two halves. Without greasing the mould, lay the dough inside, trying to make it adhere well and, above all, leveling the edges with precision. With the prongs of a fork bucherella the dough without exceeding it. Crumples a piece of baking paper and Inumidiscila, then unfold it and pad it: In this way you will have no difficulty in making it adhere to irregular shapes. Place the baking paper in the mould making it adhere to the dough, then fill with dried legumes * and cook in a pre-heated static oven at 175 ° for 25 minutes. Your half egg is ready, cut the edges if necessary to make them regular and join them to form your Easter egg for dogs!
* The ideal would be to keep in the home of dried legumes exclusively for this use or blind cooking: once used you can not cook them but keep them in a jar almost endlessly, reusing them when needed.
Conservation
You can keep the Easter egg for dogs for a week in the refrigerator and locked in an airtight container, or freeze it after wrapping it well in the transparent film.
Good because
The Easter egg is an exception, an award just for the sake of pampering your little dog
Light, with olive oil etravergine and yogurt