If your dog has a little plaque or a breath not exactly flowered, mint biscuits are ideal: The mint leaves are chopped in such a way that sprigionino all their fragrance, the fresh ginger in the root has a hint of lemon that the dogs appreciate.
I usually carry these biscuits even for car trips when I IndianaJones on board. He as you know is a giant half galgo and suffers a lot of car sickness because, having long legs, does not find the position and always tries to stand. The special belt obviously prevents it but it shakes and most of the time is bad. In those moments I stop and draw one of the fresh mint tidbits, to distract him, calm him down and try to alleviate the nausea.
Hecate Instead, who likes to rummage where he should not and gnaw all sorts of things, spezzetto the mint cookies in the jelly or as a snack to freshen a little ' jaws after a bellyful of only you know what. Gift to you my recipe, you'll feel that perfume in your house and your dog will appreciate very much!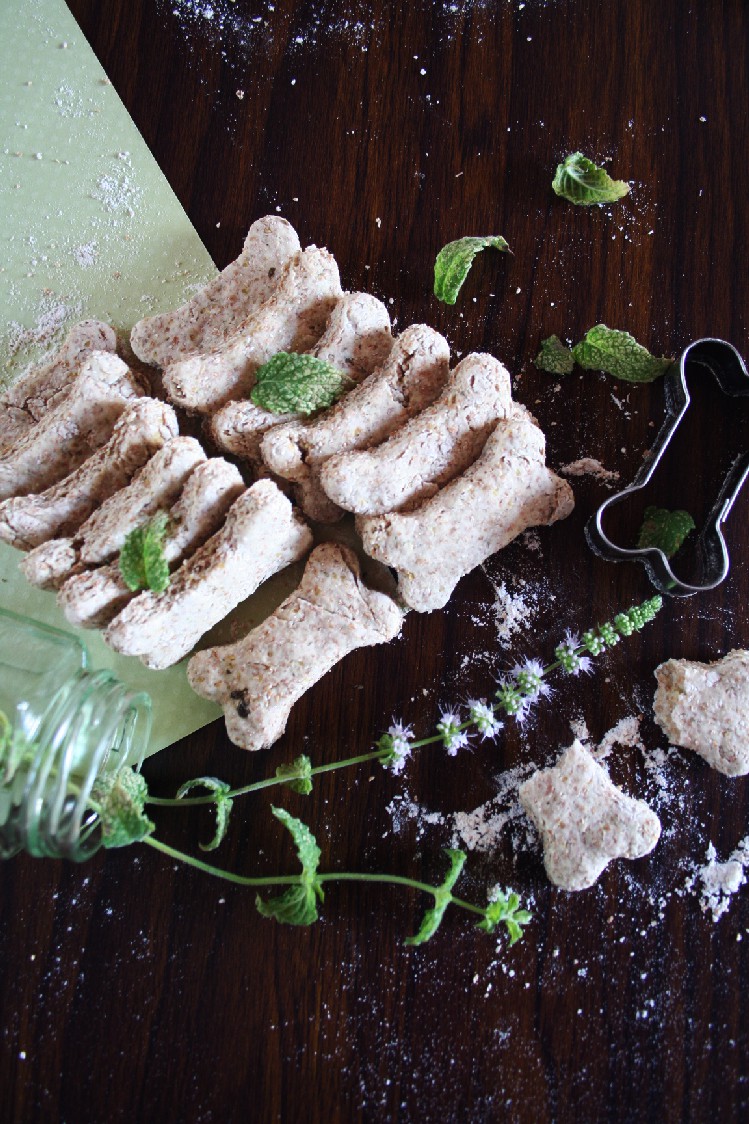 Mint Biscuits: Ingredients for 20 biscuits of 4 cm long
Fresh mint, 2nd leaflets
Ricotta Vaccine 100 g
Fresh ginger 1 teaspoon
Water 1 Spoon
Fresh Brewer's Yeast 8 g
Wholemeal flour 150 g
Procedure
Put the washed mint leaves, the drained ricotta, the grated ginger, the lukewarm water and the yeast In a blender. Operate to get a smooth cream, which you can pour into a bowl.
Now add the flour and knead to obtain a compact consistency.
Let the dough rest half an hour, in the refrigerator and wrapped in the transparent film.
At this point lay it on the floured work surface and get the biscuits, I used a mold in the shape of bone but you can use what you prefer.
Arrange the mint biscuits on a dripping pan lined with parchment paper and cook them.
Here is a fresh snack ready: ready to nibble your dog?
Cooking
Pre-heated static oven at 170 °, for 20 minutes
Conservation
You can store mint cookies for about a week in the refrigerator, enclosed in an airtight container or in a tin box that you can leave at room temperature. You can freeze both the dough stick and the biscuits already cooked and cooled.
Good because
Fresh mint helps regulate digestion and instantly refreshes the dog's breath
Ginger has digestive and anti-nausea properties