This, among all my dog snacks, is perhaps the piùparticolare. I admit I felt very funny in choosing it but I have not resisted: see, I work in Via Sarpi in Milan, full center of China Town, and in February will celebrate the Chinese New Year. 2018 will be the Year of the Dog: so I did a very special recipe. This is how I conceived the Fried rice bars: crispy, made from puffed rice, in all and all similar to the typical dish, which has also become part of our tradition. If your dog likes crunchy, then don't miss my craker of carrots and red lentil croquettes!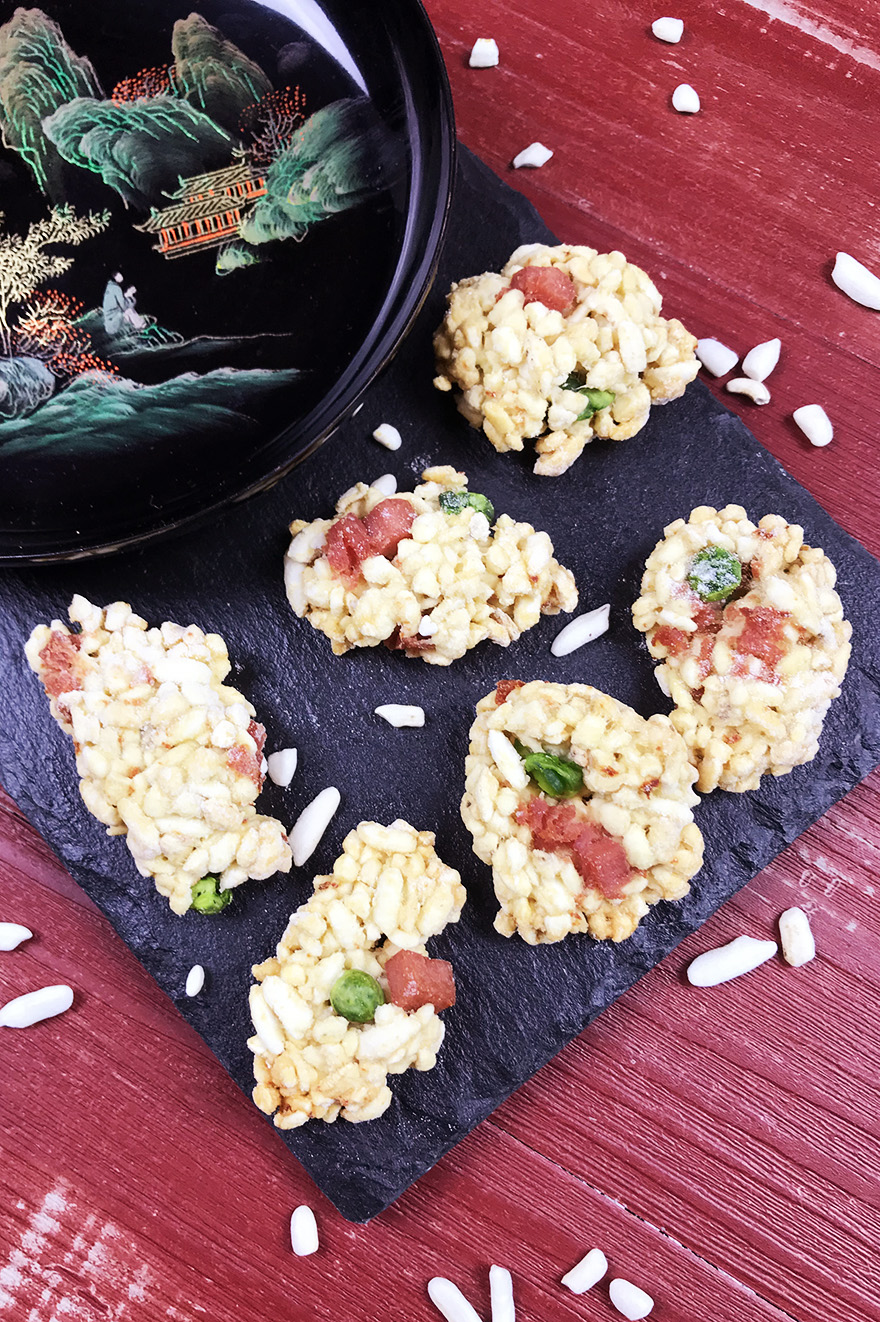 Fried rice bars: ingredients for 30 pieces
Puffed Rice 70 g
Flour 00 60 g + some more For machining
Average eggs 1 whole
Fresh or frozen peas 30 g
Diced Ham 30 g
Procedure
These bars are very simple to make. In a bowl combine flour and puffed rice, stirring well to uniforme the mixture. Apart, whisk the egg with a fork and pour it into the bowl. It also incorporates chopped ham cubes and peas (you can also put them still frozen). Mix well by hand and long: you'll notice a sticky dough, which if you press remains compact. Lightly flour your hands, take a portion of the dough-trying to include also peas and ham-and shape it so as to obtain the fingers, or more or less of a rectangular shape. Lay them all on a dripping pan lined with baking paper and cook in a pre-heated static oven at 180 ° for 35 minutes.
Conservation
You can store Cantonese rice bars in a tin box for a few days. Do not freeze them and, if you want to keep them in the refrigerator, I recommend to close in a hermetically sealed container.
Good because
These fingers contain many elements Diverdi: legumes, viamine of peas, eggs and ham proteins, rice starches, flour sugars
They are a perfect gift to make to a friend's dogs!