If your dog has to avoid gluten, you're on the glist recipe! I present to you my gluten-free biscuits with chickpea flour, flavored with a mince of fragrant herbs that your dog will not be able to resist. While you're there you also remember my other recipes for gluten free dogs: the potato croquettes and pumpkin, the zebra cake, the crunchy polenta, the banana pralines and peanut butter… Did I persuade you to get your hands in dough?
The ingredients you need are only two or Greek chickpea and yogurt flour: it is a nice protein biscuit between legumes and dairy products and if you want you can reduce the yogurt and compensate with a slice of smooth apple to add sweetness and fibers. 
As soon as they have cooled I did try these snacks to the dog of my neighbors, a greedy but fussy (is one of my tasters harder to convince!) and… If you are feeding them without hesitation!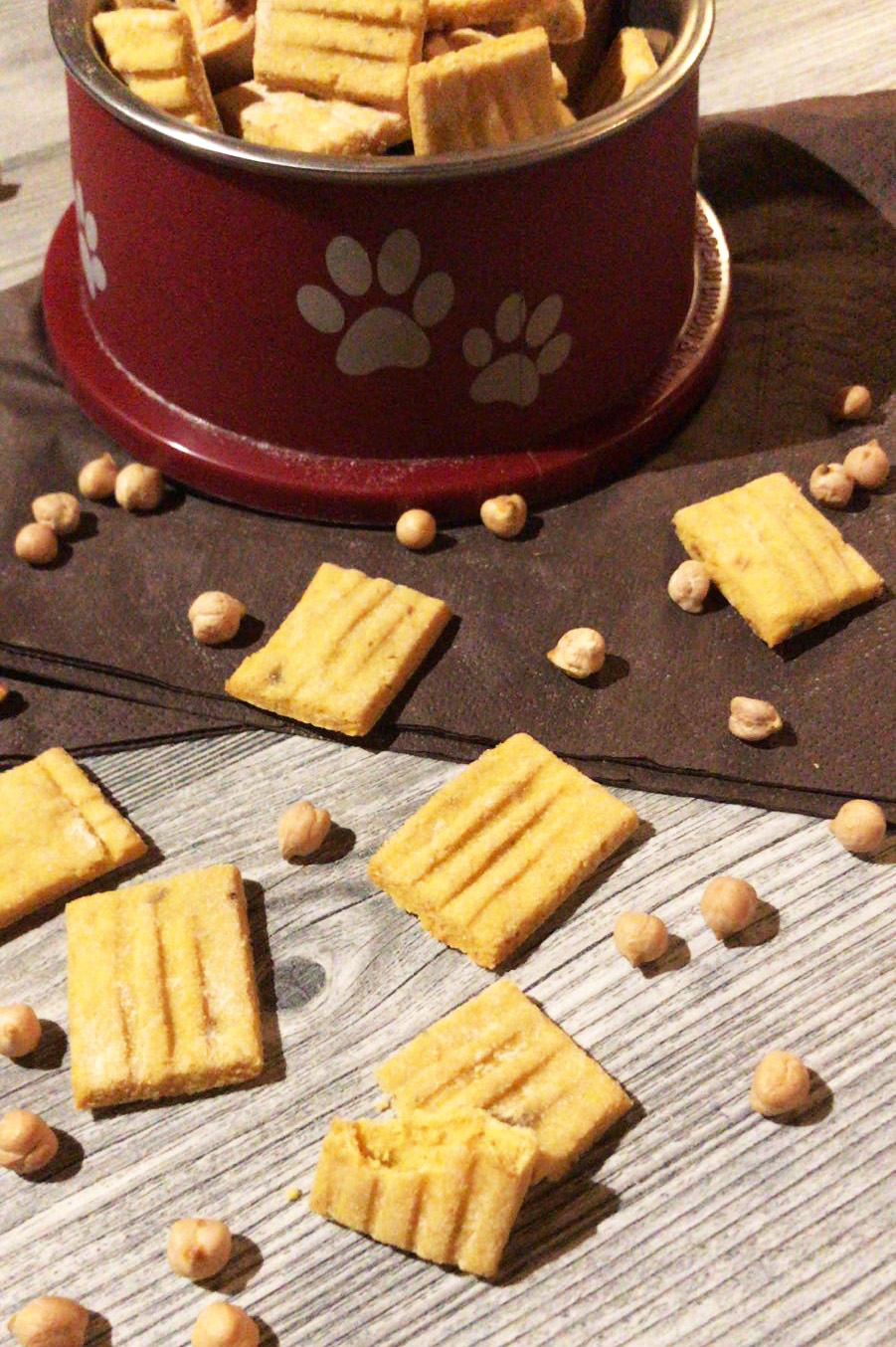 Gluten-free chickpea biscuits: for 50 biscuits
chickpea flour 150 g
Greek yogurt 0% 50 g
Herbs to taste
Procedure
Prepare the gluten-free biscuits with chickpea flour is very simple, you will have to first get a fine chopped aromatic herbs: I used a few needles of rosemary and a leaves of sage but you can choose what you have at home. Join now chopped, yogurt and flour in a bowl and knead for a long time to get a nice compact loaf. Without letting it rest, lay it on the worktop and get a sheet of 3-4 mm thick.
Get the biscuits cutting a knife and getting before the strips of 2.5 cm and then the rectangles 3 cm long-I suggest the measurements but you can really choose the one you want, or use some biscuit size! Now gently press u each rectangle the back of the prongs of a fork, to create a very nice streaky effect.
Recline the biscuits on a dripping pan lined with parchment paper and cook them in a pre-heated static oven at 170 ° for 15-20 minutes maximum. Gluten-free biscuits with chickpea flour for your dog are ready!
Conservation
You can store gluten-free biscuits with chickpea flour in a hermetically sealed pouch and placed in the refrigerator. You can also leave it at room temperature well covered, but of course they will lose crispness. You can freeze them from cooked!
Good because
Here is a recipe semlicissima and to do in 5 minutes timed: Perfect for a last minute idea if you do not have other snacks in the house
Many dogs develop gluten intolerance, just like we bipedi: these biscuits are so appropriate!