But what if I told you that from now on you can make a happy hour with your dog? A coffee table, a prosecco for you and the classic things that are crunching like peanuts and chips… But, for your dog, nothing. From now on you can make canachos, nachos in canine version, simple and yummy, that you can accompany the crispy nachos all for you: aperitif in pendant! Here is the recipe for both preparations! And if you want more tips for your little beast, you need to know that dogs go crazy for these savory bites of ham, my potato croquettes both for you and for your dog and on the same street also I bon bon ice cream like favor and corn dog!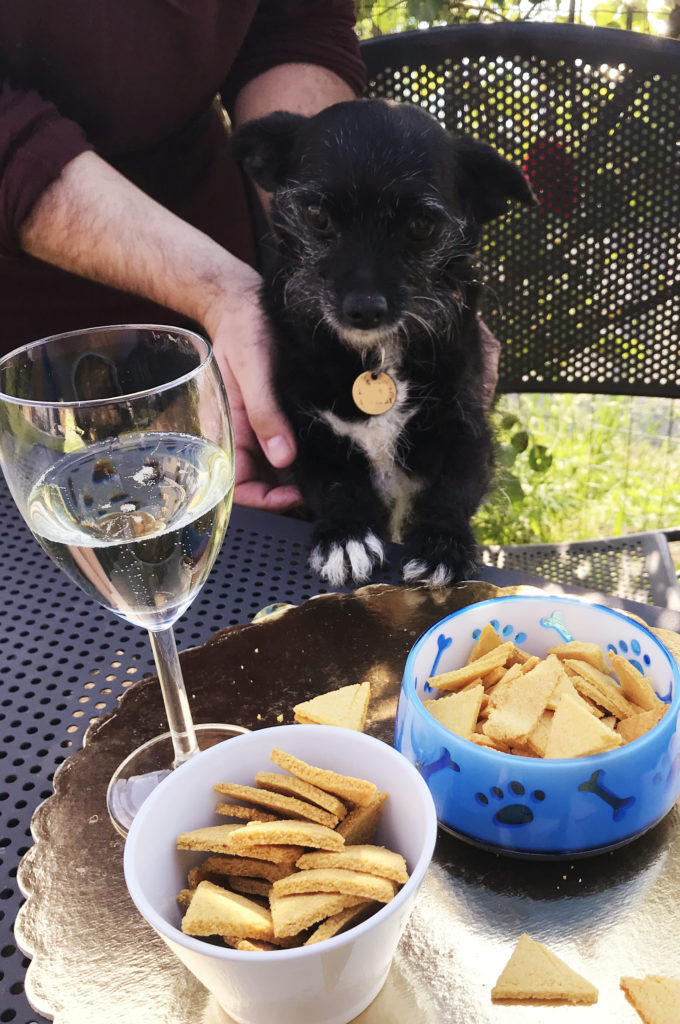 Nachos for humans: ingredients
Cornmeal (better comic, that end) 250 g
Water 250 g
Salt to taste
Paprika to taste
Chili powder to taste
Salt and chili pepper to dress at the end
Peanut Oil for frying
Canachos for your dog: ingredients
Cornmeal (better comic, that end) 250 g
grated cheese 100 g
Water 150 g
Extra virgin olive oil 3 tablespoons
Procedure
Let's start with the Nachos. In a bowl combine cornmeal, paprika and chili. Besides it heats the water with the salt, to make it dissolve altogether. Combine the lukewarm salt water with the flour, kneading well and obtaining a smooth dough. Cover it with transparent film and let it rest for half an hour. Prepare two sheets of baking paper and sprinkle with corn flour one of the two. On this lies a portion of dough (leaving the rest wrapped in the film), flatten it, sprinkle with other flour and cover it with the other sheet of baking paper. Spread it with the rolling pin until a thickness of 1 mm is obtained. Cut the dough into triangles. You can bake nachos in two ways: fried in a pan or in the oven. For frying heats 1 finger of oil in a frying pan and, when it is warm, transfer some nachos inside it: they must not float in the oil but only cook and toast. Drain them when they are beautiful golden. For baking in the oven you just transfer the nachos to a baking tray lined with baking paper and brush them with peanut oil or extra virgin olive. Cook them in a static oven at 180 °c for 20-30 minutes. Condescend them apart with plenty of salt and chili peppers if you want.
To make the Canachos, in a bowl combine cornmeal, oil and cheese. Separate the water and then add it in the bowl together with the rest, to knead and get a compact bread. Cover with film and let stand for half an hour. As for the nachos, proceed by stretching the dough between two sheets of baking paper and obtaining triangles with a thickness of 1 mm. Transfer them as they are on a lined baking tray and cook them in a static preheated oven at 180 ° C for 20 minutes.
Conservation
Better to consume the nachos immediately, because they tend to harden a lot especially if fried. Canachos, on the other hand, can be stored in a food bag for a long time. You can freeze them too!
Good because
The dough of canachos is light and simple, based on corn flour that for dogs is the most digestible
Allow you to make an aperitif together!