The why of these olive oil biscuits? You have to know that I have a penchant for older dogs. When I see them placid, a little slow, with the nose all hoary and eyes veiled for the cataract my heart doubles in volume. If I had space, time and-I admit-courage, I would adopt someone to pass with them the remaining time.

Surely vizierei them without restraint, coccolerei them and nutrirei them more than good. My olive oil biscuits are ideal: wheat bran and wholemeal flour rich in fibre, so much extra virgin olive oil. This ingredient is decisive in certain stages of life and for this reason must be of quality. We avoid the virgin oils and the hot-pressed olive, instead we opt for a cold pressing in such a way as to have an oil rich of all the nutritional principles and with its good fats intact.
As long as my grandmother Muti lived (Muti is the nickname, from Mutter-"mamma" in German-in fact her name was Luisa) in our family property in Santa Margherita Ligure was produced a fantastic oil, very intense. I will always remember that taste but luckily on the market you can find as many great if you pay attention.
Here then for your ancient life partner the biscuits with olive oil: they do not do miracles, but at the very least will make him happy and content for some eternal second!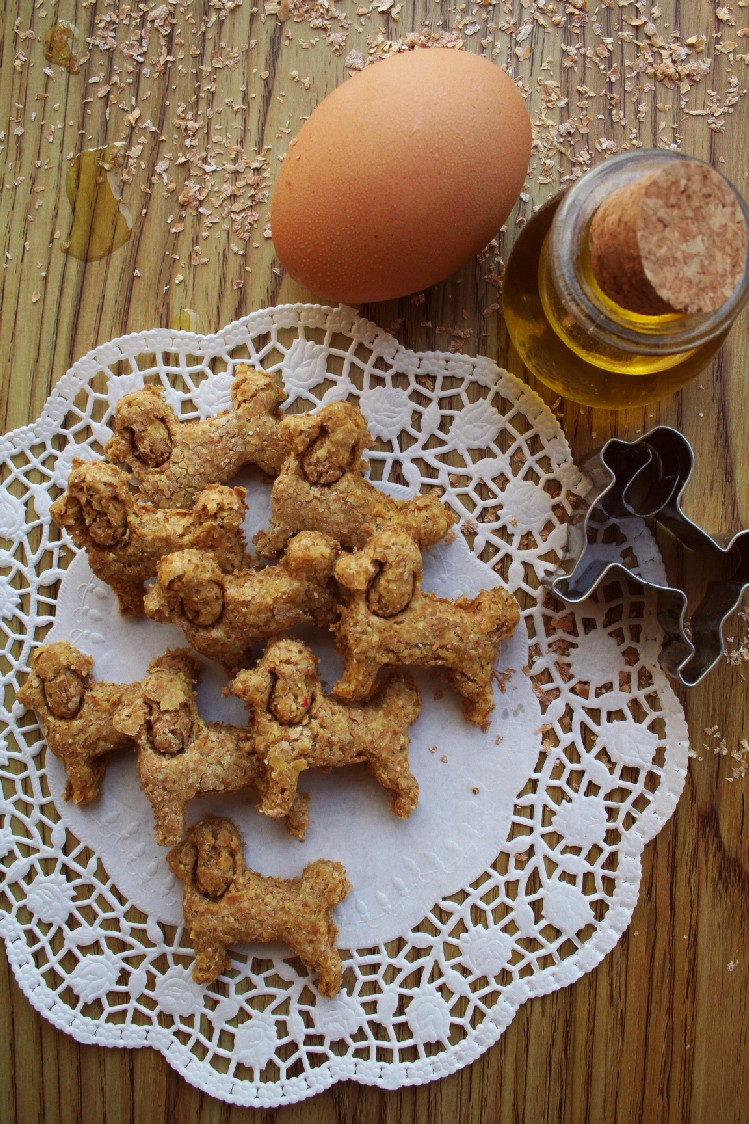 Biscuits with olive oil: ingredients for 20 biscuits of 4 cm in length
Wholemeal flour 140 g
Wheat Bran 20 g
Cold pressed extra virgin olive oil 30 g
Fresh Brewer's Yeast 5 g
Average eggs 1 whole
Procedure
In a bowl, combine bran, flour and extra virgin olive oil.
Also join the whole egg and work the dough well. Apart, melt the yeast in lukewarm water.
It incorporates the yeast and shapes the dough until you get a compact dough. Cover with the transparent film and let it rest for half an hour in the refrigerator.
Lay it now on the floured work surface and up to a thickness of about an inch. You get cookies: I used a little dog-shaped stencil but you can use whatever you want.
Cook the biscuits with olive oil and let them cool down completely.
Cooking
Pre-heated static oven at 170 °, for 20 minutes.
Conservation
You can store the biscuits with olive oil for about a week in the refrigerator, enclosed in an airtight container. You can also freeze them, first arranging them on a lightly floured tray and then transferring them into a food bag. Keep them in the freezer for a month and do not refreeze them once removed from the freezer.
Good because
The extra virgin olive oil is a concentrate of energy and health, thanks to its good fats and to the vitamins that it releases in the body
The bran is rich in fiber and the texture of these biscuits is crunchy at the right spot