Not everyone knows that peanut butter, of course pure and without the added salt or sugar, is healthy for dogs. The right dose gives them energy and is indicated in addition of daily gruel or in a super snack! So here is my peanut and apple butter biscuits, appetizing and tasty, without too many other ingredients: for our dog you have to claim the best, quality and flavor.
I acquistatao the pure peanut butter in an organic supermarket but I saw that even a couple of chains of classic supermarkets have different types altrettando good. Alternatively you can prepare it yourself at home: Buy the Peanuts, toast them in the oven and blend them with a blender or in a mixer. With patience and stopping the robot every 5 seconds to not overheat anything, you get the butter! If your dog is a puppy and if you're trying to educate him a little, cedrai that peanut butter cookies will help you and make your job easier.
Among all the canine tidbits, the peanut butter biscuits are definitely among the favorites, together with the carob biscuits or the cheese biscuits: I recommend let them try all to your loyal friend!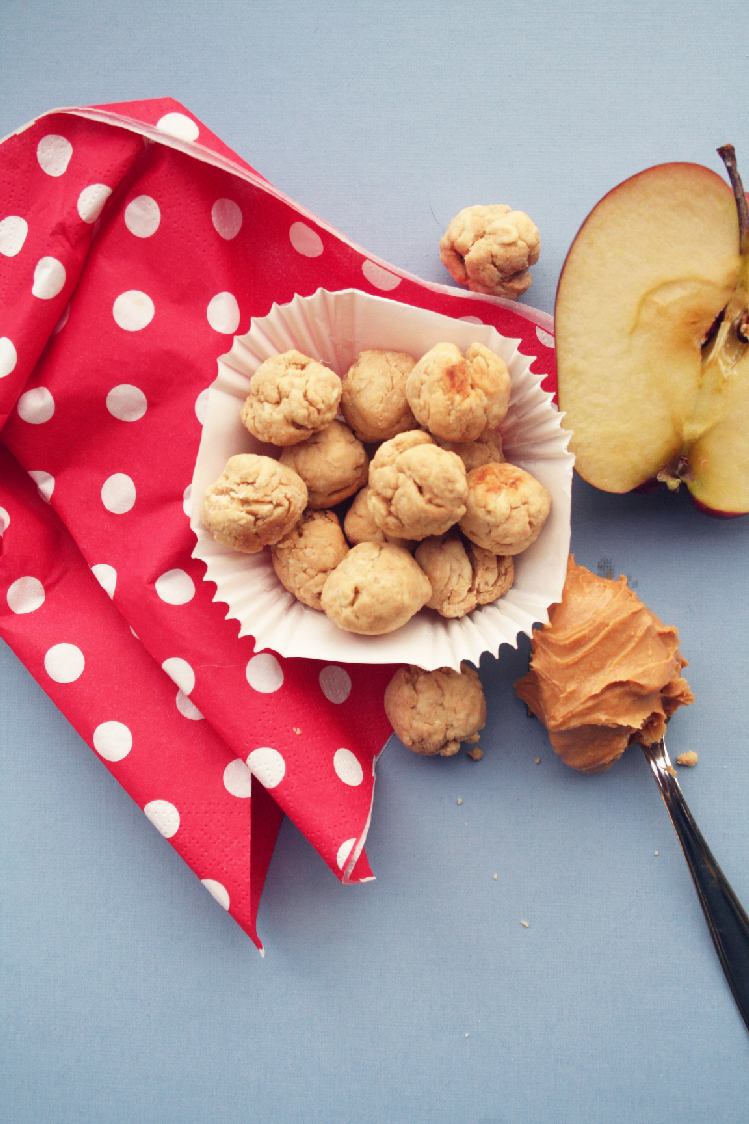 Peanut Butter Biscuits: ingredients for about 20 biscuits at praline
Flour 00 100 g
Natural unsalted peanut Butter 50 g
Soy Milk 25 g
Apple 1 small Slice
Fresh Brewer's Yeast 5 g
Water 1 Spoon
Procedure
Blend the apple with soy milk and peanut butter to get a thick batter. Melt the brewer's yeast in lukewarm water and then blend this with the rest. In a bowl knead the flour together with the smoothie, to finally have a dough rather often and difficult to work. It is not necessary to let the dough rest, you can immediately pick some small nuts of dough and get beads roteandole on the palm of your hand. Distribuiscile on a dripping pan lined with parchment paper and cook. Here are the peanut butter cookies ready!
Cooking
Cook peanut butter cookies in pre-heated static oven at 160 °, for 20-25 minutes
Conservation
You can store peanut butter cookies for a few days, in an airtight container or in a tin box. You can freeze the dough raw but do not recommend freezing the baked biscuits because, thawing, they may flake.
Good because
Peanut butter is caloric, protein and rich in good fats for the heart and body in general.
I urge your dog during physical activities
Perfect to enrich the usual food