After my plumcake to the carrot,  zucchini meatballs and the beet biscuits, I am very happy to present to you and your dog another recipe in which the protagonist is a very popular vegetable: here the salted muffins with peas, signed as usual tidbits Canines.
A bright green that-even if visible only to your eyes-makes good humor come right away, and is witness to the high and healthy percentage of peas inside. I just scalded them in boiling water from frozen (do not use those precooked canned, I recommend: The liquid is full of salt and often sugars and preservatives!) and I have milkshakes, and then add them to two other ingredients and make a beautiful dough Compact. I used some pretty big cupss but of course you can also try the small cups of paper, like the ones used in my coconut pralines.
You'll see, your dog will immediately feel the smell of these muffins and will be thrilled to try them out! And while you're at it, you might as well let him taste the apple muffins…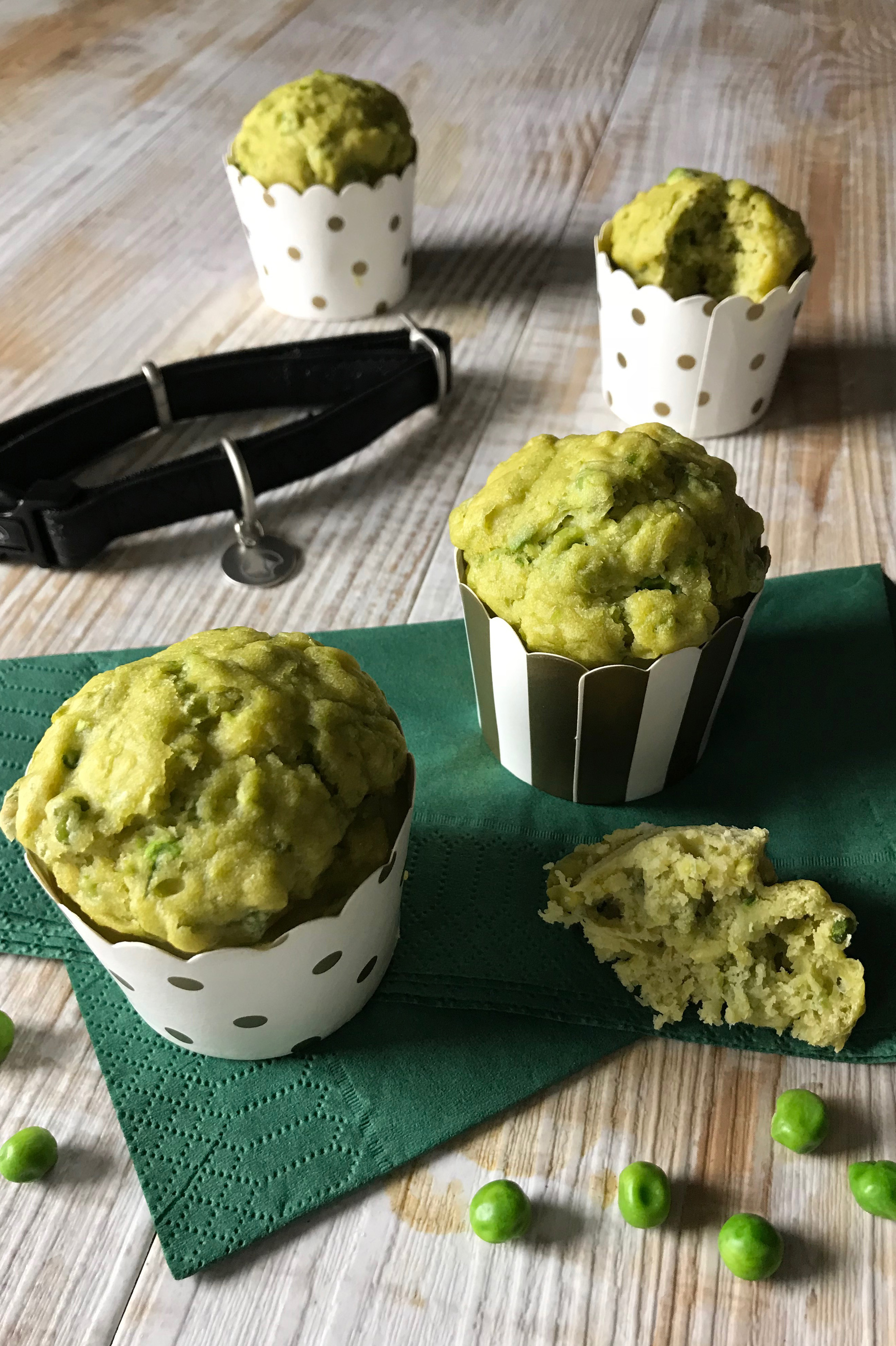 Ph: Ilaria Giovanna Susan
Peas muffins: ingredients for 4 muffins
Shelled peas 100 g
Fresh Brewer's Yeast 5 g
Durum wheat flour 125 g
Medium eggs 1 only the yolk
Lukewarm water 110 g (use one where you make sbollenatre peas)
Procedure
To make the salty muffins to the peas, it starts right by the peas. Whether you have them fresh or frozen, put them in a saucepan immersing in the water provided by the recipe and bring it to the boil: leave to boil for 1 minute and drain the peas holding the cooking water. Shake 3/4 of peas with a blender, adding a little bit of cooking water if necessary; In the remaining, which in the meantime has slightly cooled, melt the brewer's yeast well.
Place now in a bowl the flour, the yolk *, the mashed peas, the whole peas and finally the water in which you melted the yeast. It mixes vigorously and for a few minutes, so as to amalgamate all the ingredients and to develop the Glutinica mesh. Pour now the spoonful in cups for muffins: I have used some in cardboard, without greasing or flour, passage that you do not have to avoid if you use a classic mold. Cook the salted muffins to the peas in a pre-heated static oven at 175 ° for 35 minutes. Ready!
* Do not throw the egg white, I recommend, use it to make you a beautiful white omelette!
Conservation
You can store the salted muffins to the peas for 3-4 days in the refrigerator and well closed in an airtight container; Although it is not ideal since probably will use frozen peas, you can also freeze them from cooked and once cool!
Good because
The peas are among the vegetables/legumes that most fan well to dogs! Their taste is sweet and delicate, and they are good for the intestines.
A muffin of these is abundant to give at once but the texture is soft and you can give it to your dog over a day or in small pieces in his daily gruel