I know that dogs unfortunately do not see all the colors, but for sure they will feel the delicious smell of these pomegranate biscuits: delicate, light, to be done in the blink of an eye… And then I'm pink and heart-shaped! For us Bipedi is also important aesthetics and you would do anything to instill love to your dog, so these goodness-as well as my banana hearts or beet cookies-are really perfect. 
You know, they can turn into a gift to pack and give to the dog of someone special to you: it will remain of stucco, moved and enthusiastic! I have made the dough of this recipe in no more than 5 minutes, so you have no excuse to test yourself even if you're novice in the kitchen. Remember that if you need a tip on the fly, you can write to me below or on my social profiles and I'll answer in a moment!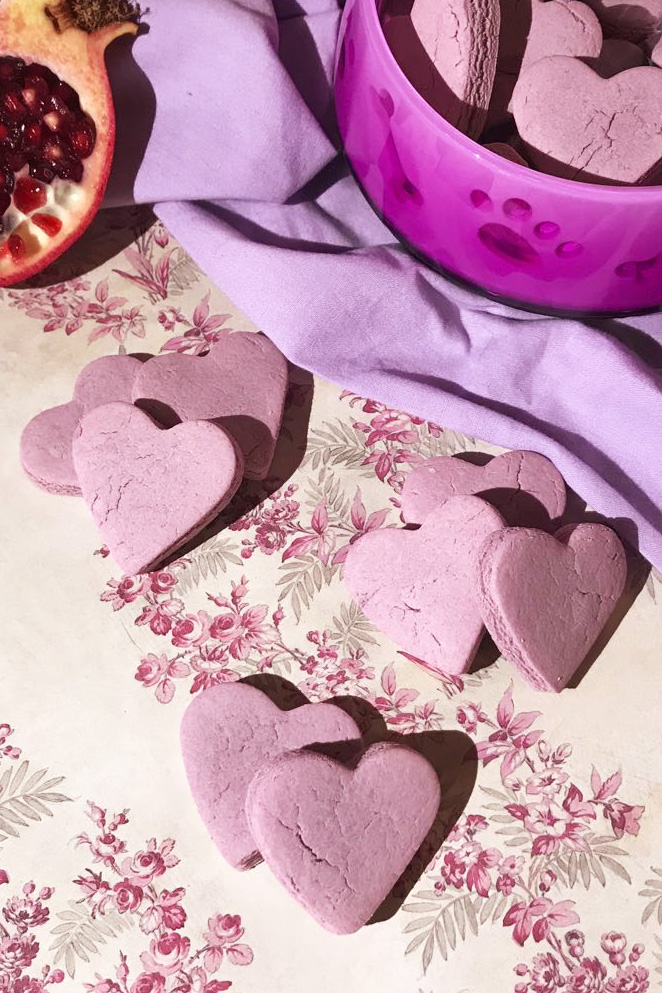 Pomegranate Biscuits: Ingredients for about 22 pieces
Flour 00 40 g
Rice Flour 80 g
Greek yogurt 0% 20 g
Pomegranate Juice unsweetened 65 g
Procedure
Aren't quaint these pomegranate cookies? To make them just combine the flour 00 and rice in a bowl, and then add the Greek yogurt. Knead now by flushing the quantity of juice indicated: I found at Carrefour the bottles of juice to 100% unsweetened, is of fruity Line and you find it in the refrigerated bench. If you have a extractor or a centrifuge you can certainly use that starting from the beans!
Obtained a nice pink and compact loaf, lay it on a worktop up to a thickness of about 5mm, then cup the biscuits by kneading the leftovers of dough again; I used a heart but you can choose the form you prefer or just cut the dough with knife, strips or squares.
Arrange the biscuits on a dripping pan lined with parchment paper and cook in a pre-heated static oven at 170 ° for 25-30 minutes.
Conservation
You can store pomegranate cookies for about a week, at room temperature and well-sealed in an airtight container. You can freeze them too!
Good because
The rice flour, as I also explain in my other dog recipes, is light and highly digestible.
These biscuits have a protein part given by yogurt, also balanced by a good percentage of fruit: The pomegranate, moreover, is a rich source of vitamins