I have read many articles and consulted several books on feeding the dog and in some advise to avoid potatoes because of the high percentage of solanine that contain. This substance is harmful even for us humans if taken in large quantities and there are those who prefer to avoid them in the diet of their dog. The solanine, however, concentrates largely in the peel and also greatly reduces if the potatoes are well cooked, especially if boiled. My Veterineario also assured me that boiled potatoes are even recommended, because they are read and hearty in a healthy way. So I present my potato and pumpkin croquettes, tasty and irresistible!
It is really simple, I wanted to add a bit of pumpkin because of the season-I used it in the pumpkin Rolls-and to give more flavor but you can omit it. In fact, you can aromatize the potato and pumpkin croquettes with chopped parsley or rosemary. Freshly baked you will smell it and I strongly recommend you to taste it yourself: a goodness that you do not expect! Courage then, peel vegetables in the hand and prepare the potato croquettes and pumpkin!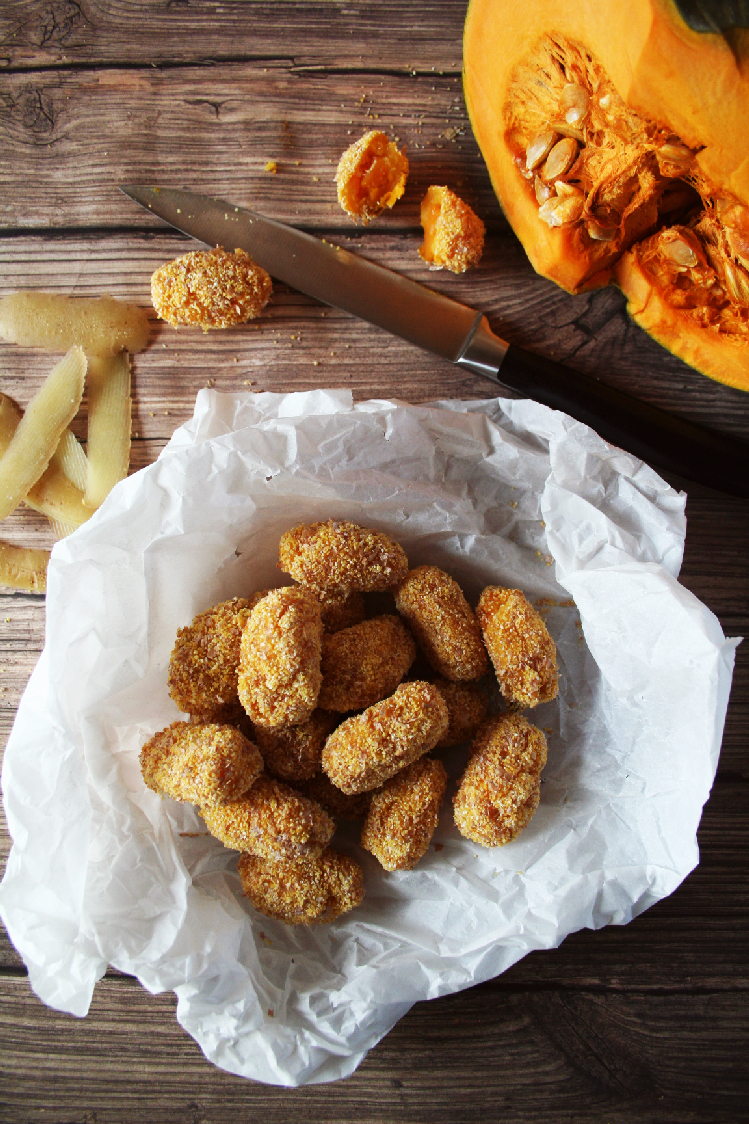 Potato croquettes and pumpkin: ingredients for about 40 croquettes
Potatoes 300 gr without skin
Pumpkin Delirium 100 gr net of waste
Greek Yogurt 0% 50 g
Rice Flour 30 g
Corn Meal to taste To Bread
Bran to taste To Bread
Procedure
To make pumpkin and potato croquettes, I recommend to use either potatoes already boiled or prepararl the night before. Boil it and half cooking add the pumpkin clean. Drain both when they are completely cooked, make sure they are also in the center. Once cold, crush them with the prongs of a fork and then add the yogurt. Blend with a blender, until you get a puree smooth and without pieces. Add the flour and amalgamate it well.
In a holster, join the corn flour and bran. Now pick up about 15 grams of dough and form a croquette, pass it well in the mix of flour and bran and place each croquette on a pan lined with parchment paper. Cook them and your potato and pumpkin croquettes are ready!
Cooking
Pre-heated static oven at 200 ° for 30 minutes. It fires in the highest part of the oven.
Conservation
You can store the potato and pumpkin croquettes for 3-4 days in the refrigerator or freeze, preferably from raw. Arrange them first on a tray and then, once frozen, you can transfer them to a frost bag.
Good because
The potatoes are sostanzione and together with the pumpkin are a complete snack
The texture of potato croquettes and pumpkin is magnificent, very crispy outside and soft in: they will also appreciate the older dogs or puppies