You have to know that, among all my dog recipes, this coconut praline is among my favorites. I experimented a couple of Christmases ago, Quado I was looking for something pretty as well as nutritious and tasty: I thought to propose as an original Christmas gift and then I immediately connected the holidays to what I like… The chocolates, the most famous ones that we all know, coconut and with a beautiful hazelnut. Not being able, for obvious reasons, to replicate the recipe for humans, I adapted this canine version and here I am to present you amused my wonderful "RaffaelDog"!
Coconut flour, robiola, goat's milk and wholemeal spelt flour: nothing more, nothing simpler. Nutritious and soft enough inside, will be highly by your dog even if it is small size as my hecate. So, are you going to try and get them together with my apple pralines and peanut butter?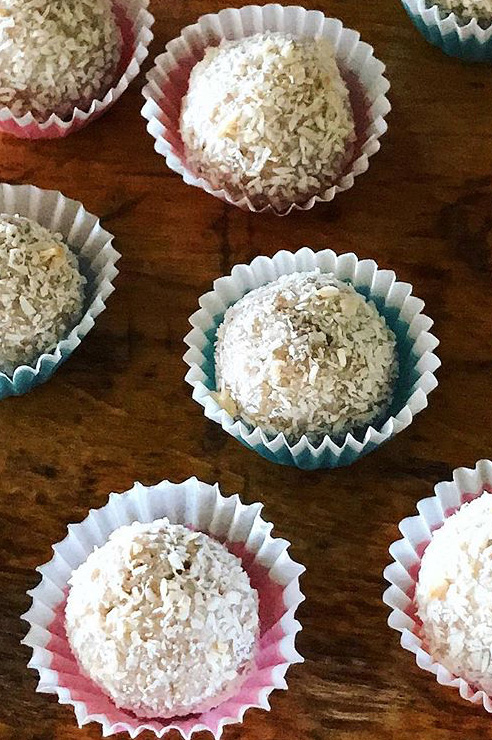 Recipes for dogs: Ingredients for 18 coconut pralines
Spelt Flour Intergale 80 g
Coconut flour (coconut rap) 20-25 g + to taste For the coating
Goat's milk 4 tablespoons
Robiola 5th G *
Procedure
To make the coconut pralines you just mix the two flours in a bowl and then add the milk and Robiola. Mix first with a wooden spoon and then by hand, kneading for a few minutes until it forms a compact and malleable compound. Now you can proceed by withdrawing 10 g of dough at a time, to give it a spherical shape.
In a small bowl, distribute a little ' coconut rap and throw in a couple of pralines at a time, roteandole well in order to cover the entire surface. You just have to cook them in a static oven preheated to 170 ° for about 20 minutes, I put them in the cups of paper mignon but you can simply lay them on a pan covered with parchment paper.
A warning. The coconut rap on the surface obviously tends to imbiondirsi: if you want a candid effect, you can moisten the pralines slightly once cold and dress them with further coconut rap! To me personally not to bother indeed I prefer it, so beautiful toasted and aromatic! Coconut Pralines for dogs, ready.
* Alternatively you can use goat's ricotta or a vaccine!
Conservation
Once ready, you can store the coconut pralines in the refrigerator for 3-4 days; Alternatively you can certainly freeze them but I suggest you spend a few minutes in the oven before letting your dog eat them once they have thawed.
Coconut Pralines: Good because
The goat's milk is extremely nutritious and their wild and strong flavor is much appreciated by dogs
The small size makes the coconut pralines perfect also for small dogs
The coconut is a tasty and vitamin food, albeit here it is used dry