The world of food-blogging is quite ruthless. Not in the bad sense of the term: ruthless because every blogger must necessarily do everything to emerge and have something that a competitor does not have. Rarely do you find someone really genuine and modest, though brilliant that it is. I met Francesca di the Bluebird Kitchen a short time ago, wandering on Instagram: Curiosity was taken when I discovered that Varese is like me and, navigating on his profile and on his website I could not do without verge. Simple in concepts and images, extremely evocative-of an ideal world in which we all willingly accoccoleremmo. Assaggeresti any recipe made by her.
Francesca has Diana, a splendid Bracco, glittering in her almost silvery mantle… Obviously, I also fell in love with her and I immediately proposed a recipe for dogs dedicated to this beautiful Cagnolona. After my dog potato croquettes, here are these red lentil croquettes, croccantine as the term says, very easy to prepare, which Francesca herself has replicated for Diana. This is the result!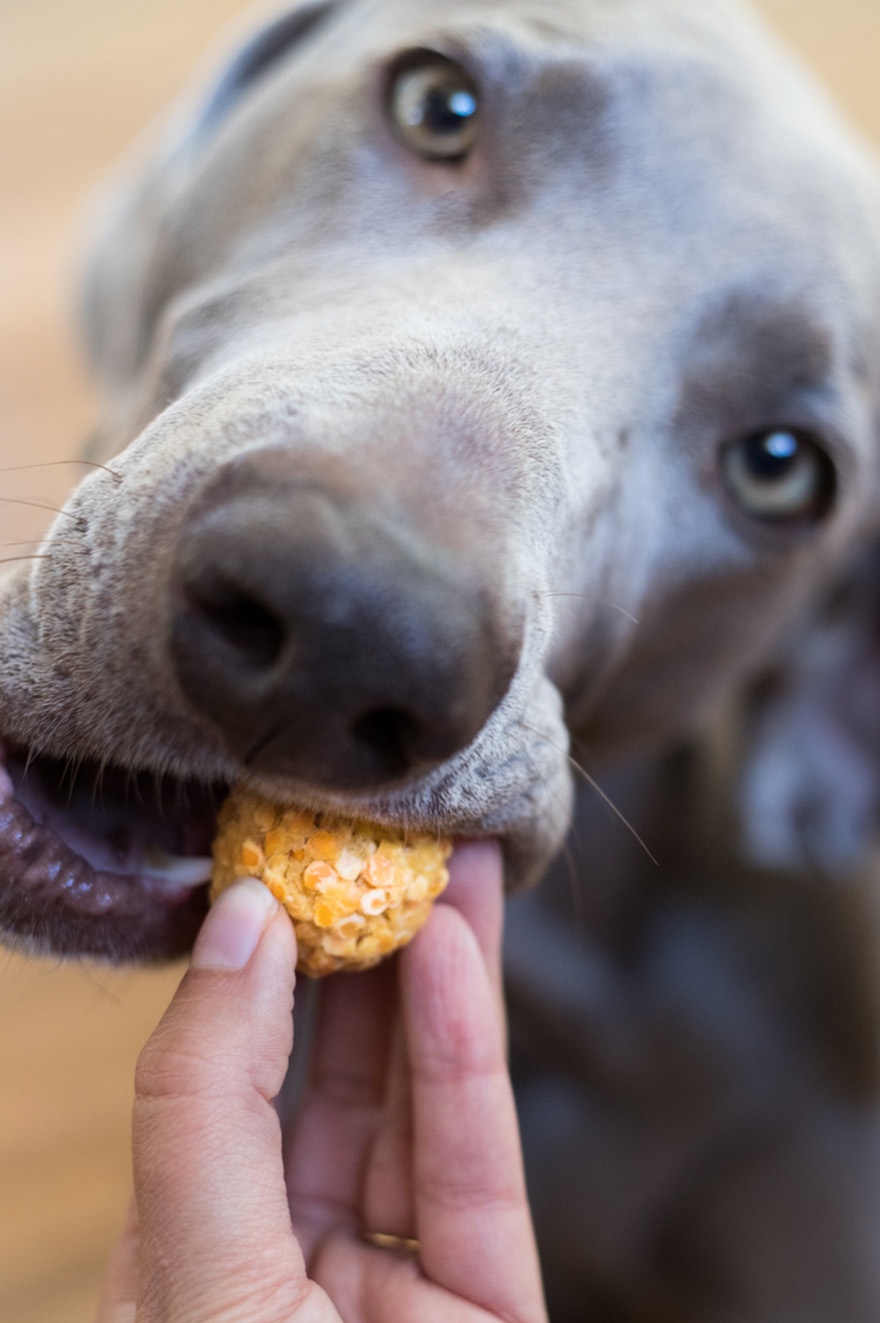 PH: Francesca Giovannini The Blubird Kitchen
Red lentils croquettes: ingredients for 15 croquettes
Chickpea flour 30 g
Red lentils peeled * 60 g (105 g from cooked)
Greek yogurt 0% 1 teaspoon
Procedure
First, it boils the red lentils peeled in boiling non-salted water, for a handful of minutes: when the drains must be very close to the tooth. Let them cool and put them in a bowl with the other ingredients, namely yogurt and chickpea flour. I've kneaded everything like this but if you prefer, you can blend the lentils to get a thick purée.
Mix everything, pick up a small nut of dough (it will be rather sticky) and conferring a ball shape. With the indicated doses you should get 15 crocuses but it also depends on when you want to make them big according to your dog's size. Available on a dripping pan lined with baking paper and baked in a pre-heated static oven at 175 ° for 15-20 minutes. The bigger you do, the more I suggest you keep them in the oven. Here's your red lentil croquettes ready.
* I used red lentils peeled because, exactly as for us humans, they are less prone to giving intestinal ailments. Also, they don't need any soaking. Legumes in general can be indigested or problematic for dogs, but since these lentils are particular as explained and being this-like all those of BocconciniCanini-the recipe for a snack, nothing should happen. Ask your veterinarian if you have any doubts about it, in any case I would not give my dog more than 1 croquette of lentils a day!
Conservation
You can store the red lentil croquettes in a well-closed jar and put in the fridge for a few days. I don't recommend freezing them.
Good because
The red lentils peeled are nutritious legumes, which do not carry any swelling
They are really lightweight and gluten-free meatballs