I love the versatility of the apple! Whether you use it as fresh as I did in my apple muffins, or cooked like in these Apple snacks, the result never disappoints: its sweetness is recognizable as a few other ingredients in the kitchen and dogs, like us bipedi, go crazy. Try to believe! Anyone who keeps this fruit in the house and just mix it with a few elements to stock up on walking biscuits or to keep in the house for a little vice every now and then.
I matched the Apple snacks to a small dose of maple syrup and ricotta cheese, very light and perfect for kneading because it allows you not to use eggs or other fats: useless to burden our dog too much, no? Less is more, says someone. And I agree!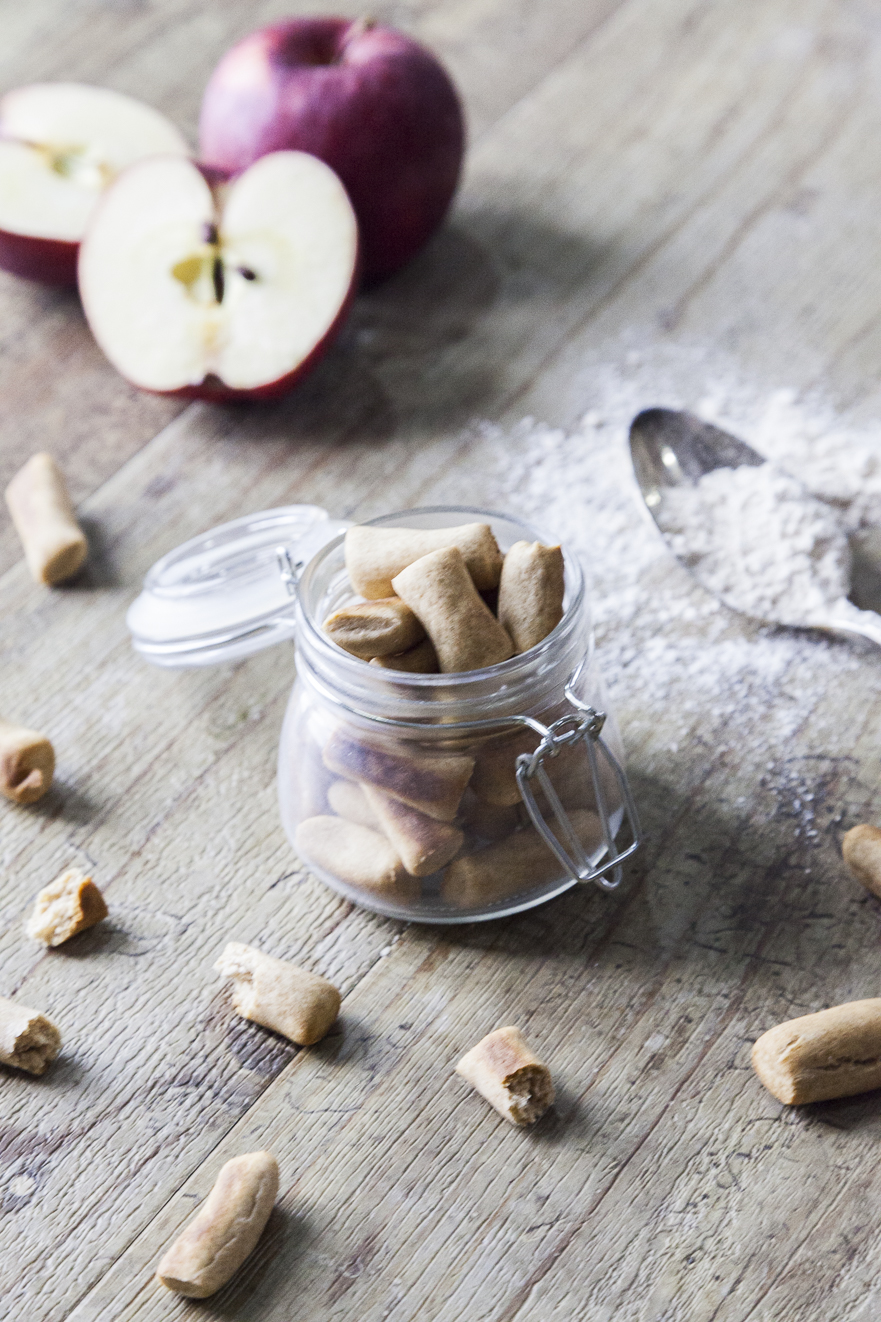 PH: Ilaria Giovanna Susan
Recipes for dogs: ingredients for about 30 apple snacks
Wholemeal spelt flour 75 g
Maple syrup 2 teaspoons (optional)
Ricotta Vaccine 30 g
Apple 1 beautiful clove
Fresh Brewer's Yeast 2 g
Lukewarm water to taste If necessary
Procedure
To make these little Apple snacks, start to peel and clean the apple, you need a nice clove. Cut it into three parts and cook it in a saucepan over low heat and covered with lid, without adding water or other: in a few minutes cook! Once cooked, crush it as a puree and put it in a bowl with the ricotta.
Add also the crumbled yeast and maple syrup, then knead by incorporating the flour a little at a time. If the mixture is too hard and dry, you can add a little lukewarm water; On the contrary, it slightly increases the amount of spelt flour or add a little rice flour.
Got a nice stick, picks up some nuts of dough and work them to chopstick. Then cut each chunks long about 3 cm * and place them on a dripping pan lined with parchment paper. You just have to cook the Apple snacks in a static oven preheated to 170 ° for 15-20 minutes, or more by lowering the temperature to dry well. Ready!
* The size of course is at your leisure and/or need also depending on the size of your dog
Conservation
You can store Apple snacks long enough if they are dry, about a week in a tin box or in a small bag in the fridge. You can freeze them.
Apple Snacks: Good because
The Apple is one of the favorite fruits of dogs, thanks to the sweetness and the high percentage of fibre that contains
Given its lightness and sweetness, it is the perfect snack to carry around during outings and walks!