These spices biscuits have a very tender history, because they are dedicated to a cagnolona of incredible sweetness and to the two humans who adopted it. She is Brie and they are Alice and Alessandro: Maybe you know them as… Gypsies, via their internet site at Gipsy in the kitchen and their Instagram profile. I am a real family and when I met them in person I spontaneously think of "BrieScotti", or a snack intended for the soft Brie but that encompasses much of them all.
Here then the cheese grated into the dough-of which Brie is greedy-the cinnamon of which Alice is crazy and turmeric that represents the many adventurous trips that have made all three together. A mixture of flavors and sensations, for a winter to pass coyying in front of the fireplace, each with their own thoughts but bound by an indissoluble knot made of warmth and love. 
Try to make my Christmas cookies and these spices cookies, to live a similar moment with your dog, if you reflect in the atmosphere just described!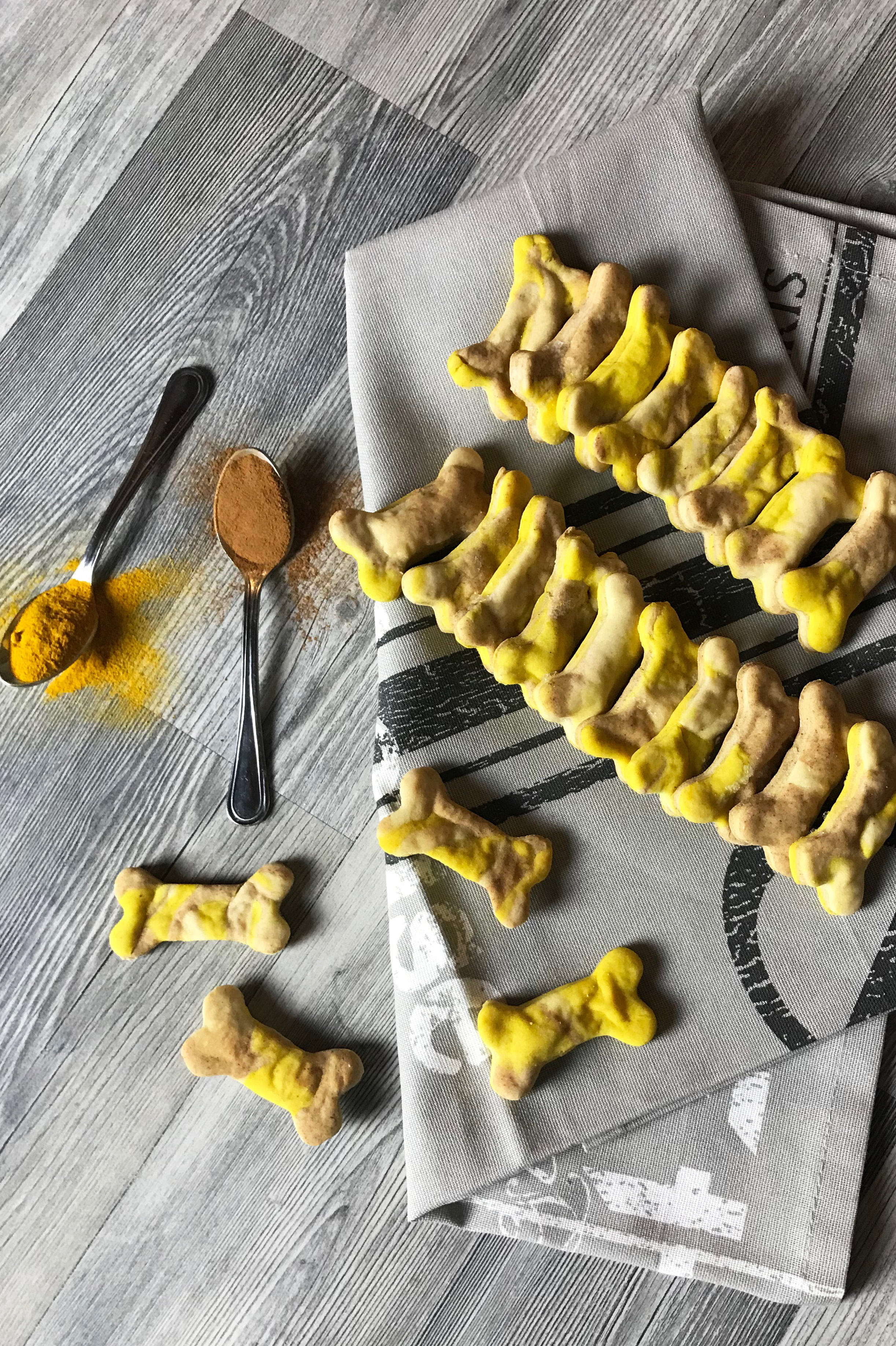 Spices cookies: ingredients for 25-30 biscuits
Wholemeal flour 100 g (or flour 00 100 g)
Flour 00 50 g
grated cheese 25 g
Water 85-90 G
5 g extra virgin olive oil
Turmeric powder to taste
Cinnamon Powder to taste
Procedure
The biscuits with spices are composed of a triple mixture, each one flavoured differently: the one based on the cheese, one with cinnamon and the third with turmeric. Combine the flour, the grated cheese, the water and the extra virgin olive oil in a bowl and work it all together to form a nice compact loaf. Now divide the dough into three parts: Leave a smooth part and enrich the second one with Cinnamon and the third with turmeric. It works for a long time the spicy portions, to color them in a uniform way.
Fragments coarsely all the dough and join them in one, to be reshaped slightly to create streaks. Now you can lay it on the worktop up to a thickness of about half an inch, and get the biscuits. You can use the form you prefer or cut them into lozenges or squares.
Arrange them all on a dripping pan lined with baking paper and cook them in a pre-heated static oven at 170 ° for 30 minutes. Spices cookies, ready!
Conservation
You can keep the biscuits to the spices for a long time, if well closed in an airtight container and stored in the refrigerator. You can also freeze them after baking.
Good because
They have an irresistible scent thanks to the spices and the grated cheese
The mixture of a classic flour and a gluten-free make them more digestible and lighter