I love sweet or American potatoes: they adapt to both sweet and savory preparations, they have a magnificent colour and their unmistakable taste is appreciated. Even by dogs. In This recipe are definitely protagonists, kneaded with flour to make the dough elastic, rice flour and crispy corn flour coveted: Sweet potato cookies are a real greedy gift to prepare for your dog.
If you have some advanced boiled potatoes you can keep them to make these cookies, or my potato and pumpkin croquettes, just as tasty and irresistible. If you want to make these cookies even more good you can add a grated cheese, emmental or semi-hard paste, but beware of calories!
Autumn offers many extraordinary ingredients and the fresh air activity puts in motion many energies, that's why these sweet potato dog biscuits are perfect for making a nice cuddle to your dogs, or to give him an award after a good run between the Dry leaves.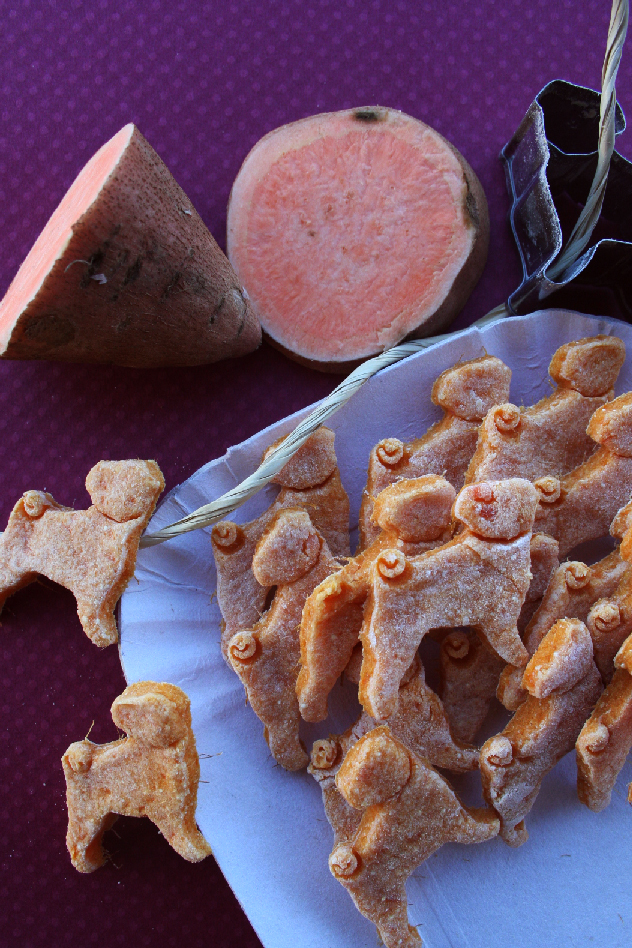 Sweet potatoes biscuits: ingredients for about 25 croquettes
Sweet potatoes 200 g
Flour 00 45 g
Maize flour 40 g
Rice flour 20 g
Water to taste
Cinnamon 1 Pinch
Procedure
To make sweet potato cookies, first peel the potatoes and let them cook in boiling water. Do not cut them to chunks but leave them whole, in such a way that they maintain more intact properties. Once cooked, let them cool completely in the refrigerator. You can cook them even the night before, or in the morning for the evening.
Crush the reducing potatoes to puree. Add the pinch of cinnamon and the three flours. Knead to get a compact dough. If it is too sticky, add more rice flour. Let rest the dough obtained in frigoriero for one hour, wrapped in transparent film.
Spread the dough on a well-floured or lightly greased worktop, so you get a sheet of 6-8 mm thick. Get the biscuits: I used a dog-shaped form, about 5 cm long, but you can use the one you prefer or even cut them with a knife. Bake it all after placing the sweet potato biscuits on a dripping pan lined with parchment paper.
Cooking
Pre-heated static oven at 175 ° for 20 minutes.
Conservation
You can store sweet potato cookies for 3-4 days in the refrigerator or well-closed in an airtight container you can also freeze them from cooked. I don't recommend freezing them from raw.
Good because
Sweet potatoes have a more decided taste than white or yellow ones, they really like
The balanced mix of flour is a concentrate of energy, for a substantial