When I send a few days to Christmas it makes everything more magical and undeniably nicer. The sky laden with magnificent frost, hats and hot scarves, lights reminiscent of the stars. I love walking with my dogs in this atmosphere, making corsets to warm up the muscles and watching all three together drop the darkness and see the stars come forward. Combine all these elelenti and understand why my Mandarin biscuits are in the shape of Christmas comets, or in any case a good omen.
After my ginger starlets, the Mandarin biscuits are another concentrate of vitamins: the rind of citrus fruit does not andremme Bai thrown and I usually keep it to recycle, as in this case. The coveted flour confers a golden color but above all it is anti inflammatory. I've already used it for cheese biscuits, one of my favorite snacks since I started the activity of canine tidbits.
With these Mandarin cookies and my Christmas cookies I wish you and your dogs Happy holidays: a cuddle and many caresses and kisses on my part, Hecate and IndianaJones!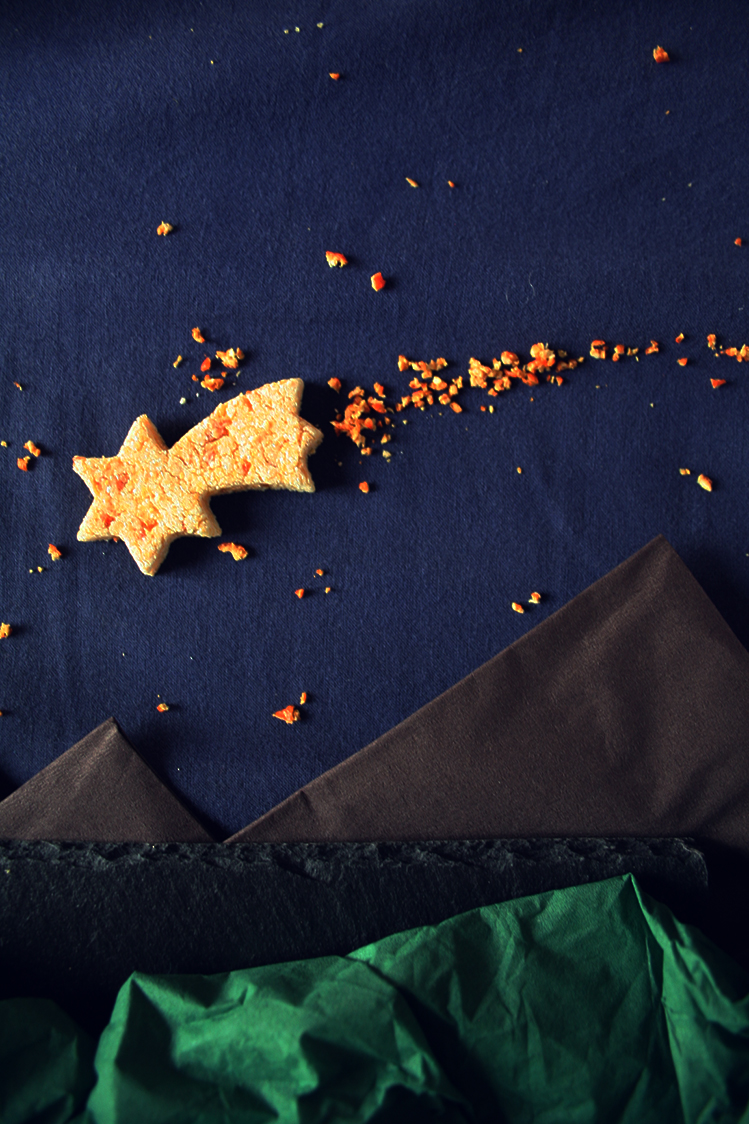 Tangerine Biscuits: Ingredients for about 20 comets
Corn flour coveted 54 g
Rice Flour 35 g
Flour 00 1 Spoon
Mandarins Peel of 1 untreated
Greek yogurt 0% 1 tablespoon
Water to taste
Procedure
To make Mandarin biscuits, in a bowl sieve together the three flours: coveted, rice and 00. After washing and drying the Mandarin, peel and chop the rind very finely. It will take a little but more the overdone and more sprigionerà the essential oils, which flavor the dough. Add the rind to the flours, then also the yogurt and the water slightly warm. Knead for a long time: it will be initially mealy but in the long run everything is compact. If necessary, it still incorporates a trickle of water.
Cover the dough obtained with the transparent film and let it rest about 10 minutes at room temperature. Now lay it down to the thickness of 5-6 mm, on the floured work surface. I used beautiful cookie size biscuits, but you can use the ones you prefer. Obtained comets, available on a dripping pan lined with parchment paper. You can bake Mandarin cookies!
Cooking
Pre-heated static oven at 170 ° for 25 minutes.
Conservation
You can store Mandarin biscuits like my other dog recipes: in a bag or in an airtight container, at room temperature for over a week. You can also freeze them but I recommend cooked.
Good because
I am anti waste: Who does not happen to taste oranges or tangerines and then throw the peel? Now you can recycle it!
Vitamin and very dry, are perfect to train your dog's chewing