If you do not know the kefir milk, it is worth deepening the topic because extremely interesting. You can do it here, in this article you explain in detail what it is. The taste is very similar to the neutral yogurt, the consistency also but much more full-bodied and elastic; We humans use it in case of inflammation or weakening, maybe after an antibiotic treatment or in case of bowel a little ' slowed… For dogs can do very well also with regard to arthritis, gastritis, little energy in general. Here are these turmeric and kefir milk biscuits, fragrant and really tasty! Your dog won't resist. How do I know? Because in front of my spicy biscuits they always lick the mustache and this recipe is Addiittura richer! I decided to cook them in the shape of a cube, for two reasons: the first is to be able to easily carry the biscuits without breaking, maybe in the pocket; The second is to prevent the dog from swallowing them without maybe chewing them properly! I want their jaws to linger a little bit on each biscuit, to make it digest in an optimal way. Try them out, have this dog recipe tested for your own and let me know!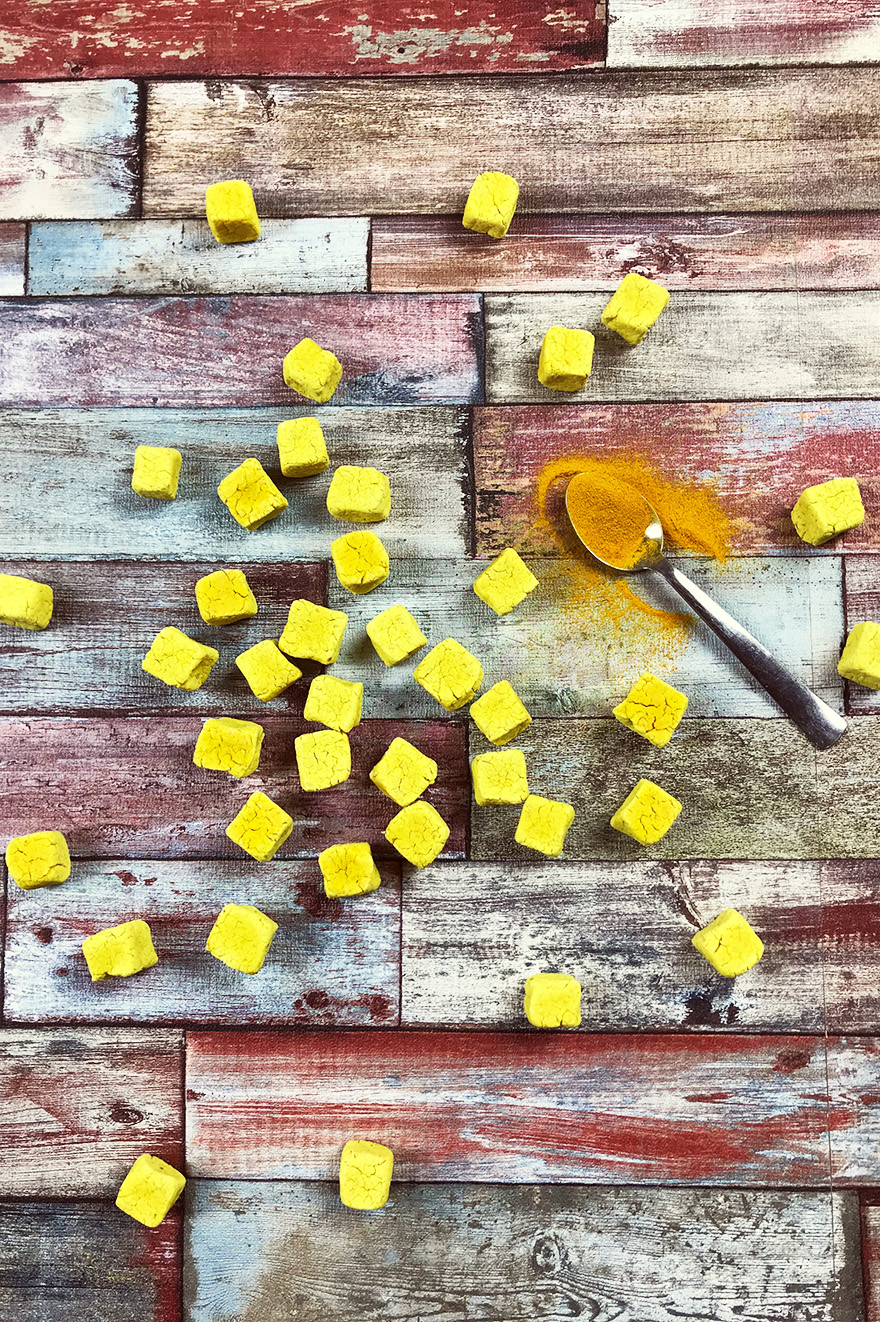 Turmeric and kefir milk biscuits: ingredients for 40-45 biscuits
Rice flour 130 g
Oat Bran 20 g *
Turmeric 2 teaspoons
kefir milk 120 g
Procedure
Making these biscuits is very simple. In a bowl, place flour, oat bran, milk kefir and two teaspoons of turmeric powder. Mix it all first with a spoon and then proceed by hand, until you get a nice compact dough. ENVI dough does not need to rest, so you can work it immediately. For this recipe I decided to pick some small nuts of dough and shape them perima ball and then cubes. You obviously can choose to cup the biscuits of the shape that you prefer: if you spread the dough, however, reduce the cooking time a little. Cook the cubes with turmeric and kefir milk in a pre-heated static oven at 170 ° for 20-25 minutes. * You can omit the bran to make this recipe completely gluten-free: In this case, however, it slightly increases the flour dose or decreases the amount of kefir milk.
Conservation
You can store turmeric cookies and kefir milk in a hermetically sealed box for a week or more. You can freeze them, but I suggest to pass them back into the oven again to restore their crispness.
Good because
As an advance to beginning recipe, kefir milk is a phenomenal ingredient for pancreatitis, metabolism and intestines in turmoil
That smells turmeric! And what a taste! But above all, that good for fur and digestion!