I dedicated these zucchini meatballs to Yuma, a magnificent example of a German shepherd living next to me. She is very fit, her humans keep her active and they are teaching her to become a search and rescue dog. Sweet and affectionate as a puppy, attentive and mature of intellect, Yuma and I became friends immediately and I did not hesitate a moment to spoil her a little. It often happens that she supplies her humans with canine tidbits for her and, after several tastings, Yuma has found her favorites: these zucchini meatballs.
I was so happy seeing her enthusiastic and satisfied after having tasted, so croccantine out but soft in the heart; Rich in fresh zucchini and bran, for a digestion without hindrance and no hitches in the intestines in anticipation of a race or its hard workouts. Unfortunately in my small apartment I can not keep animals, which is also logical because they are out of the house all day everyday, but luckily I have my Indy and Hecate at 100 Mt and Yuma at a ramp of scale. Later on I'll introduce you to my other four-legged neighbors, all fantastic.
In the meantime I propose you the zucchini meatballs of Yuma, watch my video on Facebook of when if the gruel!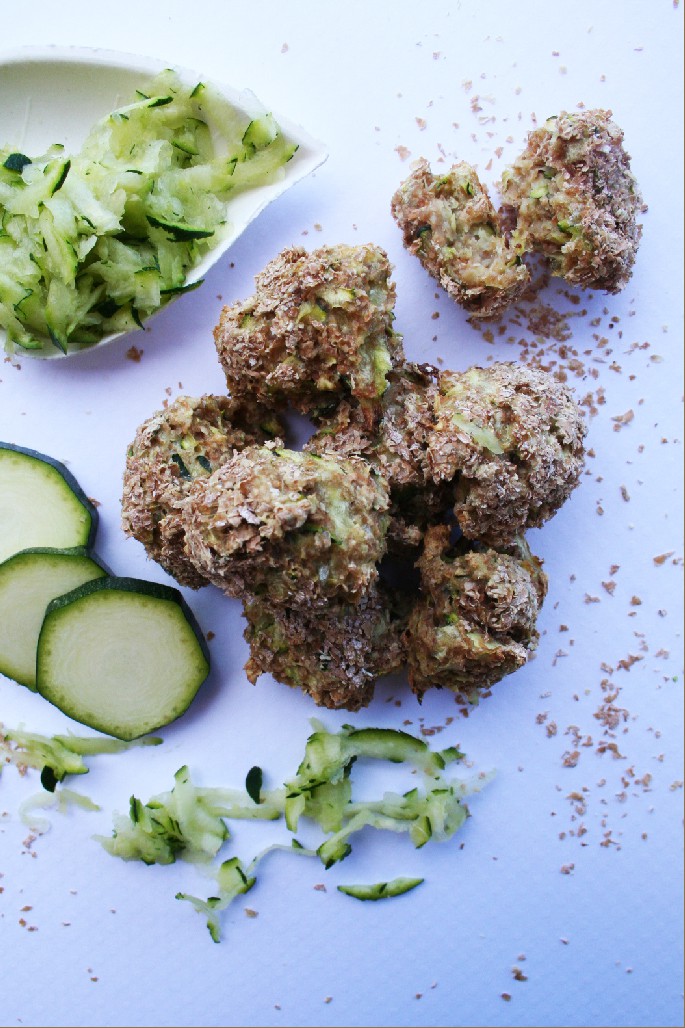 Zucchini Meatballs: Ingredients for 20 meatballs
Zucchini Bio 2 Small
Flour 00 100 g
Oat Bran 20 g
Eggs 1 yolk
Thin Yogurt to taste
Procedure
If you take fresh zucchini, small and beautiful sodas, you will not need to make them lose water. Grating *, if you can, including the ends that we usually discard, with a grater in medium holes and transfer them into a bowl. Add the yolk and the thin yogurt.
Gradually add the sifted flour and bran, in small doses and alternating the two ingredients.
Knead by hand and in a homogeneous way: at the beginning the mixture will have to remain very soft, then to take body with each addition of dry elements.
Obtained a malleable dough, form the meatballs by helping if necessary with a spoon. Arrange the zucchini meatballs on a dripping pan lined with parchment paper and cook them!
Cooking
Pre-heated static oven at 185 °, for 20 minutes
Conservation
You can store zucchini meatballs for 5 days in the refrigerator, in an airtight container. If you prolong the cooking by opting for a slightly lower temperature, you will dry a little more and at this point you can keep them for longer.
* If you want to freeze them, I suggest you chop the zucchini very fine instead of grating them.
Good because
Zucchini are among the most appreciated and recommended vegetables, as much for us as for dogs. Rich in water and vitamins, they are highly digestible.
The meatballs remain pleasantly crispy outside thanks to the presence of the bran, but soft inside. They are also suitable for older dogs and chewing a little more problematic