My dogs: the story of Hecate and Indianajones
Photo by Gian Marco Folcolini
Hecate
I want to tell you the story of hecate, the goddess of darkness, death, witchcraft and magic, and hecate my tiny little dog and Peperina. I have criticized in many for this homonym and in the next few lines I tell you why I chose this name. The deity Ecate is very ancient and psychopompa, or with the power to travel undisturbed between the world of the living and that of the Deceased. It is the guide behind the prophetic words of the Coumanian sisyla, which was the messenger of the Living. One of the meanings of his name is, in fact, "she who strikes from afar". Far away: from the past, from the afterlife, from Dreams. The first creature who heard the cry of Persephone was hecate, when Hades kidnapped it by dragging it into the UNDERWORLD. she, depicted with a torch in her hand to make her way into the world of the dead and with three faces depicting the past, the present and the Future-a very young, an adult and an old-age-is also the protector of dogs. Often accompany his iconography, loyal companions who howled or happy every time she went and every time she came back to each other. There would be much more to write about her but I already have all the elements to introduce you hecate, my Bestina. My situation, in November of 2014, was as Follows: just graduated from the magistral, with three works that added to me barely helped with the university installments, all my energy invested to pass the exam and access the phd; At night and weekends I also gave space to canini, an activity that has always made me feel happy regardless of successes or failures; Above all, the unexpected and early death of an uncle whom I loved very well and in the same period the death of Billa (sisyla, in reality), fierce and white dog that made me a sister for sixteen Years. On the Monday before Tuesday in November of which I am speaking, in the midst of the general distress for my life, in the midst of the heartbreaking expectation of the results of the exam, I knew I had not passed it. You can imagine with that spirit, the next day, I faced the ROUTINE. The exception of that Tuesday was to engage a promotional visit of Canini in a nice pet shop in Varese. I went to leave in the sale account some packets, apathetic and without expectations, feeling even a little ' loser to be Honest. I saw her. In a cage, a bit hidden, there was a tiny little black wad like pitch, playing with little Brother. The soot looked at me serious, then hid. It was not for sale but the girl was looking for people who could adopt her too, after her brother had already found Someone. I didn't think twice about it, and it started pouring down. Perhaps it had been my dear Sisyla to guide me prophetically right there (deep down, canine nibbles began for her, to try to get her to eat when she was already sick); Perhaps it was pure magic (which sometimes, for me, is also called destiny); Something of my feeling inadequate for my past choices, confused about the present and negative for the future brought me her in the Arms. As if he were the only creature in the world to feel my weeping at that Moment. It's hecate, I thought instinctively. I remember very well how my scarf, still at my neck, made her a cradle all the way to her new Home. How we helped each other to find a way to stay better: she making friends with indianajones, a good and very clear giant who is now her inseparable brother, I with new challenges and new work, the work that I have still, my way with capital S. In times of doubt, when I do not know exactly who I am between the clear past, the current and the clear of the future, I know that I can also count on the totally unconditional love of my two wonderful dogs. And of those i've had but now they're not there anymore. If this isn't witchcraft, then I don't really know what it is.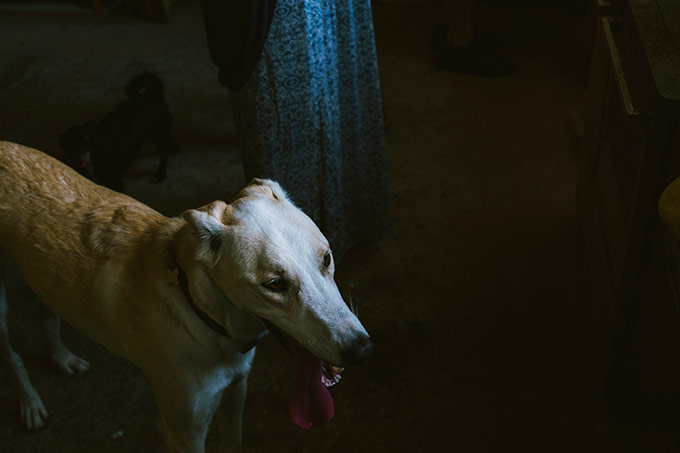 Photo by Gian Marco Folcolini
Indiana Jones
When our Marty mcfly, the namesake of the protagonist back to the future, died accidentally after not even a year that we took him home from the kennel, my brother Andrea and I decided almost immediately to take another dog. Also to have a company in billa, now old and with less energy. Thanks to the help of two friends we found, at the end of August of the same year, the contact of a refuge in Varese where in those days were available puppies and arrived from Spain some mestizo. More precisely, saved from Spain. They had landed first in the south, in several kennels, and then brought them to Varese. Just arrived with Andrea and Franco, my boyfriend, I immediately became infatuated with one of the puppies at the entrance but then I wanted to visit the whole Refuge. The dogs were not in cages but turned free and many were holed up in the Structure. On a small sofa, in the middle of a room, lying in a very sad air, there was a blond and tender puppy, with shiny and tapered eyes and a white tummy. It was among the dogs that arrived from the Iberian Peninsula and after a long and difficult journey we had met. He was very young but already discreet: his paws, as I noticed my dad as soon as I took him home, were very long and the body already tapered. We finally decided to adopt Him. He was not happy, he was tired, he wanted to remain holed up there and not be touched by anyone. I wonder how traumatized we thought. Descended from us in the yard he immediately found a place in the shade and lay down them with the same sadness in his eyes. For hours he did not move, he did not want to drink nor touch food until I lay down beside him carelessly patting him. He sobersed his nose with food and water, and slowly found his appetite. Then Curiosity. He climbed the stairs and explored the House. He met billa, sniffed the whole Garden. and began to Run. Like a splinter. Trueno his Spanish name, or "thunder", ran like lightning, like the wind, like a rushing waterfall. With a high percentage of Galgo in his dna, which emerged every day more and made it lengthen and grow up to 30 kg. I wanted to erase every trace of his previous life and I decided to change his name. I was determined for dumbo, because as the elephant was very tender and docile. Flunked. He didn't give up or let go despite the sadness he was reading on Him. He shot half the World. He had lived a myriad of dangerous and difficult adventures. It was Indiana Jones. Abbreviated Indy, just like the dog he had from Little Indiana Jones in the film and from which he himself took the Name. Now Billa is no longer there but it wasn't just long. With Hecate He forms a bizarre brotherhood, he very sweet and protective giant and she tiny charcoal and Peperina. The sadness in the eyes has disappeared in four years but has preserved with strangers the character wary and cautious, which compensates with total love for all of us in the Family. And we love him in our turn, especially when he looks at US laughing.